Aging Tiger Woods may miss out on Major record, says Rob Lee
Rob Lee reckons Tiger Woods has his work cut out to overhaul Jack Nicklaus' tally of 18 Major titles.
Last Updated: 07/11/13 8:54am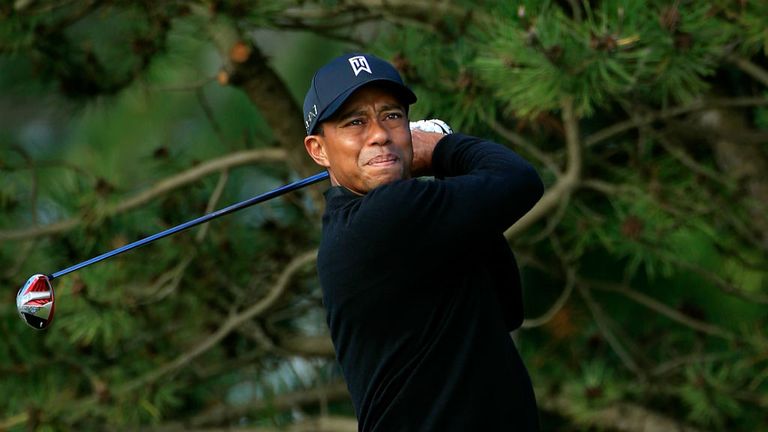 Tiger could conceivably win one of the big four in 2014 because as well as Augusta, where he has won the Masters on four occasions, he has also recorded victories at Hoylake (Open Championship) and Valhalla (PGA Championship).
But Nicklaus' haul is getting further away the older he gets and as Woods edges closer to 40 any niggles he has will take longer to clear up, so, right now, I think the Golden Bear's record is pretty safe.
That might change if Tiger goes bang-bang and takes a couple of Majors in quick succession next year, but as it stands he needs to win five and he only averaged one a season in his pomp, so to expect him to do that in his twilight years as a player may be asking too much.
All eyes will be on Tiger from Thursday as a week after shunning the WGC-HSBC Champions he tees off in the Turkish Airlines Open - and, presumably, gets a bumper payday for showing up.
Woods is among a good field, which also includes Henrik Stenson, Justin Rose and Ian Poulter, but I don't think it will prove anything if he ends up winning the tournament as he has beaten all these guys in regular events before.
He now needs to do it in Majors again.
Dominant
I was a guest on last week's episode of What's The Story? when the topic up for discussion was sporting supremacy and it got me thinking about when Tiger was at the peak of his powers earlier in his career.
Woods was able to be so dominant because he was the strongest, fittest guy on the PGA Tour, one of the longest hitters around, had amazing powers of recovery and never missed from five feet, which, as a package, is pretty awesome.
He won the Masters by 12 shots in 1997, and, in 2000, the Open Championship at St Andrews by eight and the US Open at Pebble Beach by 15, which have gone down as life-defining performances and added to Tiger's aura.
I don't see somebody being able to sustain that sort of dominance in our sport over the next few years, though - Rory McIlory has the talent, which he has showed by winning his two Majors by a combined margin of 16 shots, but he tends to be streaky - and perhaps that is not a bad thing.
You always want to get to a point where someone or something is dominant - we are seeing that with Red Bull and Sebastian Vettel's monopoly on Formula 1 at the moment, Usain Bolt's run in the sprints, and, previously, Sergey Bubka breaking the pole vault word record whenever he felt like it.
But if it goes on for too long it kind of works against itself, so you also need the best to be knocked off their throne and for new blood to emerge.
Miss
The European Tour's rules have been making headlines with Ernie Els now not making the DP World Tour Championship due to not figuring in two of the required three events in the Final Series.
The stipulations are that you can only miss one of the BMW Masters, WGC-HSBC Champions and the Turkish Airlines Open if you want to play in Dubai later this month, and while that may seem harsh, I have little sympathy for the players that affects.
I don't think two out of three is that onerous when you are playing for $30million and Ernie - who played in Shanghai last week but will not be in Turkey - could easily have swapped the PGA Tour's CIMB Classic for the European Tour's BMW Masters on his schedule.
Els finished 11th at the HSBC Champions but I am backing the man that ended up second to Dustin Johnson, Ian Poulter, to win the Turkish Airlines Open, because the form is there and, after hitting more balls than ever in his recent rest period, he is hungry.
Plus, at the McGladrey Classic - which as one of the opening events on the 2014 PGA Tour now carries added weight - I will go for the very solid Zach Johnson.