Ian Poulter: Rob Lee says he would trade Ryder Cup success for Major
Why is Ian Poulter inconsistent? Does he get enough credit? Can he win a Major? Rob Lee blogs...
Last Updated: 30/10/13 4:03pm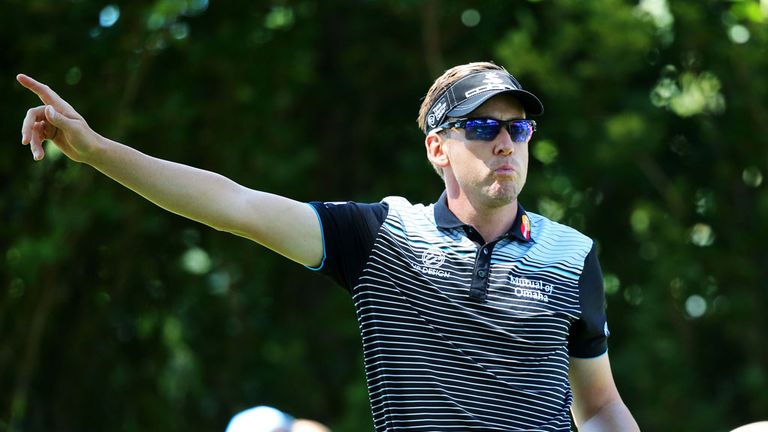 He won the HSBC Champions in 2012 but he appears to struggle to replicate the buzz he gets in Ryder Cups in regular strokeplay events and perhaps he has found that even more difficult after the drama at Medinah.
Ian needs to work out how he produces amazing things under intense pressure when representing Team Europe and try to transfer that to the course all the time because if he does that he will win many more events.
The lack of that Ryder Cup feeling may explain why Poulter is not the model of consistency but it could also be because he doesn't have the power of some other players; Ian is long enough but certainly not the longest.
Someone like Henrik Stenson - who went on a tear this summer, winning the Deutsche Bank and Tour Championships as well as the FedEx Cup - is always hitting fewer clubs into par fives than Poulter so it is harder for Ian to dominate.
Ian has had a fantastic career mind you, but because he is colourful, outspoken and wears eye-catching clothes - something the game of golf needs - he probably doesn't get the credit he deserves, despite winning 16 times as a professional.
Perhaps that will come if he wins a Major - something he may have done at Royal Birkdale in 2008 if Padraig Harrington hadn't eagled 17 - and I would never discount his chances of nicking one because he is such a competitor.
I think Poulter is desperate to get his hands on one of the big four, too, and would probably trade some of his Ryder Cup performances for a Major title, because as good as his displays with Europe have been, Jack Nicklaus and Tiger Woods don't waffle on about Ryder Cups.
They talk in terms of Majors.
Occasion
Ian is returning to a different golf course to where he won the HSBC Champions last year - the 2012 event was at Mission Hills, the 2013 tournament is at Sheshan - so it will be a different test for him this week.
But I think that when you see a trophy you have got your hands on before you feel a sense of entitlement, so I am sure he is really looking forward to the occasion, especially after doing some good things at the BMW Masters last time out.
Luke Donald has a big week ahead of him, too, as he attempts to get into the Race to Dubai's top 60 - he is currently 61st - and secure his place in the DP World Tour Championship, but there will be one notable absentee at Sheshan.
Tiger Woods has prided himself on playing in the best tournaments against the best players, and considering the HSBC Champions is a World Golf Championship event he really should be in it, especially as he was in Shanghai early in the week for a challenge match against Rory McIlroy.
However, I don't think his absence is as big of a miss as it would have been in years gone by, firstly because he has not won a Major since 2008 and has lost a bit of his lustre, but also because you have guys like Phil Mickelson and young Jordan Spieth in the field.
Strong
Tiger divides opinion and so, it seems, does Sir Alex Ferguson's autobiography.
I haven't read the book yet - and you have to do that to get the full picture, instead of relying on snippets in the various newspapers - but even though there seems to be some strong stuff in there, I am not going to pick holes in Fergie after all the enjoyment he has given me and other Man United fans over the years.
Besides, if you are going to release that type of book, you have to be prepared to upset people; it would be pointless to sanitise it or cover it with whitewash, you have to be honest, candid and tell a story of what things were really like.
Some commentators are saying that Ferguson's legacy has been tarnished by the book but I don't believe that as in a year's time it will be a footnote.
The legacy lives on.
ROB'S HSBC CHAMPIONS TIP
I backed Rory McIlroy last week at the BMW Masters and even though he finished in a tie for 27th, I am going to do the same again at odds of 11/1 with Sky Bet as the man is not too far away from doing something special.