Rory McIlroy: Rob Lee backs Ulsterman to improve with right schedule
Rory McIlroy will respond from a tricky 2013 season and return to the top of world golf, says Rob Lee.
Last Updated: 23/10/13 11:34am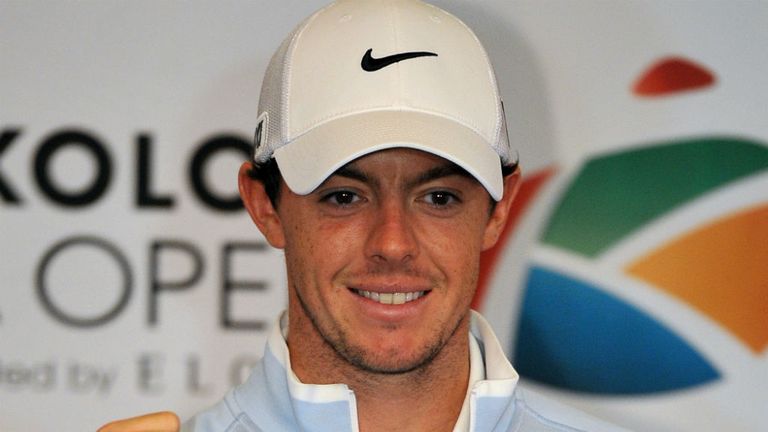 McIlroy has had a lot on his plate this year with the travelling, his club switch, his form, his management team, and pending court cases; that is a lot for a young man to take on and he needs to simplify his life.
The most important thing for him, though, is to devise a better schedule, because whoever he sat down with last year in order to come up with a plan for 2013 got it horribly wrong.
Rory has got all the money he could ever want so does not need to chase the dollar and he should make sure that he has sufficient down time, too, giving him the chance to kick about for a few days and not have to keep jumping on a plane.
But he must also stick to a calendar that maximises his season and, in particular, his chances of adding to his Major collection, which currently stands at two following those eye-catching wins at the US Open and USPGA.
McIlroy has been distracted by off-course matters but his form on the course has been nothing like it was last year, even though he has stuck in a few good rounds here and there and had a good finish in Korea last week.
But don't underestimate Rory's ability to bounce back.
He faltered at the 2011 Masters and then won the US Open two months later, while, after missing three successive cuts in the summer of 2012, he shredded the field at that year's USPGA, became the number one player on both sides of the Atlantic, and won everything in sight.
Rory has ridiculous talent but you also need application to remain at the apex of the game and if he is honest with himself he will probably admit he has made some wrong decisions recently, but I have no doubt he can get back to the top.
Unconventional
McIlroy will always be measured by the fact he won his first two Majors by eight shots, but when he wins some more - which he will - it will be character building if he scrapes over the line or nicks an edgy one as it will show he can perform in different circumstances.
Webb Simpson proved he is a man for all situations when, over a season after winning the US Open with a score of one-over-par, he strolled to victory at the Shriners Hospitals for Children Open on Sunday by posting 24-under-par.
Simpson's swing is a tad unconventional but as long as he knows what he's doing and his coach knows what he's doing then that's a recipe for success - and what everyone else thinks, whether they are golfing analysts or gurus, is absolutely irrelevant.
Paul Lawrie was in the studio on Saturday for our Shriners coverage and he was great craic; he was getting a lot of stick on Twitter for his trousers riding up his ankles and he actually got up a couple of times to sort himself out - which was caught on camera!
He was in great spirits, though, and looking forward to this year's final few events because, as a proud Scotsman, the one thing on his mind is making the European Ryder Cup team at Glenegales in 2014.
Paul had a ball at Medinah last time, playing beautifully to beat Brandt Snedeker in his singles match, and I think having Lawrie around would be a bonus for any team as, while young rookies like, let's say Thorbjorn Olesen are vital, you also need experienced voices.
Reward
If Paul does not make Paul McGinley's team it would not surprise me if he was a vice-captain and I definitely think he could become captain in his own right later down the line because he is one of golf's givers.
He has got his foundation going and is trying his hardest to boost youth golf in Aberdeen, and I like to see blokes who know where they've come from and are prepared to give back - and becoming Ryder Cup captain would be a great reward.
Elsewhere, the USPGA have said that they may consider moving the USPGA Championship overseas after 2019, but that's not for me and perhaps not for the 24,000 good members the organisation talks about.
Even if the authorities are desperate to globalise golf and hold a Major in, let's say, Singapore - though you could pick any country you like - I see no scope for a fifth Major, like we have seen in the ladies' game.
There are enough tournaments that go around the world and enough non-American players that play in Major championships, so it would really disturb me to see the history books corrupted with a fifth Major.
Not that I see it happening.
ROB'S SKY BET TIPS
When Rory McIlroy gets it right he is hard to stop and after his final round 67 in Korea - which could have been lower had he holed a few putts - I am backing him to win the BMW Masters. Meanwhile, at the CIMB Classic, I am tipping Hideki Matsuyama; Ryo Ishikawa played very well at the Shriners and Matsuyama will want to upstage his countryman.