Presidents Cup: Tiger Woods and Jordan Spieth should play together
Rob Lee explains why he wants Tiger Woods and Jordan Spieth to combine at the Presidents Cup.
Last Updated: 02/10/13 8:33am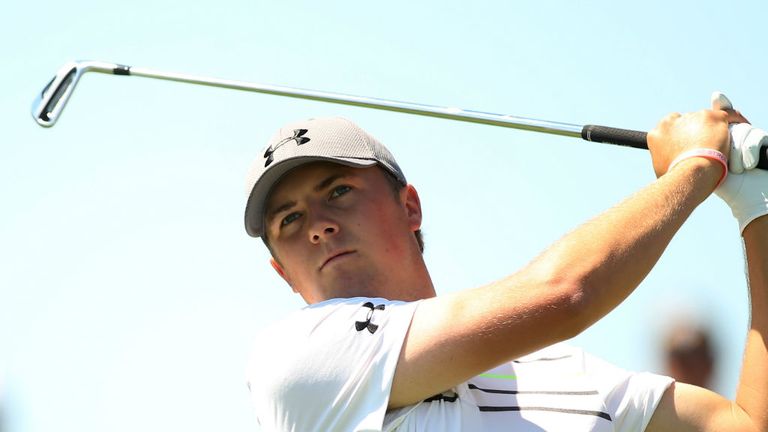 I'm not sure many of the guys competing in the Seve will be on the European teamsheet at Gleneagles, but it does give less experienced campaigners the opportunity to play under a captain in a team environment and get used to Ryder Cup conditions.
However, the American side that will meet a team of internationals in the Presidents Cup at Muirfield is very strong and a large quota of those guys could be in action in 2014, including young Jordan Spieth.
The captains will, of course, be different with Paul McGinley and Tom Watson taking the reins and I think it would be unnecessary for the Ryder Cup skippers to lead teams in the Seve and the Presidents a year before the big event.
It is, though, a good thing if they have captained in those events along the way - like McGinley and his predecessors Colin Montgomerie and Jose Maria Olazabal have done - as they then know how to operate in matchplay team situations.
That said, McGinley and Watson will be watching intently this week as we have seen Ryder Cup partnerships formed and tested in these competitions before, namely the successful one between Rory McIlroy and Graeme McDowell.
I am a little surprised that some of the big European names will be absent in France because schedule-wise it seemed perfect; there is nothing much else on this week or next and there wasn't much last week either.
Maybe the right incentives just weren't there.
The result of the no-shows means Continental Europe are overwhelming favourites to end their six tournament losing streak and win the Seve, and with Paris the location and captain Olazabal channelling the spirit of Ballesteros and carrying some Medinah momentum, it may be their time.
The benefit McGinley has this week is that he has 20 European players to look at - Watson has just 12 Americans to watch in the Presidents Cup - and there are players on show that Paul would love to have in his Gleneagles side.
I think he would be delighted if the likes of Thomas Bjorn, Paul Casey and Matteo Manassero made his team by right, but there is a shop window for other potential first timers to impress.
Paired
Tiger Woods will be at the Presidents and while he doesn't get team matchplay and excel in it like someone such as Ian Poulter, I still think the US players and fans would prefer to have him in their team than not.
Woods enjoys playing with Steve Stricker and he may well do that at Muirfield but I have a feeling that he could be paired with Spieth; I certainly want to see the world number one and a young buck play together and I'm sure the public do, too.
It's hard to gauge whether Woods-Spieth is a good partnership until they play together and rack up points, but I believe Jordan's spirit and fearless way of playing could bring the best out of Tiger, who has been a little out of sorts recently.
Spieth has had a great rookie season on the PGA Tour - winning one title and finishing seventh in the FedEX Cup standings - and, for me, he is certainly the real deal.
When Jordan dropped out of college everyone raised their eyebrows and muttered a few things, but they are not doing that now with him getting a few million dollars in the bank and a Presidents Cup wildcard pick.
Spieth has got really stuck in and is someone to watch out for, and even though he is a little bit straighter off the tee than Phil Mickelson, he reminds me of his countryman because of his mind-set of: 'Let's go out and take this course apart'.
Big
I am also delighted that David Howell ended his long wait for a title by winning the Alfred Dunhill Links Championship in Scotland.
I spoke to David on the putting green in Italy and he was looking forward to a really good run in the big events and he has got into a few now after beating Spieth's former Walker Cup buddy Peter Uihlein in a play-off at St Andrews.
Howell doesn't win many events but he wins some good ones, with the HSBC Champions and BMW Championship on his résumé, and hopefully he can kick on now and shoot right back up the rankings.
Another David, Mr Moyes, is also in the spotlight after Man United's start to the season.
However, Moyes has taken over from Sir Alex Ferguson, without question the greatest manager that has even been on these islands, so in a way it was a poisoned chalice, but I am a fan of his and still feel his appointment was a shrewd one.
I think he will be at Old Trafford for the long haul as United will try to repeat the longevity model they had under Fergie and we must not forget Moyes did a very good job at Everton with limited resources.
Things have been a bit sketchy but the schedule hasn't been fantastic so it's pathetic that people are already questioning the new man.
Let Moyesy get on with it and he'll get it right.
ROB'S SKY BET TIPS
I am backing Europe to win the Seve Trophy with Thomas Bjorn amassing the most points, while I will also tip USA to beat the Internationals in the Presidents Cup with Jordan Spieth doing the business.