Walker Cup: Rob Lee says Britain and Ireland can retain trophy in USA
Rob Lee explains why the Great Britain and Ireland team can retain the Walker Cup on American turf.
Last Updated: 03/09/13 5:07pm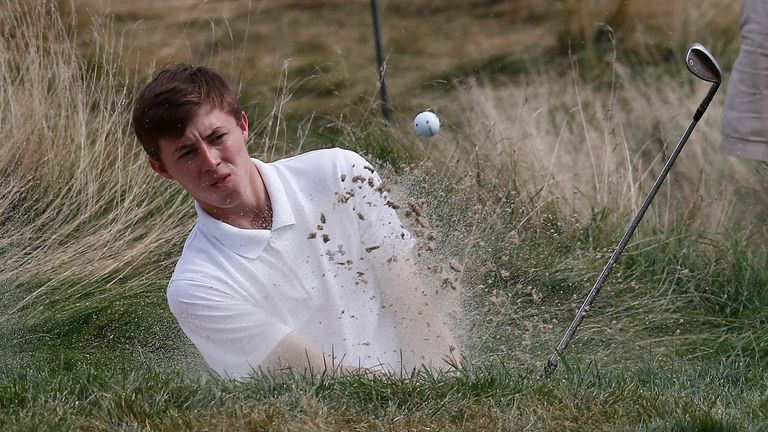 Mathew Fitzpatrick is probably the star of the Great Britain and Ireland team after finishing 44th in the Open Championship and becoming the first Englishman to win the US Amateur Championship in 102 years.
Fitzpatrick - who has decided to put turning pro on the backburner and continue his education at Northwest University in Chicago - has had an amazing summer but with that has come attention and pressure.
He will have to perform in the limelight at the Walker Cup but having met him briefly at the Open, my impression was that he seemed like a well-balanced lad and very good player, and I think he will take things in his stride at the beautiful National Golf Links of America.
It would be a great achievement if Great Britain and Ireland could retain the title they won in 2011 on American soil.
They will try to do that at a links-style layout where many of the holes are based on ones from British courses, such as St Andrews and Sunningdale.
That will help our boys, while because there are so many courses in America, I can't imagine all of the home players are familiar with the National, so I don't see them having a huge advantage in that respect.
A few of the 2011 American Walker Cuppers have done very well in the pro ranks, though - Harris English and Jordan Spieth have won events on the PGA Tour and Peter Uihlein has a victory on the European Tour to his name - so it will be interesting to see if some of this year's team follow suit.
You could credit the success of English, Spieth and Uihlein down to their upbringing playing a lot of golf in the competitive college system and guys like Luke Donald and Graeme McDowell went down that route, too, and have had stellar careers.
But Rory McIlroy didn't and Ian Poulter didn't, so there are plenty of ways to get to the top and I don't always feel that the coaching in the colleges is that great, with coaches acting more like managers and organising fixtures and transport as opposed to strengthening players' techniques.
Injury
Trevor Immelman has done well on American turf before, winning the Masters at Augusta in 2008, but has slipped down the rankings since then so it was great to see him win on the Web.com Tour to keep his PGA Tour playing rights.
Immelman is one of these unfortunate people who always seem to be suffering with some sort of injury - whether that's the finger, back, wrist, kneecap or whatever - and has had a very disjointed golf career.
He also could have struggled to cope with winning the Masters and all that goes with it - something that has been the case for other previous Major victors - but this win might be the making of him.
There is no doubt that the boy can play and perhaps he can stop being the forgotten man of South African golf now and compete with the likes of Charl Schwartzel, Louis Oosthuizen, Branden Grace and Richard Sterne.
Colin Montgomerie, meanwhile, won on the Senior Tour and I think he has realised that the over-50s are who he is in competition with now and not people who hit the ball 50 yards further than him and go into par fives with five irons while he is using a three wood.
I think being a young thing in the Seniors will give him a new lease of life and make him feel like Elvis Presley. There's a thought, Monty as Elvis...
ROB'S SKY BET TIPS
I thought the European Solheim Cup team would fail to beat the Americans, but they pulled it out the fire and trounced them and so I am going for our Walker Cuppers to win, too. Europe or Great Britain and Ireland have possession of the Solheim Cup, Ryder Cup, Curtis Cup and Walker Cup and I don't think that the GB&I boys are in the mood to give the Walker Cup back.
Thomas Bjorn, meanwhile, has sacked his caddie but holed a bunker shot on the final green at the Wales Open and will be buoyed by that. So, with presumably a new man on his bag, I think he will win the Omega European Masters in Switzerland.