Gleneagles: Rob Lee looks at how venue is preparing for Ryder Cup
Rob Lee assesses how Gleneagles is shaping up ahead of next year's hotly-anticipated Ryder Cup.
Last Updated: 28/08/13 1:06pm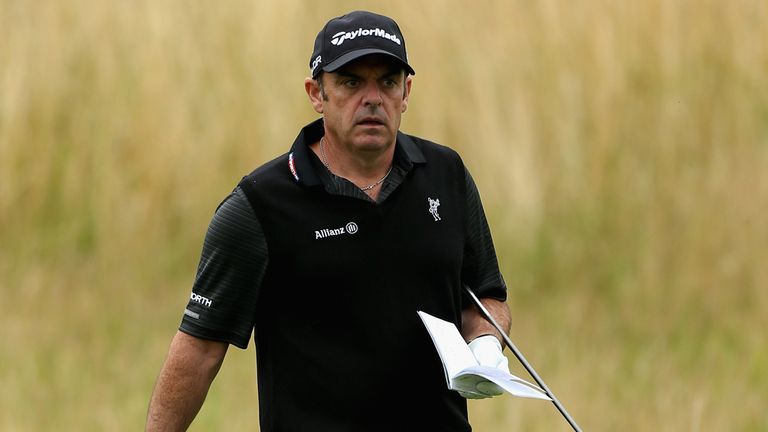 Players can drive towards the green on the 14th and most players can reach 16 and 18 quite easily, too, and that led to eagles and birdies all over the place in the final round of the Johnnie Walker Championship.
That bodes well for the Ryder Cup next September and we should have a really thrilling end to the fourballs, foursomes and singles - but I still think the officials could have done a bit more with the course.
They have widened the water hazard at nine, while the fairway approach at 18 has been flattened out and the green remodelled, but I wouldn't really call it risk reward.
The new green at the 18th is tricky as it has a slender neck and a raised-up surface, and with a front flag at the Johnnie Walker, players were chipping over it.
But I'm not sure anyone back in the fairway who can reach will be saying: "Maybe I'll lay up."
Value
European Ryder Cup skipper Paul McGinley will alter conditions to suit the make-up of his team, but at the moment it favours the long hitters who can reach all the par fives and drive some of the par fours, players like Johnnie Walker winner Tommy Fleetwood.
Fleetwood has certainly done his Ryder Cup chances no harm and if he gets close to making the team automatically you could see McGinley picking him because he puts a lot of value on how someone has gone at a golf course before.
That said, picking a rookie is not always the way forward and McGinley could look towards more experienced players with Gleneagles success, such as Paul Lawrie and Thomas Bjorn, should they not make the side by right.
I spent some time with Paul whilst covering the Johnnie Walker and he looked extremely excited at the prospect of leading Europe next year, even though he has lots of things to "McGinleyfy" over the next few months.
He was a busy man at Gleneagles, playing the course, taking note of what other guys were doing and getting the McGinley factor closer to completion with regards to all the decisions that have to be made.
I told Paul that myself and Richard Boxall would love to be part of his backroom staff - Wayne Riley can't come because he's Australian - but I'm not sure the call is going to come, to be honest...
Swing
Adam Scott, who won the Masters and very nearly won the Open, continued his great form at the weekend by taking The Barclays title and I think his new-found success is down to having the best swing in golf and an experienced caddie in Steve Williams.
The only thing that might hold him back is the fact he has to dump the broom-handle putter by 2016, so it will be interesting to see whether he sticks with it until the deadline, or starts using a normal putter much sooner.
Scott is second favourite with Sky Bet, behind Tiger Woods, to win the Deutsche Bank Championship in Boston, but I think Rory McIlroy could retain the title he won last year by a stroke from Louis Oosthuizen.
Rory played well at the US PGA Championship at Oak Hill and then tied for 19th at the Barclays, shooting a second-round 65 in the process, so it would not surprise me if he won his first title of the year.
It will be interesting to see how Tiger does after he collapsed in a heap at the 13th hole on Sunday with a back spasm, but he did finish his round and if it was that bad I'm pretty sure he would have come off the course.
ROB'S SKY BET TIPS
I am going for Ross Fisher in the Wales Open. Ross' American adventure is over as he can't get his PGA Tour card for next year so he has to focus on all matters European and making the Seve Trophy. I think he can help himself in that respect by winning at Celtic Manor, while at the Deutsche Bank Championship, I will tip Rory McIlroy.