The Open: Rob Lee tipping Mickelson, Rose and McDowell at Muirfield
Rob Lee does not think Ernie Els will win the Open for a third time, so who is he tipping instead?
Last Updated: 16/07/13 9:02am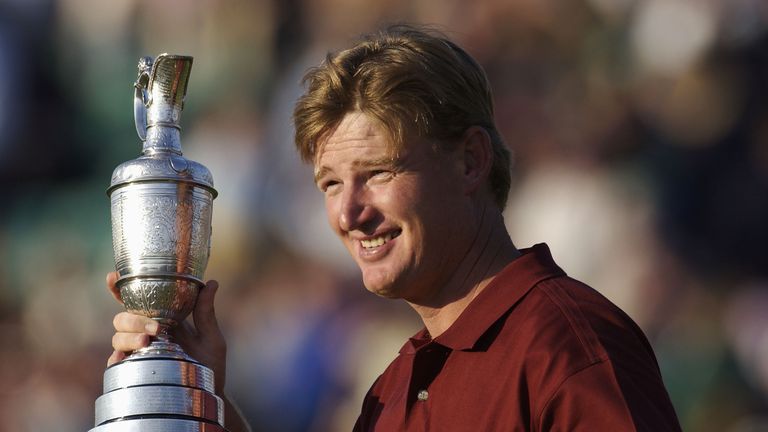 He hasn't set the world alight since his victory at Royal Lytham last year, but he will be in a confident frame of mind after finishing sixth at the BMW PGA Championship, fourth at the US Open and winning the BMW International Open in Munich.
You also must factor in that Els has won the Open Championship at Muirfield before - he came through a play-off with Thomas Levet, Steve Elkington and Stuart Appleby to take the title in 2002 - and that will fill his mind with very happy thoughts.
Ernie played some sensational bunker shots in the final round on that occasion, but if he is going to replicate that success this time around he must find the fairway off the tee and have a strategy to tackle the golf course.
I think he will, too, because while he is known as The Big Easy, anyone who knows him is well aware that he is an intense, full-on competitor with a very steely focus, but, at the same time, extremely patient.
He is not averse to a grumpy moment on the links, but he is able to step back and weigh things up and won't plough headfirst into whatever lies in front of him, and that should bode well for him as he looks to win a fifth Major.
Pressure
However, the statistics will tell you how hard it is to win back-to-back Open Championships and for that reason Els is not among my three top tips - but the man who won the US Open almost exactly a month ago is.
Justin Rose headed to Merion as one of the big contenders but seemed to enjoy that pressure and put together an impressive four rounds of golf to win his maiden Major.
As I mentioned in my previous blog, he has had a few weeks off and if I were him I would have wanted to fit another event in between the Travelers Championship, which finished on June 23, and the Open Championship.
But that will have given him time to practice for Muirfield - where he ended up in a tie for 22nd-place in 2002 - and pedigree, patience and ball striking-wise he has all the attributes to win a second big event in a row.
Graeme McDowell, meanwhile, was gutted at missing the cut at the Irish Open so he will be desperate to put in a good display on British soil and his win at the Alstom Open de France, which had a links look to it with bouncy fairways and firm greens, will help him.
G-Mac has been brought up on links courses and how to play them is ingrained in his game, but I feel that he has never been to an Open Championship with more excitement than he will have this time.
Gorgeous
Phil Mickelson, though, never appeared in a rush last week as he won the Scottish Open - he just bided his time and made his way up the leaderboard - and he hit lots of good tee shots, too, with his 3-wood-style driver.
Mickelson also played some gorgeous shots around the green - the very thing that let him down at the US Open - and if he plays the same way at Muirfield as he did at Castle Stuart and does not revert to giving the ball an almighty hit, he has a great chance at the Open.
I am not expecting Rory McIlroy or Tiger Woods to figure too heavily, however, as Rory is bang out of form and I don't think Tiger, despite winning four times already this year, is in great nick.
His victory at the Farmers Insurance Open in January looked solid enough but after pulling eight shots clear of the field at one stage, he would have been looking to win by a double-digit margin, yet faltered and only won by four strokes.
Woods did finish in fourth spot, albeit controversially, at the Masters but more recently he toiled at Muirfield Village and, by his standards, at the US Open, and I think he is struggling with an elbow injury, too.
Tiger is a wonderful talent but I don't see him coming out on top this week.