Inbee Park is not a legend of women's golf yet, says Rob Lee
Rob Lee says US Open champion Inbee Park must keep on winning to become a great of women's golf.
Last Updated: 03/07/13 5:34pm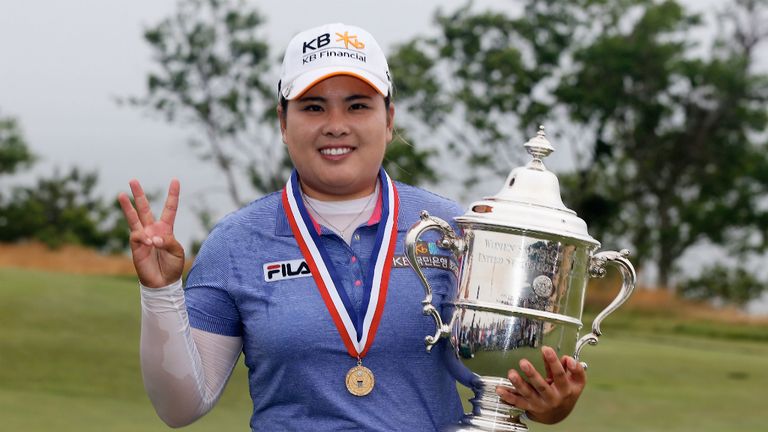 The South Korean won the US Open on Sunday to claim her third Major of the season and will now have designs on securing a clean sweep by taking the final two Majors of 2013, the Women's British Open and the Evian Championship.
I don't think Park is one of the longest drivers on the LPGA Tour but she has an incredibly consistent game and is now a long way clear of the chasing pack in the world rankings, which is headed by America's Stacy Lewis and Norway's Suzann Pettersen.
Park's next challenge is to propel herself forward and become a legend of the ladies' game, something Annika Sorenstam did by winning 10 Majors, shooting a 59 on Tour and nearly making the cut when competing with the men at Colonial in 2003.
Other female golfers haven't been able to maintain their dominance - Yani Tseng has slipped from the top of the rankings, while Lorena Ochoa quit the game to spend more time with her family - so I will be interested to see whether Park can stand the test of time.
Skills
Bill Haas, meanwhile, won the AT&T National at the weekend and is fashioning quite a good career for himself; he has now seized five PGA Tour titles, as well as the 2011 FedEx Cup, and is a player with a fantastic all-round game.
Haas has a wonderful swing, hits the ball a long way and putts well, too, but considering those skills and how often he gets himself into contention, he should have earned a lot more victories, so hopefully this win at Congressional is just the start for him.
It should be but he needs to show a bit more fire; he seems to not appear that bothered whether he wins or loses and while that mind-set might make your life more comfortable, I don't think it helps you make the most of your talent.
However, Bill has kept the Haas name on leaderboards, a tradition that started back in the 1970s with his dad Jay, who won nine times on the PGA Tour and finished third in both the Masters and USPGA Championship in the 1990s.
The Haases could claim to be the best father and son in golf, at least over recent times, but Craig and Kevin Stadler could argue that, too, with Craig winning the Masters in 1982 and offspring Kevin forging a decent existence on the PGA Tour.
Busy
I tipped Rory McIlroy to win last week's Irish Open but he missed the cut to continue his slump and I think he will be quite alarmed at where his game is right now; Rory could turn the corner at any minute but the longer form evades him, the more worried he will get.
McIlroy seems at sixes and sevens; I don't think he has had the best schedule this year, while he still has to sort out his management situation and decipher how he and girlfriend, tennis star Caroline Wozniacki, can find time to see each other.
Rory's life is very complicated at the moment but he will continue to work hard with long-time coach Michael Bannon and, when he figures out an itinerary that works for him, I think he will play great golf again.
It won't be this week, though, as he is not competing at either the Alstom Open de France or the Greenbrier Classic at White Sulphur Springs in West Virginia and so I am going to pick a couple of outsiders to take the trophies.
Sky Bet Odds
Pablo Larrazabal has played well for a number of weeks now and having won in Paris in 2008 I think he can do so again at 35/1 with Sky Bet, while at the Greenbrier, I am going for Scott Stallings; he emerged victorious there in 2011 and has been in good form this year, too.