Rob Lee talks Mickelson, Rose and Philadelphia in US Open blog
Phil Mickelson, Justin Rose, and the streets of Philadelphia. Rob Lee blogs on the 113th US Open...
Last Updated: 19/06/13 3:53pm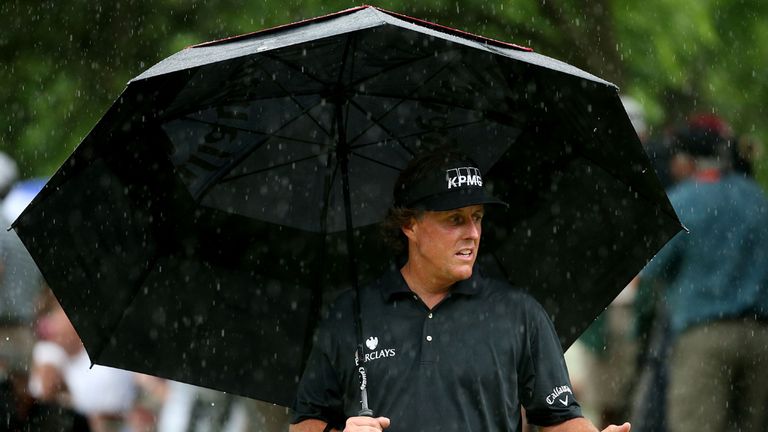 Phil has said he is heart-broken at finishing second at the Major for the sixth time, but he only had a one-shot lead going into the final round and wasn't in complete control, so losing was not a disaster.
Mickelson will be frustrated that what cost him victory was a facet of the game that is usually one of his strongest - his wedge play; he played, for him, horrific shots at holes 13 and 15 on Sunday, shots that more often than not he would have played better with his eyes closed.
However, Phil knew he would have to generate a plan and play conservatively over four days to challenge at Merion, rather than rip the ball with his driver, and the fact he did tells me that he still has a few more years at the top level, despite turning 43.
Mickelson is more than capable of winning another Major and I think he is desperate to complete the career slam and add a US Open and an Open Championship title to his three Masters Green Jackets and one USPGA Championship trophy.
I also reckon Jason Day, who finished with Phil in a tie for second place at Merion, is a guaranteed Major winner; Day has now been the runner-up at the Masters once and US Open twice, but he has the power, the swing and the short game to go one better eventually.
Belief
Luke Donald, Steve Stricker and Charl Schwartzel were in contention, too, before their charges unravelled and they were made to look average on Merion's fairways - but Rose kept it all together to claim his maiden Major.
I think winning big events, like the BMW Championship, Memorial Tournament and WGC-Cadillac, made him believe that he could come out on top on the final day, as did the fact he is one of the greatest ball strikers in the game.
You often take that for granted with the best players in the world, but I managed to have a long look at Justin when I travelled to Tucson for the WGC-Accenture Match Play earlier this year and the shots I saw there were brilliant.
Rose continued that last week, most notably with his two shots on the 72nd hole to wrap up his victory, and I think he is now mature enough to ensure that this win does not mark the end of his success at the top level.
Justin's career progression has been steady rather than meteoric and he seems like someone who has so much more to give; you look at some players on Tour and think: 'We've probably seen the best of them,' but Rose can still improve.
Well done, Justin.
Admire
I had tremendous fun covering the US Open and really enjoyed the Tuesday before the event, when I got up 4.45am to film a Rocky Balboa-style shoot around the streets of Philadelphia with my producer Nick German and lensman Tony Dunne.
Whilst filming, I got to visit Lincoln Financial Field, the home stadium of my NFL team, the Philadelphia Eagles, which was awesome - but Merion Golf Club is a place that must be truly admired, too; it was just under 7,000 yards and beat up the best pros in the world.
I wonder how long it will be before the US Open returns there, though, because logistically the place is not big enough; you can only get 26,000 fans in, which is probably about 20,000 people light, and the USGA did not make as much money as they would have liked.
I did love Merion but I wasn't quite so fond of the yellow American school bus I was taken to the course in; it provided the hardest ride in the history of the motor industry, so hats off to the kids that go through that ordeal every morning.
The driver on the first day acted like he was in the film Speed by hitting every pothole and bit of ruptured road and by the time I got to Merion I looked like I'd just stepped out of a tumble dryer!
ROB'S SKY BET TIPS
BMW International Open: He got barracked by the crowd at the US Open so Sergio Garcia will enjoy being back on European soil and has played well in Germany in the past, only losing in a play-off to another Spanish player, Pablo Larrazabal, in this event in 2011.
Travelers Championship: Justin Rose is the favourite for this event but having won at Merion and experienced such elation he may struggle playing in a tournament with not quite the same intensity. He could have a week off mentally and so I'm going to back Rickie Fowler.
Don't forget to check out Rob's weekly tips at Sky Bet.