US Open: Sergio Garcia tipped to thrive on Merion's short holes
Sergio Garcia can make headlines for the right reasons at an unusual US Open course, says Rob Lee.
Last Updated: 11/06/13 4:42pm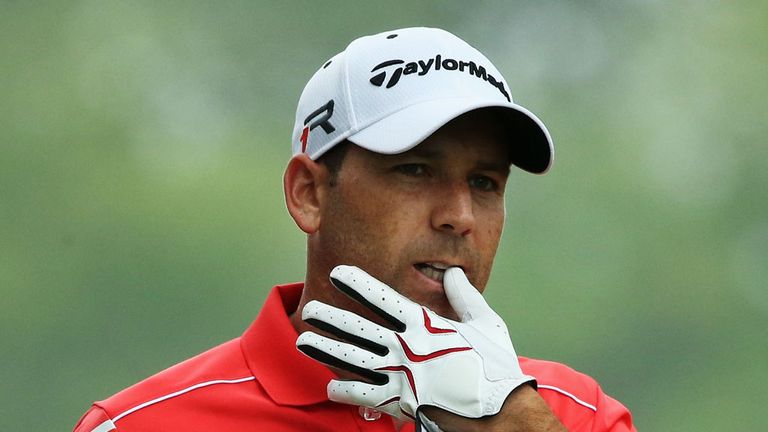 The East Course at the Merion Golf Club in Pennsylvania is an unusual one and, at less than 7,000 yards long, presents a real opportunity for the shorter hitters to shine.
In contrast to Augusta, where you generally need to be long to win, the shorter holes this week will play into the hands of those who can't hit it so far; the likes of Matteo Manassero and Zack Johnson, who hit it straight and are accomplished with the wedge, will be licking their lips. They'll be thinking 'if a US Open is ever going to come my way, it could be this one.'
But, although ordinarily you'd think 'short holes mean birdies,' I don't think that will be the case here. The USGA will certainly do their best to make it really hard, regardless of the yardage.
It's a gem of a course, though, and will provide an unusual spectacle - there will even be baskets instead of flags in the holes - and I think it could stage a fascinating and open contest.
Tiger Woods, Rory McIlroy and Masters winner Adam Scott will also form an intriguing three-ball over the opening two rounds.
Rory has been in and out this year. He's had bunches of top tens but nothing fantastic by his own standards. He's already got one US Open to his name though and no doubt he'll be fired up, playing alongside the world number one and Augusta champion Scott.
Woods has had four wins but then fished 65th at Memorial so it is tricky to predict how he'll go, but the course should suit him, given the way he tries to cut everything into the fairway now.
Meanwhile, Phil Mickelson finished tied second behind Harris English at the St Jude Classic over the weekend and looks to be hitting form in time for Merion. No doubt he will scientifically analyse every motion you can make around that golf course and come up with a plan, as he always does.
But I can tell him what the plan should be: just get it on the fairway and let your irons, chipping and putting do the talking from there.
He's one of the longer players and to tee it up and smash it 350 yards is a joy to Mickelson. I'm not sure chipping it down the fairway with a three iron or hybrid is exactly what floats his boat but winning majors does and he must have figured out what he needs to do here is be conservative.
Elsewhere in the field plenty of Europe's leading lights will be hoping to buck a disappointing trend this season which has seen Luke Donlad, Lee Westwood and Ian Poulter, among others, struggle on the big stages.
Justin Rose has probably been the best of the British players while Graeme McDowell, who has a US Open title and came close last year, could do well. But there's no doubt the Europeans, who have traditionally struggled at this event, have a lot of work to do.
ROB'S SKY BET TIPS
I have a couple of outside suggestions for the US Open. Kevin Chappell (80/1 with Sky Bet) came second at Memorial and could do well again, while Ryan Moore (100/1) hit 54 out of 56 fairways at Muirfield Village. To miss just two fairways in four rounds is incredible and that straight hitting must give him a chance this week.
However, to win it I'm going to be controversial and go for Sergio Garcia (33/1). After recently hitting the headlines for the wrong reasons, the crowd are either going to kill his chances or he's going to say 'I'm going to show you' and deliver. He's definitely got the game to exploit the conditions at Merion and he's played well and been consistent all year.
If he can get it right and use the abuse he's going to get then I think he might just come up with the ultimate response.
Rob Lee's success as a golf tipster has helped reward four charities.
The Sky Sports golf expert has won nearly £6,000 in two years betting with online bookmaker Sky Bet and has decided to donate all the money to charity.
The charities to benefit from Rob's generosity are Help Uganda Trust, the Ashford St Peters Hospitals Charitable Fund, the Cardinal Newman Parents Association and the Great Ormond Street Hospital Children's Charity.
Don't forget to check at Rob's weekly tips at Sky Bet.