Rob Lee on good weeks for Boo Weekley, Simon Khan and Matteo Manassero
Rob Lee is tipping Boo Weekley to flourish at Merion and Matteo Manassero to make the Ryder Cup.
Last Updated: 02/06/13 1:20pm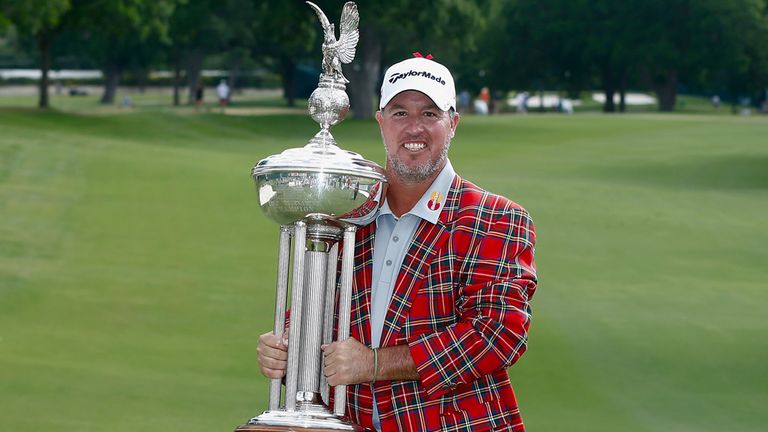 And the American proved that to be the case on Sunday when he won the Crowne Plaza Invitational at Colonial Country Club in Texas to capture his first title since 2008.
Weekley's ball striking was phenomenal, so much so that he could afford to miss two three-foot putts on the final day and still win, and it looked like he had the thing on a string.
Boo is what us golf snobs like to call a shot-maker; he is far from one-dimensional, hits the right shots at the right times and doesn't have to compromise on his ball shape - and that was evident at Colonial when he kept knocking the flag out.
Weekley is a very nice guy - I know him and Lee Westwood conversed deep into the early hours after Team USA had beaten Team Europe in the 2008 Ryder Cup at Valhalla - and despite his redneck style he is no mug either, and certainly not on the golf course.
The 39-year-old could be a big threat at the US Open now that he has some confidence under his belt and if he puts a consistent four days together, his quality ball-hitting could fire him into contention.
England's Simon Khan will also make the trip to Pennsylvania after recovering from play-off defeat at Wentworth on Sunday to post a two-round total of seven-under par at the US Open qualifying event at Walton Heath on Monday.
I don't think Khan was ready for the big time when he won the BMW PGA Championship in 2010 but he looks ready for it now - and because his game is all about fairways and greens he will really enjoy the Merion challenge.
It is also fantastic news that Jose Maria Olazabal has qualified for this June's Major; the Spaniard's game really went on the backburner during his stint as European Ryder Cup captain but now the Miracle of Medinah is over hopefully he can feature on leaderboards again.
Wildcards
Ollie's successor as Ryder Cup skipper, Paul McGinley, has decided to increase the number of wildcard picks at his disposal from two to three for the 2014 event at Glenegales as Europe aim to win the title for third time in a row.
I am usually in the 'if it ain't broke, don't fix it' camp when it comes to captain's selections but when you are in charge you have to engineer a system that you think will give you the best 12 players and that's what Paul has done.
BMW PGA Championship winner Matteo Manassero, who is still just 20 years of age, could make the team by right, though, and I would be amazed if he didn't because he is like Tiger Woods in the way that he thinks so clearly and is only going to get more powerful, too.
You'd expect Westwood to be in the elite 12 come 2014 as well, even though he fell away at Wentworth and admits that he is having a few issues with his long game at the moment.
It's a shame for Lee because what has really blighted him - his short game - has improved immensely, but I guess he may have had trouble trying to spend enough time on and around the greens as well as a sufficient period with the driver in his hand.
It's all a question of balance and, for us all, Lee included, the search for the perfect recipe goes on.
Unwise
In the early stages of last week, however, the golfing news was dominated by Sergio Garcia.
All the Spaniard had to say at the Players Awards when he was asked by Golf Channel reporter Steve Sands whether he would invite Woods, the man he had verbals with at the Players Championship at Sawgrass, around for dinner was: 'I don't think so'.
Garcia could even have been a bit humorous and replied 'Yeah, he'll be around every night' - but he tried to be smart and made an extremely unwise comment about serving Woods some fried chicken.
I'm not going to condone what Sergio said because it was totally wrong and having played in America for such a long time he should have known that his words would cause offence.
However, moving forwards, Sergio's remorse and apology to all that were offended, including Tiger, seemed genuine and who knows maybe in some weird way, their relationship might improve - although I'm not holding my breath.
Sergio will be able to judge for himself where he stands with the American public at the US Open because, as we all know, they are not backward in coming forward.
ROB'S SKY BET TIPS
I can see Rory McIlroy prevailing at The Memorial Tournament but Tiger Woods, who won the event last year for the fifth time, has his air of invincibility back and so I have to go for him as he's the red-hot favourite. In the Nordea Masters, meanwhile, I will go for 16/1 shot Francesco Molinari, who finished tied for ninth at Wentworth after a fine final round.
Don't forget to check out Rob's weekly tips at Sky Bet.