Rob Lee on Sergio Garcia, Tiger Woods and Volvo World Match Play
Sergio Garcia can build on his near miss at Sawgrass and prosper this summer, says Rob Lee.
Last Updated: 14/05/13 2:31pm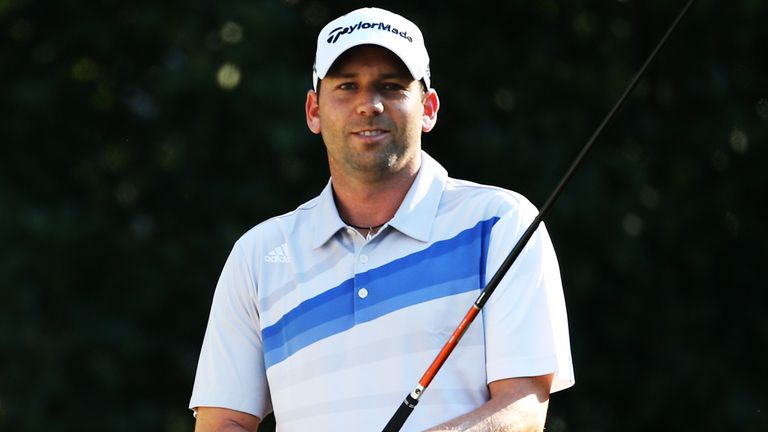 That came to a head on the second hole of the third round of the Players Championship on Saturday, when Woods pulled a club out of the bag as Garcia was hitting his second shot and the crowd went berserk.
Garcia thought Tiger had disrespected him, something he verbalised fully to the media, so I was really hoping both men would end up in a play-off so we could see them go head-to-head and produce some fireworks!
Unfortunately that didn't happen as, while Woods went on to win the event at Sawgrass by two strokes, Garcia's challenge faded when he found the water twice at the 17th hole on Sunday and ended up finishing in a tie for eighth.
The Spaniard, who was level with Woods at the top of the leaderboard at the time, garnered a quadruple bogey with his antics on the Island Green - but I don't think he made mistakes because he was being overly aggressive.
He simply played a bad shot first time around when aiming to land safely near the pin, and then had to try and take the flag out second time around in order to post a four and stay in contention to win the title.
Garcia's gamble ultimately failed, but I think he can take a lot of good things out of the week; Tiger has been the undoubted best player on the Tour this year but for 70 holes at Sawgrass, Sergio stood toe-to-toe with him.
No-one can question Sergio's talent - when it comes to ball-striking he is probably the best out there, while he has also fixed his putting and is no longer undependable from three or four feet - and all the ingredients are there for him to have a really good summer.
Mission
Woods' route to the Players Championship title was not straightforward, though.
He could have lost control after double bogeying the 14th hole on Sunday, but produced a brilliant chip and putt at 15 to settle whatever nerves he may have felt and went on to close the tournament out in true Tiger style.
What's clear about Woods is that he has never lost that intensity on the golf course - or in life; he is not the sort of person who walks around smelling the flowers, he does everything like he is on a mission and that mind-set has turned him into a golfing machine.
Tiger will now be focussed on trying to win the US Open when he travels to Merion Golf Club in June and I think he has a terrific chance of being successful, even though he has not played there before.
The Pennsylvania venue is not the longest and might not suit Tiger's sometimes-erratic driving, but he barely used a driver at Sawgrass and had to play a containment game and plan for every tee shot - and I'm sure he can do the same at Merion.
Kevin Streelman and Jeff Maggert finished a place behind Woods in Florida and so did Swedish youngster David Lingmerth, who had already impressed this season when making the play-off at the Humana Challenge.
The 25-year-old shot a 10-under-par 62 in the final found in California before being pipped by Brian Gay and he had a real go at The Players Championship, too; he wasn't just playing for a top-10 finish, he was playing to win, and that bodes well for his future.
ROB'S SKY BET TIPS
Nicolas Colsaerts and Ian Poulter have won the Volvo World Match Play Championship in the previous two years, but that advantage could be wiped out by the fact this year's event has been moved from Andalusia, Spain to a Black Sea-bordering course in Bulgaria. I will tip Henrik Stenson to win, though, because he played well at Sawgrass, tying for fifth, and his success seems to come in waves. Jason Dufner, meanwhile, is not playing as well as he was last year but I sense he will do something soon and think he can retain the HP Byron Nelson Championship this weekend.
Rob Lee's success as a golf tipster has helped reward four charities.
The Sky Sports golf expert has won nearly £6,000 in two years betting with online bookmaker Sky Bet and has decided to donate all the money to charity.
The charities to benefit from Rob's generosity are Help Uganda Trust, the Ashford St Peters Hospitals Charitable Fund, the Cardinal Newman Parents Association and the Great Ormond Street Hospital Children's Charity.
Don't forget to check at Rob's weekly tips at Sky Bet.