Rob Lee on Harbour Town Golf Links, Graeme McDowell and more
Rob Lee blogs on the quaintness of Harbour Town Golf Links and some of the players that combatted it.
Last Updated: 24/04/13 11:20am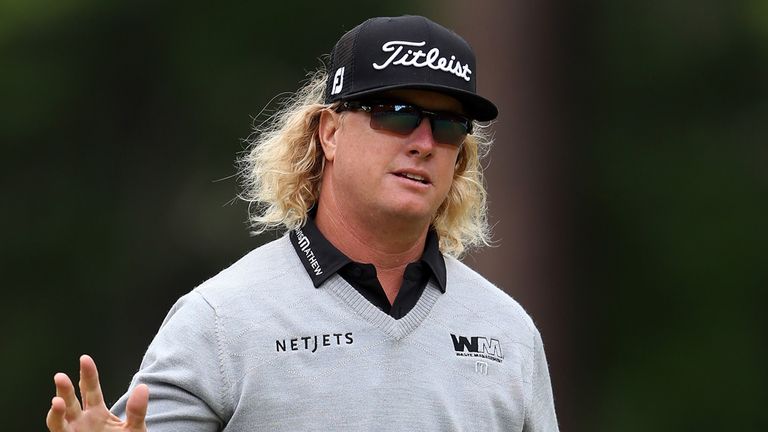 Harbour Town Golf Links, the host of the RBC Heritage, is tight and has a little bit of quirkiness about it, with trees sticking out and obscuring your view of the greens.
The venue requires a little more thought than at your bespoke US course; at just around 7,000 yards it is not long by modern standards, but if you don't focus on what you are doing it will get you.
It is hard to see where your next birdie is coming from as you have to concentrate on every hole and either get the ball bang on the tiny greens or miss them in the right spot to even stand a chance of making par.
I don't, however, think Harbour Town could hold a Major as it is not a strong enough test for the top players and I'm not sure that logistically you could pump tens of thousands of fans into Hilton Head, either.
Players enjoy teeing it up there, though, as it is a unique little enclave and is situated nicely on the calendar, taking place a week after the Masters, and it is certainly one of my favourite venues on the PGA Tour.
I love the TPC at Sawgrass, however, which hosts next month's Players Championship, because the last few holes are great fun - there is water involved and that means stuff happens - while I am also fond of Colonial Country Club in Texas and its old style.
Patient
Graeme McDowell won at Harbour Town last week by beating Webb Simpson in a play-off, and it was no surprise that when conditions became gusty the two US Open Champions came to the fore.
The Ulsterman remained patient to secure his first victory on the PGA Tour since he claimed his maiden Major at Pebble Beach in 2010, and will now be confident of faring well in another US Open when this year's event tees off on June 16.
Merion Golf Club in Pennsylvania should suit McDowell, who finished just a shot behind Simpson at the Olympic Club in 2012, as well as fellow Brit Luke Donald, as it is not a long course.
America's Charley Hoffman led at Harbour Town going into the final round after playing exceptionally well on the greens over the opening three days, but he carded a 77 in round four to finish in a tie for sixth place.
I enjoyed watching him play, however, because he has a distinctive look, though I was a little surprised he did not tie his long blonde locks into a ponytail when the winds picked up as strands of hair were flicking around his face.
Marc Leishman, meanwhile, backed up his share of fourth place at the Masters with a tie for ninth at Hilton Head and you would like to think he could now become a very established player on the PGA Tour.
The Australian was name Rookie of the Year in 2009 before falling back into the pack a little, but now that he has flourished at a course as demanding as Augusta, he must have real confidence that he belongs in the upper echelons of world golf.
Emerge
The PGA Tour heads to New Orleans this week, while the European Tour ventures to South Korea for the Ballantine's Championship - and a lot of home players will fancy their chances of doing well.
Korean ladies have begun to dominate the women's game and you sense that a lot more men from that part of the world will begin to emerge due to the success of their golfing godfather K. J. Choi and under-godfather Y. E. Yang.
Choi is playing in New Orleans but Yang will be at Blackstone for the Ballantine's, giving his fans the opportunity to see the man who saw off Tiger Woods to win the 2009 USPGA Championship at Hazeltine by three strokes.
The 41-year-old is not a regular at the top of Major leaderboards so you could argue that all his Christmases came at once four years ago, but he is not just a one-hit wonder, as he has also won the Honda Classic and recorded top-10 finishes in the Masters and US Open.
David Howell will be in Korea, too and having spent time with him on 'Masters Breakfast' a couple of weeks ago, I can reveal that he is in really good spirits and happy with his golf game.
The Englishman has been making cut after cut and even though he shot 79 in the final round at the Open de Espana last week in Valencia - a tournament won by France's Raphael Jacquelin after a nine-hole play-off - his best golf is very good and he can't be too far away from a win.
ROB'S SKY BET TIPS
Paul Casey was top 16 in Valencia, while he has plenty of experience of Asia and, because he has played Augusta enough, knowledge of roly-poly greens, too. I am going for him in the Ballantine's Championship, while in the Zurich Classic of New Orleans I will tip Nicolas Colsaerts, as the TPC of Louisiana is a place where the Belgian can loosen his shoulders and give the ball a bit of a smack.
Rob Lee's success as a golf tipster has helped reward four charities.
The Sky Sports golf expert has won nearly £6,000 in two years betting with online bookmaker Sky Bet and has decided to donate all the money to charity.
The charities to benefit from Rob's generosity are Help Uganda Trust, the Ashford St Peters Hospitals Charitable Fund, the Cardinal Newman Parents Association and the Great Ormond Street Hospital Children's Charity.
Don't forget to check at Rob's weekly tips at Sky Bet.