Rob Lee on Thorbjorn Olesen's Masters display and Tiger Woods saga
Rob Lee salutes Thorbjorn Olesen and Adam Scott, and slams the officials, in his Masters round-up.
Last Updated: 16/04/13 7:48pm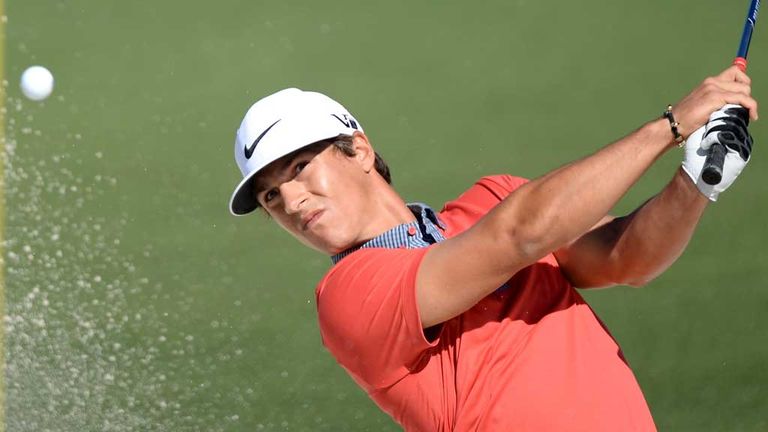 The 23-year-old shot 70, 68 and 68 over the final three days to finish in a tie for sixth place, but could have recorded an even higher place on the leaderboard had it not been for an opening 78.
Olesen is no dumpling - he tied for ninth at the Open Championship last year - but for him to acclimatise so quickly in his first Masters bodes very well for the future and I can see him being a challenger at Augusta for years to come.
It was an almost week for another European, Sergio Garcia; he led after the first round, shot a horrible 76 on the Friday and then ended in a share for eighth place with Lee Westwood and Matt Kuchar on three-under-par.
A top-10 finish is always good and top-10 finish in a Major is very good, so while Sergio was undoubtedly expecting more than he got, you just wish he would be a little more upbeat because he must know by now that his game is tailor-made for Augusta.
Garcia and Westwood, who did not three putt all week, must be buoyed by Adam Scott's victory and should be thinking that if he can shake off the perennial nearly man tag, then they can, too.
Compete
Rory McIlroy, meanwhile, said he did not play too badly as he secured 25th place, and I am inclined to agree with him, as he produced a lot of good shots out there.
He dropped five shots in two holes on day three as he accrued a score of 79 but he was okay other than that and with a bit of momentum at the right time, he could have really contended.
Two time Masters champion Bernhard Langer rolled back the years on Sunday evening, birdieing his first three holes to move to within two shots of the lead, but, just like Fred Couples, the German couldn't keep it going and his 55 years caught up with him.
Augusta became a very powerful course when it became damp, sticky and horrible, and the distance the likes of Scott, Angel Cabrera and Olesen got off the tee made it very hard for Bernhard to compete.
Scott, though, who has ascended to world number three after his triumph in Georgia, was the star of the show and finally proved that he has the inner drive to win one of golf's biggest prizes.
I always think it takes a bit of an edge and a hard core to thrive at the top of the sporting world and that's not something I have seen from Adam, who is one of the nicest blokes you could wish to meet.
Even when he got shell-shocked at Royal Lytham last year by bogeying the final four holes to lose the Open Championship to Ernie Els, he didn't seem to react - but I saw real passion when he holed out on the 72nd hole at Augusta and I think a lot of pent-up aggression was released.
Lucky
I must also mention Cabrera, whose sportsmanship after losing to Scott in the play-off was Jack Nicklaus-like, and left golf in a much better place than it was 48 hours earlier following Tiger Woods' non disqualification and penalty handed to Chinese youngster Tianlang Guan for slow play.
The Woods saga was very simple to me: he took a wrong drop on the 15th hole on Friday, failed to add a two-stroke penalty to his scorecard, and should have been removed from the tournament.
I couldn't believe that he was allowed to play on after admitting afterwards that he moved his ball a couple of yards back from where he had originally hit it in search of a better yardage, or number as the pros like to say, and I would argue that someone like David Lynn would not have been so lucky.
Guan, 14, meanwhile, was taking forever to play his shots and so you could see why referee John Paramor punished him, but I think it was a bit pointless as there are other candidates more worthy of a penalty.
If you are going to do people for playing slowly, reprimand serial offenders like Keegan Bradley, Ben Crane, and Webb Simpson - as well as Phil Mickelson when he spends ages talking to caddie Jim "Bones" McKay about a shot - and not a teenager.
If Guan had known how to play the "game", he wouldn't have got done.
Invaluable
I had immense fun on Masters Breakfast with caddie Billy Foster; he contacted me a couple of months ago asking if Sky Sports would be interested in using him during the Masters and thankfully after pushing the idea my bosses said yes.
Billy's experiences of bagging around Augusta for Seve Ballesteros, Darren Clarke, Lee Westwood and Garcia were invaluable as we analysed the previous day's action, while he also showed what an excellent sense of humour he has, too.
To be a good caddie you not only have to have a grasp of yardages, greens and playing conditions but you also have to be a nursemaid, psychologist, and a butler, while there has to be a rapport between bagman and golfer as well.
Billy showed glimpses of why he is such a trusted caddie in our studio, but I must not forget David Howell, who was excellent company as well during our Masters round-up programme.
Still, staying up late to watch the action unfold at Augusta and then getting up early for my presenting duties was definitely the full Masters experience.
ROB'S SKY BET TIPS
Pablo Larrazabal was in excellent shape ahead of the Masters break and would dearly love to win his home tournament, the Open de Espana I think he will at odds of 20/1 with Sky Bet, while at the RBC Heritage at Harbour Town, a course that rewards clever play means I will go for Matt Kuchar at 16/1.
Rob Lee's success as a golf tipster has helped reward four charities.
The Sky Sports golf expert has won nearly £6,000 in two years betting with online bookmaker Sky Bet and has decided to donate all the money to charity.
The charities to benefit from Rob's generosity are Help Uganda Trust, the Ashford St Peters Hospitals Charitable Fund, the Cardinal Newman Parents Association and the Great Ormond Street Hospital Children's Charity.
Don't forget to check at Rob's weekly tips at Sky Bet