Rob Lee on the beauty and beast-like qualities of Augusta National
Augusta National is an exquisite golf course, says Rob Lee, but it can cause players no end of distress.
Last Updated: 10/04/13 8:34am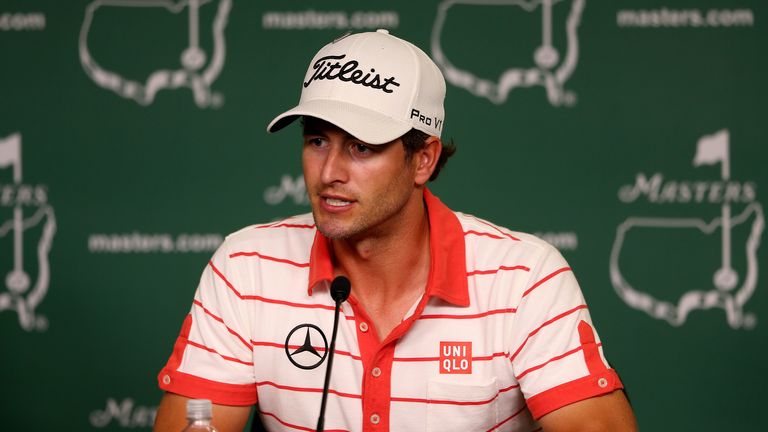 I'm struggling to think of anywhere else that compares visually as, while the lighthouse at Turnberry and the R&A clubhouse at St Andrews are famous landmarks, there are so many parts of Augusta that stick in your mind.
Any hole on Amen Corner, the climb up to the last hole, and the tee shot at 10 are stunning and then you have the flowers, the greenness and fact the course is as close to perfect as possible; it is extraordinary.
I think visiting Augusta every year makes it easier for people to form memories, too; we are going to a great venue in Muirfield for the 2013 Open Championship, but how many people have a visual in their heads of what the course looks like?
At Augusta, though, we are there every April and because of Sky's extensive coverage of the tournament we now know what every hole looks like and people can identify with each blade of grass, and that certainly adds to the tournament's appeal.
The players, however, can get seduced by the place's splendour as it can turn from something very beautiful into a scorecard destroyer in half a second - and the main problems Tiger Woods and co will encounter are the greens.
If you get tardy with your approach shots you will come unstuck as you will find yourself in a place where you cannot get close to the hole, and this quote from Masters co-founder Bobby Jones sums the place up: "There isn't a hole out there [Augusta] that can't be birdied if you just think. But there isn't one that can't be double-bogeyed if you stop thinking."
I think the 11th hole, in particular, is treacherous; it is 500 yards plus now and requires you to hit a sliding fade to the top of the hill and then an iron shot to the green when all you can see is the lake to the left, and if you bail hole high right you've got virtually no chance of getting it close.
But the key to doing well at Augusta is to take risks when you need to, be prudent at other times and not back off, as when you retreat and try to find a lower gear in order to protect what you've got, you come unstuck.
If you don't try to beat the golf course, it is going to beat you.
Greatest
I suppose my first memory of the Masters was watching Ray Floyd destroy the field by eight shots using the Zebra putter in 1976 - nobody had seen that club before and Floyd hovered balls in from all over the place - but my favourite Augusta moment was when Woods chipped in on the 16th in 2005.
I think that was the greatest shot in the history of the Masters as at that point things didn't look good for Woods; Chris Di Marco, the man he was fighting it out with for the title, had a very makeable birdie putt, while Tiger was over the back of the green.
Somehow, though, Woods walked off that green after making a two and went on to win the tournament, and if there is one player that I would want to play Augusta for me if my house was on the line it would be him.
The American is 132 under par in his career at the Masters' four par fives and is the obvious favourite to triumph at the 2013 event, as he loves the place and has won three times this year and six times in 12 months.
But his odds, 4/1 with Sky Bet, are very short, so he doesn't figure in my list of five players to back, which is comprised of Rory McIlroy, Charl Schwartzel, Adam Scott, Matt Kuchar and Sergio Garcia.
Consistency
I've mentioned why McIlroy and Schwartzel will contend in previous blogs, but Scott, second to Ernie Els at last year's British Open, has a fantastic chance to win at Augusta.
He is a really good driver of the ball and able to get it close enough to use short irons - and he might already have had a Masters title to his name were it not for the exploits of Schwartzel two years ago.
Scott played his hand beautifully in 2011 before he was eventually scuppered by the South African birdieing the final four holes to win by two strokes - but he definitely has the game for Augusta and I can see him becoming the first Australian champion.
Kuchar, meanwhile, is a Southern boy; he went to college at Georgia Tech in Atlanta and will have a lot of partisan support.
He played unbelievably well to win the WGC-Accenture Match Play a few months ago and is a tremendously brave and consistent player - and consistency often wins the day at Augusta.
He will eke out birdies and stay in contention while some of his crash-bang-wallop peers come unstuck and he has previous at the Masters, tying for third alongside Phil Mickelson, Lee Westwood and Peter Hanson last year.
Garcia has all the tools, too; he hits the ball a long way, is feeling good after winning the Wyndham Championship in August to get into the Ryder Cup and has conquered his nemesis, three and four-foot putts.
If we see a happy Sergio, look out!