Rob Lee looks at Masters hopes of Mickelson, Schwartzel and Johnson
Rob Lee looks at the form of some ex-Augusta titlists ahead of this year's mouth-watering showdown.
Last Updated: 05/04/13 10:02pm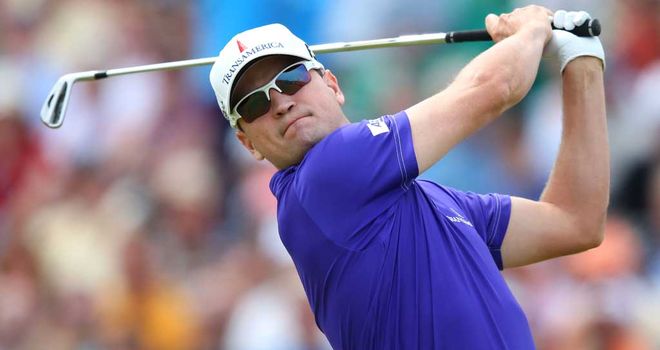 Charl Schwartzel, who won at Augusta in 2011, finished tied for fourth at the Malaysian Open and that, added to the form he has shown since the back-end of last year and his love of the course, makes him one of the favourites to don this year's Green Jacket.
The South African is ranked 15th in the world at present but he is a top-five player in my eyes and certainly capable of winning more Majors - and you could say the same about defending Masters champion Bubba Watson.
Watson's left-handed fades and his ability to tank the ball miles make him ideally suited to Augusta and I could see him winning the Masters three times before his career is done - even though he is one of the most unconventional players you could ever wish to see.
The game of golf needs competitors who are a bit wacky and not straight out of the robo-pro playbook; Malaysian Open winner Kiradech Aphibarnrat, whose swing is longer than John Daly's, is another one and so is Phil Mickelson, a three-time Masters victor.
Mickelson is extremely inconsistent - at his best he is brilliant but if he is a bit off he can miss the cut, as he did at the Arnold Palmer.
But the juices start to flow when Augusta rolls around and he is in decent form, having won the Phoenix Open and finished third at the WGC-Cadillac this term.
Gritty
The Masters is a good tournament for attackers like Phil because you can drive the ball off-line and still get a decent-looking lie; if you miss the fairways you are only to be going to be in light rough, not in bushes, and on many holes you will have a shot from the trees.
However, really solid players have also flourished at Augusta before, including 2007 champion Zach Johnson; the American is in that batch of guys just below the big guns and is a really gritty and gutsy competitor.
Augusta is back favouring the long hitters now, though, and the fact Johnson is not a member of the bomb and gouge club and can't rely on a power game could count against him - but as a nine-time winner on the PGA Tour he has to be respected.
Johnson has remained in the upper echelons of the game since his Major triumph - he is currently perched just inside the world's top 30 - but the same cannot be said of Canada's Mike Weir, who has sunk like a stone.
Weir, the 2003 Augusta champion, made swing changes after his big victory in the hope of getting even better, but it has had the opposite effect and that, coupled with injuries, means he has found it incredibly difficult to get back on track.
2009 Masters king Angel Cabrera, meanwhile, is probably in the twilight of his career now, and at the age of 43 he just tends to pitch up here and there and is not a regular name on a leaderboard anymore.
We saw Ernie Els roll back the years to win the Open Championship in 2012 but I can't see Cabrera following suit at Augusta because even though he has a game that's tailor-made for the venue, he is not raking in the top-10 finishes and has shown nothing to suggest he can edge the world's best.
Putting
The most likely former Masters winner to lift the title again is, of course, Woods and while he has said publicly that he doesn't need a Major trophy to officially complete his comeback, I think that deep down he sees things differently.
The ominous sign for the other players is that every part of his game is functioning and if he continues in the same vein he will make it very hard for anyone else to have a squeak; his driving has improved; he is controlling his distances with his irons much better, and his putting has returned with a vengeance.
Woods putted just 100 times all week en route to winning the WGC-Cadillac two weeks ago, which is an absolutely unbelievable tally, while he was superb around the greens at Bay Hill, too, as he secured a two-stroke win over Justin Rose.
I don't think there has ever been a player who can break down the game and decipher a way to win better than Tiger, who now has 77 victories on the PGA Tour, just five behind Sam Snead's record.
For instance, when he missed the fairway at the last hole at the Arnold Palmer Invitational, he pitched the ball back in play and then wedged the ball up the left-hand side of the green, as opposed to going over the water, as he knew he could three-putt and win.
That said, while Rose had a fine week, picked up another huge cheque and moved up to world number three, I was disappointed with his second shot on the 72nd hole at Bay Hill.
The Englishman hit a perfect tee shot which left him around 160 yards to the pin and had to choose whether to play for par and hit left of the hole and into the fat of the green, or go at the flag and risk making a double.
Rose would still have finished second if he had made a six but if he had stiffed the approach and made three then Tiger, who had to work hard for his bogey, remember, would have had something to think about.
I wonder what Arnold Palmer would have done in the same situation...
ROB'S SKY BET TIPS
Rory McIlroy can overtake Woods and get back to world number one this week if he wins the Shell Houston Open and it would be fantastic if that happened because every golf fan wants to see this ding-dong between these two great players. McIlroy had a good final round at Doral and seems to be au fait with his equipment now and I think he can win at the Redstone Golf Club at odds of 9/1 with Sky Bet. As for the Hassan II Golf Trophy in Morocco, I will go for 25/1 shot Pablo Larrazabal; the Spaniard played well in Malaysia and is due a victory.
Rob Lee's success as a golf tipster has helped reward four charities.
The Sky Sports golf expert has won nearly £6,000 in two years betting with online bookmaker Sky Bet and has decided to donate all the money to charity.
The charities to benefit from Rob's generosity are Help Uganda Trust, the Ashford St Peters Hospitals Charitable Fund, the Cardinal Newman Parents Association and the Great Ormond Street Hospital Children's Charity.
Don't forget to check at Rob's weekly tips at Sky Bet