Rob Lee blogs on Arnold Palmer and European success at the Masters
Rob Lee says Arnold Palmer's charm, muscle and flamboyance propelled golf into the public domain.
Last Updated: 20/03/13 3:46pm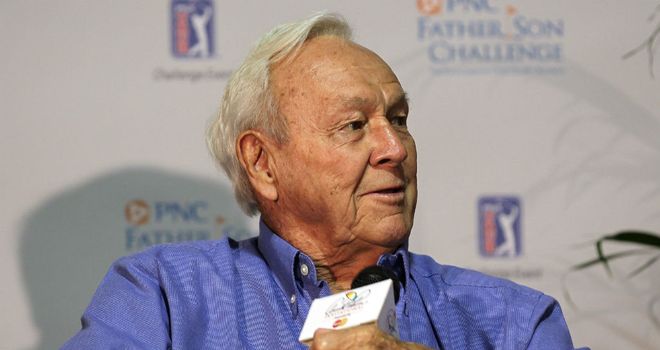 Palmer, known as The King, is one of the greatest golfers of all time and probably the first player to capture the public's imagination and make the sport sexy; Jack Nicklaus and Tiger Woods have done wonders for the game but Arnold was a pioneer.
Younger fans might not be too aware of Palmer's achievements, but he had phenomenal backing in his prime; he had "Arnie's Army" following him everywhere on the course and his popularity was like Phil Mickelson's on steroids.
Arnold's greatest strength was his strength, but his aggressive, swashbuckling style also won him many admirers; there wasn't a flag he wouldn't take on, and he oozed machismo, something everyone, especially the ladies, bought into.
Palmer was Errol Flynn with a golf club and he still has the charisma and twinkle in his eye now, even at the age of 83; he garners instant respect, especially in America, and if he could bottle his qualities and sell them he would be richer than Bill Gates.
It's extremely difficult to compare golfing eras but there's no doubt that Palmer's innate talent would have seen him flourish in today's game, too, much like other greats of golfing past, such as Nicklaus, Bobby Jones, and Ben Hogan.
Arnold would have adapted to the conditions of the day and won a host of tournaments because he was born to do so.
Cycles
Palmer was a master of the Masters, winning the Augusta event in 1958, '60, '62 and '64, but unfortunately we have not had a European winner in Georgia since Jose Maria Olazabal took the Green Jacket in 1999.
It is frustrating because in the 1980s and early '90s we owned the Masters, with Bernhard Langer, Sandy Lyle, Nick Faldo and Ian Woosnam prevailing, but it has switched the other way now and American players have dominated over the last decade.
These things go in cycles, though, and I would expect Europe to get back into the groove over the next few years as our top-drawer players become even more familiar with the iconic course's nuances.
Augusta is a place you have to know intimately - only Horton Smith, Gene Sarazen and Fuzzy Zoeller have won the Masters at the first attempt - and you have more chance if you have played there a few times before.
Rory McIlroy has a great opportunity this year because Augusta suits him perfectly - he should have won the event in 2011 but his putting over the first three rounds, not the 80 he shot on the final day, cost him - and he now knows how to win Majors.
Meanwhile, Justin Rose and Sergio Garcia are playing very consistently at the minute so they must have a shout, but I'm not sure trekking over to Malaysia this week will really benefit Luke Donald and 2011 Masters champion Charl Schwartzel.
They might really like the golf course but they will be playing in humidity and in a different time-zone and it will take them a week to recover from their exploits when they return to the US - and then it will be time for Augusta; it doesn't seem like ideal preparation to me.
Grind
Kevin Streelman was caddying in Scottsdale 10 years ago but has turned himself into a winner on the PGA Tour at the age of 34 after his victory at the Tampa Bay Championship on Sunday.
You have to take your hat off to him because he hasn't been sitting on the gravy train waiting for success, he has been at the hard end and really had to grind, much like Thomas Aiken, who won the European Tour's Avantha Masters at the weekend.
Boo Weekley and Justin Leonard returned to form in Florida, too, finishing second and tied-fourth respectively; Weekley has had all manner of injuries but should now secure his Tour Card for next year, while it was great to see 1997 Open Champion Leonard pop up on a leaderboard again.
The 40-year-old used to be on our screens regularly but his appearances are fleeting now and I think golf has passed him by a little; he cannot compete with the power players in the game and if he is not holing every putt and chipping in all over the place things become difficult for him.
Alvaro Quiros, meanwhile, made his return at the Avantha Masters after a four-month spell on the sidelines following wrist surgery, and if he is fully fit the sky is the limit, because he is capable of beating anybody and achieving anything.
The Spaniard hits raking draws and shoots with a nine-iron when his rivals are using five-irons and if he keeps his concentration I could quite easily see him winning the Masters at some point.
ROB'S SKY BET TIPS
Charl Schwartzel won the Thailand Golf Championship by 11 strokes in December so knows how to play well in Asia and is able to deal with the sticky conditions, so I will back him to win the Malaysia Open at 11/2 with Sky Bet.
Meanwhile, in Bay Hill, it is hard to back against 11/4 favourite Tiger Woods; he owns the Arnold Palmer Invitational and will return to world number one if he wins the event for an eighth time.
Rob Lee's success as a golf tipster has helped reward four charities.
The Sky Sports golf expert has won nearly £6,000 in two years betting with online bookmaker Sky Bet and has decided to donate all the money to charity.
The charities to benefit from Rob's generosity are Help Uganda Trust, the Ashford St Peters Hospitals Charitable Fund, the Cardinal Newman Parents Association and the Great Ormond Street Hospital Children's Charity.
Don't forget to check at Rob's weekly tips at Sky Bet