Rob Lee blogs on Luke Donald, Graeme McDowell and European Tour
Rob Lee says Luke Donald cannot compete with an in-the-zone Tiger Woods and Rory McIlroy.
Last Updated: 15/03/13 7:36am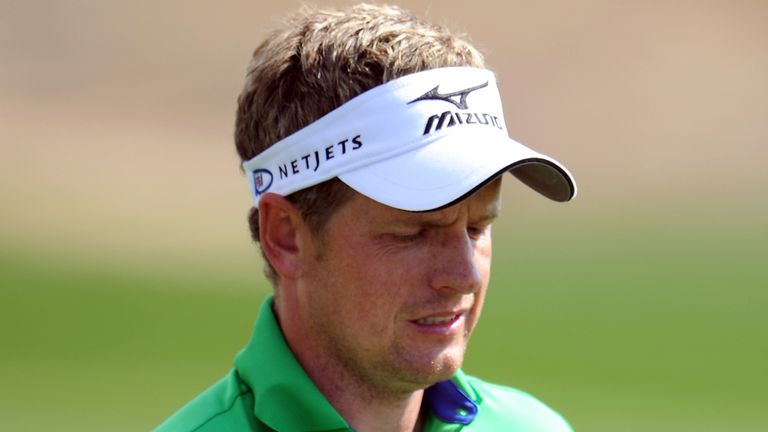 The Englishman cleaned up two years ago, finishing top of the PGA Tour and European Tour money lists, winning four tournaments, including the WGC-Accenture Match Play and the BMW PGA Championship, and ending the campaign as world number one.
However, for a mere mortal that is very difficult to sustain, especially when 14-time Major winner Tiger Woods and the supremely talented Rory McIlroy, who duplicated Donald's 2011 exploits in 2012, are around.
If Tiger and Rory are at their best, Luke cannot compete with them; he has a tremendous mind and when he is on, his iron game and putting are fantastic - but he hits considerably shorter off the tee than Woods and McIlroy and that disadvantage will eventually tell.
Graeme McDowell went toe-to-toe with Tiger for a period at the WGC-Cadillac Championship last week, but an unspectacular final round saw him finish in a four-way tie for third place as Woods won the event, for a seventh time, by two strokes from Steve Stricker.
The Northern Irishman will be pleased with his performance, though, as, like Donald, he has not figured in too many tournaments in 2013, but it seems his time away from the spotlight has allowed him to work on a few aspects of his game.
McDowell's greatest assets, however, are his self-confidence and tough streak; he stood tall while the rest of the field wilted to pluck the 2010 US Open at Pebble Beach and he did what he needed to for Team Europe to win his continent the Ryder Cup in the same year.
Graeme is a strong competitor who doesn't shirk a battle or get intimidated easily and has the ability to bounce back from a bad day at the office rather than dwell on it, traits that should serve him well as he hunts for more Majors.
Still, he would have to go some to be as punch-proof as Phil Mickelson, who can triple bogey a hole and then completely forget about it by the time he tees off at the next one!
Absence
The transition of Donald and McDowell over to the States means the European Tour events are not as star-studded as organisers would like, but the top players almost have a built-in world tour these days.
They start off in the Middle East on the European Tour before heading over to America for the World Golf Championships, therefore bypassing the European events in South Africa and India, and then stick around for the Majors.
And while they will return to our shores for a couple of meaty tournaments, like the BMW PGA Championship and the Open, the premier players will not be on this side of the Atlantic too often.
I don't see sponsors pulling out because of a lack of star power, though, especially at tournaments like this week's Avantha Masters, because Messrs Donald, McIlroy and Lee Westwood have never played there.
The famous players' absence could benefit the European Tour in the long run, though, as it will allow some unheralded guys to break through, solidify their reputations, secure their playing rights for future years and ultimately build their career.
Austria's two-time European Tour winner Bernd Wiesberger and Dutch birdie machine and 2011 Johor Open champion Joost Luiten, both 27, can prove their success was no fluke by taking another title, while 22-year-old Frenchman Victor Dubuisson, who hits the ball a mile, could seize his first.
However, the Avantha Masters' weaker field also gives some of the European Tour stalwarts, like Anders Hansen (42), Thongchai Jaidee (43) and Daniel Chopra (39), the chance to prove that age is no barrier and add to their trophy cabinets.
There might not be glittering names but there could be some glittering golf.
ROB'S SKY BET TIPS
AVANTHA MASTERS: I'm going to go for 50/1 shot Andy Sullivan this week. The Englishman has fired in some low numbers already this year and finished tied for fifth at the Africa Open in February and, with the big players away, I think he can win here and kick-start his career.
TAMPA BAY CHAMPIONSHIP: Adam Scott shot 64 in the final round at the Cadillac so is plainly coming back into form, while Luke Donald knows he can play well around the Copperhead course, but 14/1 shot Sergio Garcia is hard to oppose; he hit some excellent shots at Doral and seems at peace with himself.
Rob Lee's success as a golf tipster has helped reward four charities.
The Sky Sports golf expert has won nearly £6,000 in two years betting with online bookmaker Sky Bet and has decided to donate all the money to charity.
The charities to benefit from Rob's generosity are Help Uganda Trust, the Ashford St Peters Hospitals Charitable Fund, the Cardinal Newman Parents Association and the Great Ormond Street Hospital Children's Charity.
Don't forget to check at Rob's weekly tips at Sky Bet