Rory McIlroy must play more to stop slump in form, says Rob Lee
Rob Lee says Rory McIlroy must play more events in order to address his recent slump in form.
Last Updated: 09/03/13 11:49am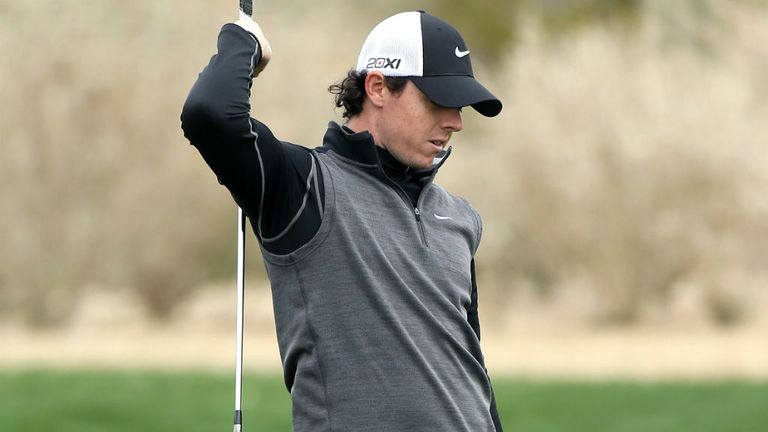 When the Ulsterman walked off the Palm Beach course after shooting seven-over-par for his first eight holes of the second round, he said he quit because he wasn't in a great place mentally - but around an hour later, McIlroy put his woes down to toothache.
I hope Rory isn't given a hard time for that because even though he is a two-time Major winner and the world number one, he is still only 23 and to expect a man of that age to do the right things all the time is a bit much.
McIlroy is going to make mistakes and if he got frustrated with his form, as all golfers do from time to time, he should be given a bit of leeway, because he is the sort of streaky player who can have a few dodgy weeks and then come roaring back.
Plenty of pundits have criticised his equipment switch from Titleist to Nike but, as I've said before, I don't think that has anything to do with his struggles; people change clubs all the time, even if they stay within the same company.
The great Jack Nicklaus was a prime example; the Golden Bear used to play with Slazenger clubs when he was in England and Australia, but MacGregor equipment when he teed off in America.
International
I wouldn't be surprised if Rory is a bit stressed out; most people's lives are complicated and you can imagine McIlroy's is ultra-complicated because it is extremely hectic and he is such a high-profile figure.
The Northern Irishman has to be a very international man to maintain his relationship with tennis player Caroline Woznicaki; to see each other they often have to travel all over the globe and that can be very demanding.
That could be getting Rory down or it could be as simple as he is a bit cheesed off because, after a stellar 2012 season which yielded five wins, he is not playing well.
I cannot see much difference between McIlroy's swing now and the one that served him so brilliantly last season and I think his ills stem from not playing that many tournaments.
He took a lengthy break off over the winter and, while that was understandable after all that he had achieved, I don't think he has had the pencil and card in his hand enough in 2013 and seems a little out of rhythm.
Rory missed the cut in Abu Dhabi, got knocked out in the first round at the WGC-Accenture Match Play and then had one and a half rounds at the Honda Classic - and that's not a lot of course time considering we are now in March.
McIlroy seemed to have the perfect year in 2012, one that could drive him forward to further success, but he seems to think he should be playing less - and I don't know why.
He'll figure it out, though. He always does.
Reappraise
Conditions were very difficult at the Honda Classic; the wind got quite blowy on Saturday and Sunday, which made scoring very tricky, so I thought Michael Thompson did really well to take the trophy.
The 27-year-old had not won on the PGA Tour before but I think he took huge confidence from his second-placed finish at the US Open at Olympic Club last season and knew he could stand up to the pressure.
Geoff Oglivy, meanwhile, came second in Florida, which is probably reward for reappraising his game; he has been out of form recently but after hitting his mid-30s has decided to really go for it now and not let his career fizzle out.
The Australian, who has won the US Open as well as two World Golf Championship events, is one of the bravest characters on the circuit, and if he is rededicated and stops being so erratic he could certainly be a factor at the top of world golf - and at the WGC-Cadillac this week.
Plus, England's David Lynn snared a tie for fourth at the Honda, with amongst others Justin Rose and Keegan Bradley, and I am delighted for him because he is one of the most entertaining and likeable characters in the game.
I follow him on Twitter and he posted some absolute gems last week - a picture of him lying in the arms of the bear statue at Palm Beach and then another where he superimposed his head into a cartoon of Tiger Woods eating something - that something being him!
The 39-year-old's runner-up spot at the USPGA Championship came out of nowhere but has allowed him to play on the PGA Tour in 2013, and hopefully he does enough to keep his playing rights for next year, something that will be aided no end by his display in Florida.
ROB'S WGC-CADILLAC SKY BET TIP
You need to be clever and put your ball in the right position around Doral and those are the traits you associate with Accenture Match Play winner Matt Kuchar; the American will be very confident so I'm going to go for him at 20/1 with Sky Bet to win back-to-back WGCs. However, the last hole on the Blue Monster course is arguably one of the hardest endings on the PGA Tour, right up there with 18th at the TPC of Sawgrass, and could scupper anyone's hopes...
Rob Lee's success as a golf tipster has helped reward four charities.
The Sky Sports golf expert has won nearly £6,000 in two years betting with online bookmaker Sky Bet and has decided to donate all the money to charity.
The charities to benefit from Rob's generosity are Help Uganda Trust, the Ashford St Peters Hospitals Charitable Fund, the Cardinal Newman Parents Association and the Great Ormond Street Hospital Children's Charity.
Don't forget to check at Rob's weekly tips at Sky Bet