Rob Lee blogs on WGC-Accenture Match Play finalists Matt Kuchar and Hunter Mahan
Matt Kuchar, Hunter Mahan and Ian Poulter... Rob Lee reflects on the WGC-Accenture Match Play.
Last Updated: 28/02/13 6:24pm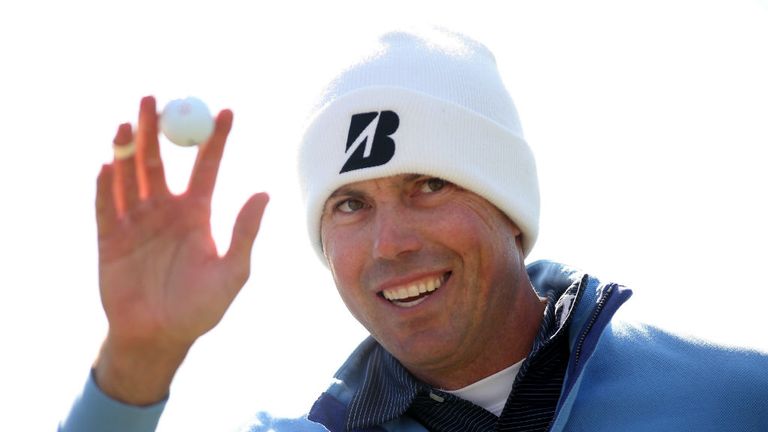 The 34-year-old beat Hunter Mahan in the final of the WGC-Accenture Match Play on Sunday and what really caught my eye as I walked the course for Sky Sports was how few mistakes he made.
Kuchar drives the ball very well and gives himself plenty of birdie opportunities, while if he does miss a green, he can rectify the situation with his red-hot short game; every base is covered and I see a Major victory in his future.
The Floridian's triumph in the Players Championship in 2012 was a big step up for him and now he has grasped a World Golf Championship event he knows he can beat the world's best, which will help him down the final stretch at events like the Masters.
Kuchar made the semi-finals of the Accenture in 2011 and the quarters in 2012, while the man he defeated this weekend, Mahan, was the defending champion, having toppled Rory McIlroy 2&1 in Arizona 12 months ago.
Both men seem to revel in the match play format but I think the way they play also helps them in this brand of golf.
Kuchar and Mahan, like Ian Poulter, don't spray the ball around, are never out of a hole, and are able to wear their opponents down.
Kuchar has risen to eighth in the rankings now and should be looking to cement himself in the world's top 10, while Mahan can do the same if his short game continues to improve, as there are not too many better players than those two.
Colour
Poulter, the 2010 Accenture champion, was ousted by Mahan in the semi-finals and conquered by Jason Day in the third-place play-off, but it was great to see him do so well as he is such an enjoyable player to watch.
He is loud and brash, but he adds a lot of colour to a world that can sometimes be very grey and I like guys like that, people who are prepared to stand out from the crowd with both their personality and golf game.
Pouter's most controversial comment was probably when he declared, before McIlroy burst onto the scene, that if he played to his potential it would be "just me and Tiger Woods" - but I thought it was a tremendous statement.
It wound a lot of people up, especially the other players, but if you don't believe you can achieve something it is incredibly difficult to do it; Ian always gives himself a platform to succeed because he never doubts his own ability.
The 37-year-old, back in the world's top 10 after his displays in Tucson, Tweeted that 2013 was going to be a big year for him and I think that means doing something he has never done before, namely winning a Major.
Poulter has two WGCs to his name - he won the HSBC Champions in November 2012 in addition to his Match Play win three years ago - and having chalked those off his list, the next logical step for a player that golf needs is to win one of the big four tournaments.
Betterment
The other big golfing news is the PGA Tour's opposition to the ban of the anchored putter, and I think a major reason for their stance is money; they are concerned about how much coin they can turn over and not, like the US Golf Association and the Royal and Ancient Golf Club, the betterment of the game.
The interesting thing now will be seeing how the USGA and the R&A react to the PGA Tour's plea for any ban to be blocked as if they do backtrack it would suggest they are totally inert and cannot make decisions as a ruling body.
If this impasse remains, we risk having a situation where the ban comes into place, the European Tour accept, the PGA Tour ignore it, and players who use the anchored stroke every week Stateside, are not allowed to adopt it when they play in the US Open or British Open or come over to the European Tour for events.
The USGA and the R&A have always safeguarded golf by responding to new innovations and deciding whether they should be permitted or not, and with recent Major winners Ernie Els, Keegan Bradley and Webb Simpson using the belly putter, I think they want to stop a potentially seismic shift.
I agree with them because I've never thought it was a proper stroke - the hinge point takes care of so much of the shot - but if they don't have a definitive say, there will be huge ramifications for the game.
ROB'S SKY BET TIPS
TSHWANE OPEN: There are lots of South Africans in the field, but I'm going to go for Spain's Pablo Larrazabal. I've been following him on Twitter and he is sensing that is going to hit some form, while he is an all-singing, all-dancing, character, too, with touches of Seve Ballesteros. He's a cracking watch and this could be his week at great odds of 50/1.
HONDA CLASSIC: The nonsense with Woods and McIlroy has to stop; they missed the cut in Abu Dhabi and got knocked out in the first round at the Accenture last week but we are heading into March and they need to play properly. I hope we see them play well in Florida, but I'll back Charl Schwartzel at 11/1. He is playing awfully well and I see that continuing.
Rob Lee's success as a golf tipster has helped reward four charities.
The Sky Sports golf expert has won nearly £6,000 in two years betting with online bookmaker Sky Bet and has decided to donate all the money to charity.
The charities to benefit from Rob's generosity are Help Uganda Trust, the Ashford St Peters Hospitals Charitable Fund, the Cardinal Newman Parents Association and the Great Ormond Street Hospital Children's Charity.
Don't forget to check at Rob's weekly tips at Sky Bet