Phil Mickelson's aggressive style can yield more big-tournament wins, says Rob Lee
Rob Lee blogs on Phil Mickelson, Scott Piercy and the Phoenix Open's entertaining 16th hole.
Last Updated: 06/02/13 2:03pm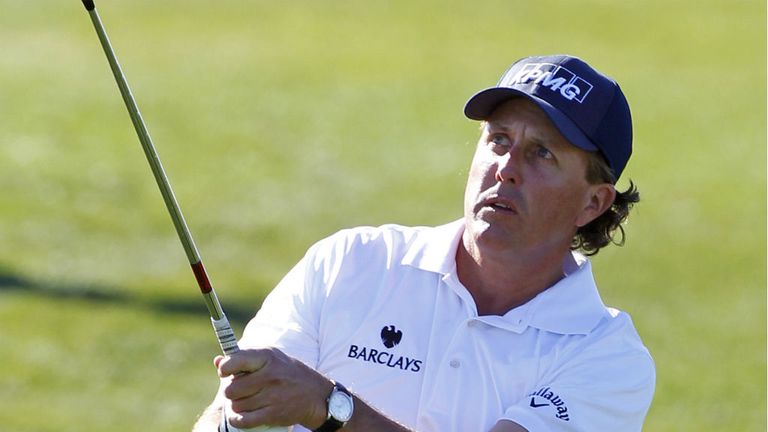 The American played excellently, too, and with a dose of luck and some better decision making he could have shot 59 on the first day - the ball lipped out on the 18th - and broken the 36, 54 and 72-hole scoring records.
Players always want an early-season victory to help them get in the groove, but that wasn't the way it panned out for Phil last term after he won the Pebble Beach Pro-Am - this week's PGA Tour event - in February 2012.
Mickelson took Tiger Woods apart in the final round and I thought: 'Wow, we could see something very special from Phil this campaign', but that didn't happen and we saw very little from him after that.
2013, could be a different story, though, because Lefty seems to have his driving, the weakest part of his game, in fine fettle; he called coach Butch Harmon in for some emergency surgery last Wednesday and discovered a driver that he meshes incredibly well with.
He found the fairway on the TPC of Scottsdale's 15th hole all week and his only dodgy displays when hitting long - the 18th on Friday when he smacked the ball into the water and the 17th on Sunday when he very nearly did the same thing - came when he used his 3-wood.
Mickelson's putting hasn't always been the greatest, either, but he found his range in Arizona and seems fully in-tune with this new claw grip that he is utilising - and I bet he is now itching to get to Augusta to try and win his fourth US Masters trophy.
Phil is 42 now but he will always give himself chances to win the big titles because he rarely plays with the safety catch on - and, as funny as it sounds, he makes more mistakes when he does.
Mickelson has been on the range with Harmon a myriad of times, hit solid, controlled drives and been told by Butch: 'Great, now take it out on the course'. Phil's response, however, is: 'We both know that's not going to happen!'
He always wants to hit hard, hit long and win in style and it's hard to argue with that ploy which has earned him 41 victories on the PGA Tour, four Majors - he has one USPGA as well as his trio of Green Jackets - and potloads of money.
Mickelson has arguably been the second best player during the Tiger Woods era, something that is perhaps reinforced by the fact he has won a tournament in each of the last 10 years on the PGA Tour - the longest streak amongst current players.
Phil, who has risen back into the world's top 10 following his victory in Arizona, has spent plenty of weeks as world number two and the only disappointment for him was that when Tiger had his on-course malaise and admonishments off it, he never quite crept up to number one.
Crisply
Brandt Snedeker, who I spoke about in depth in last week's column, finished second to Mickelson to continue his fine start to the season, but I was also impressed by third-placed Scott Piercy (pictured), who despite winning twice on the PGA Tour, is relatively unheralded.
The man from Las Vegas, whose victories came at the 2011 Reno-Tahoe Open and last year's Canadian Open, has a lot of power, a lovely swing and strikes the ball very crisply, traits that helped him fire a 10-under par 61 on the final day in Arizona.
He seems very in check with his emotions, too; he is not depressed on the golf course, but he is not ebullient either and that seems to allow him to focus on his game and make good scores. He's like Jason Dufner-lite.
Piercy sits at 37 in the world rankings and will be hoping to get himself into contention for a spot in the US Ryder Cup team for the 2014 event in Glenegales, but he will probably have to shoot into the top eight as rookies don't often get a wildcard berth.
Piercy lit up day four at Scottsdale but the action on the 16th hole was entertaining all week; I think there is seating for about 13,000 vociferous fans, while there are plenty more vocal golf supporters there in a standing capacity.
It is an innocuous hole but put throngs of people there, caddy races, John Hahn doing Gangnam Style and it turns into an event; the players wouldn't like it every week but I think they buy into it at the Phoenix Open and it has become a unique tournament fixture.
ROB'S SKY BET TIPS
PEBBLE BEACH PRO-AM: It is very difficult to defend tournaments, not to mention win back-to-back on the PGA Tour, but I am going to tip Phil Mickelson at 7/1 with Sky Bet to do that, now that his putting and driving have clicked.
JOBURG OPEN: I will plump for George Coetzee at 8/1 with Sky Bet; the South African is STILL waiting for his first European Tour victory but at some point he will fall over the line. He nearly did it in Qatar a few weeks back before he was pipped by Chris Wood - but, on home soil, I think this could be his time.