Padraig Harrington's never-say-die attitude can help him return to the top of world golf, says Rob Lee.
Padraig Harrington's never-say-die attitude can help him return to the apex of world golf, says Rob Lee.
Last Updated: 09/01/13 6:52pm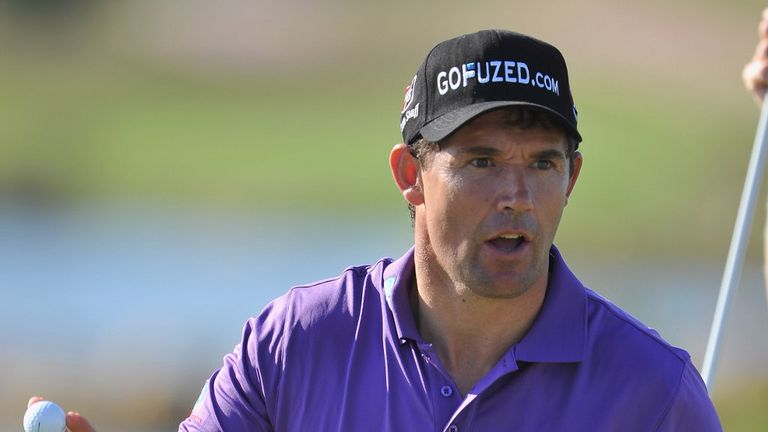 Aside from his fourth-placed finish at the US Open in 2012, the Irishman hasn't really got close since he won the last of his three Majors - the PGA Championship - in 2008, which capped off a glittering 13 months.
Harrington, the 2007 and '08 British Open titlist, showed signs of improvement last term, ending a two-year wait for a title by claiming the Grand Slam of Golf in October, and he will be looking to push on in 2013.
Padraig is a renowned tinkerer and while you could argue that is the way to seek perfection, sometimes in golf you don't realise when you've got it sussed, and I think constant swing changes contributed to Harrington going backwards rapidly and tumbling down the rankings.
The Dubliner can come again, though, because he has a huge heart and never knows when he is beaten; he will always find a way to hole a chip or make a putt, and doesn't get scared when he is in a winning position.
Harrington is 41 now and golf does became harder as you get older; everything slows down, you tend to get injured more and you have to work harder to keep your weight down, your mobility up and yourself out on the course.
But Padraig has enough about him to get back to the pinnacle of world golf, and would dearly love to get his year up and running by winning this week's Volvo Golf Champions in South Africa.
Anomaly
The start of the season is a vital time for players who have just received their card from the qualifying school or moved up from the Challenge Tour.
They have to play well pretty much every time they go out, as they are not going to get too many opportunities to rack up the pounds and secure their Tour card.
I'm sure the rookies and unheralded players will be looking at what Branden Grace did in 2012; the South African began his campaign with victories at the Joburg Open and at the Volvo and went on to have a stellar year, ending it with four European Tour titles.
But I think that it is an anomaly and will be virtually impossible to recreate, so these players need to focus on making cuts and getting some money on the board.
Players looking to surge up the rankings and win tournaments always like to kick off the year with a victory, too, and that's what Dustin Johnson achieved at the weather-affected Hyundai Tournament of Champions in Hawaii.
Johnson, who has now amassed seven wins on the PGA Tour, is a fantastic athlete and a fantastic player, but the brain switch-off does scare me at times.
His final round in Kapalua was not error free and he also saw his hopes of triumphing at the 2010 USPGA shattered after he hit a shot from the bunker and grounded his club.
I think he needs to be sharper mentally in order to fulfil his potential.
Adapt
There are a host of American players who could flourish this year, but I will be interested to see how Webb Simpson, last year's US Open champion, and Keegan Bradley, the 2011 USPGA winner, fare.
Both men use the anchored putter and with that device likely to be banned in a few years' time, I wonder whether they will stick with it hammer-and-tong for the next few seasons or adapt their putting.
Either way, I expect Bradley to have a very successful campaign and I think Rickie Fowler will, too - provided he can stay fit.
Steve Stricker, who finished second at the Hyundai, a year on from winning the tournament, has announced that he will play no more than 10 tournaments in 2013 and that seems pretty extreme to me.
I know the 46-year-old wants more family time, so perhaps a complete year off might have been the answer, leaving him able to come back refreshed for 2014.
Tournament schedules are a very personal thing; some players perform better playing most weeks, while others benefit from having time off - but I think Steve's decision to feature in so few events, could backfire.
It will be hard for him to play that well playing that little and it renders his chances of qualifying for the 2014 Ryder Cup almost impossible, as he probably won't even get close to an automatic berth.
Still, if Stricker wins two Majors from his 10 starts, what do I know?
Hit the video below for Rob's preview of the 2013 season, which includes his thoughts on Rory McIlroy and Tiger Woods...
ROB'S SKY BET TIPS
Paul Casey injured his shoulder on a snowboard this time last year, but he is fit again now and I think he will have a good season. I will back him at 22/1 with Sky Bet to win the Volvo Golf Champions, while I wouldn't be surprised if Dustin Johnson tastes victory for the second week in a row at the Sony Open.
Johnson, the 9/1 favourite, didn't back off at the Hyundai and every time he made a mistake he got his driver out and gave the ball a hit, which shows how confident he must be. He also coped well with the windy conditions and with the weather likely to be gusty at the Sony, too, he must have a great chance.