Oliver Wilson must work hard to regain full Tour membership, says Rob Lee, but Graeme McDowell can push on
Oliver Wilson and Camilo Villegas must graft hard to earn their Tour cards back, says Rob Lee.
Last Updated: 05/12/12 4:16pm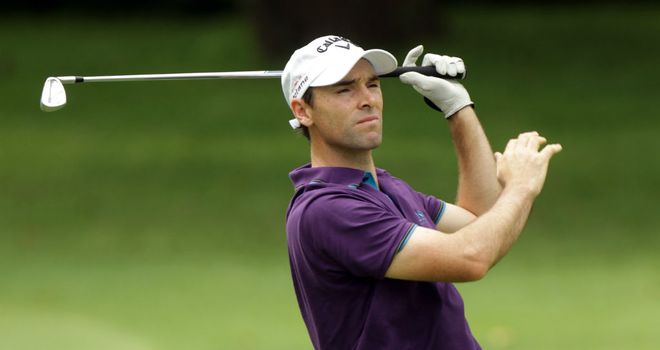 The 32-year-old did not earn one for 2012 and, after not placing high enough in last week's Q-School in Catalunya, he will not be a permanent member of the circuit in 2013, either.
Wilson has never won a European Tour event but he has finished runner-up on nine occasions and always looked like he was going to be a solid pro, so it is sad to see him suffer somewhat of a demise.
However, I always felt that Oliver was not instinctive enough around the golf course; he seemed to over-complicate things instead of freewheeling and, while some players function like that, every shot appeared to use up a lot of energy.
Once one or two shots per round start going awry, it can lead to something more sinister as golf is such a technical game; you are swinging a 45-inch club at 100+ miles per hour and having to hit the ball in such an exact way - and a lot can go wrong if you are as little as a degree out.
It can be extremely difficult to get your confidence back during the tough times, too, and that's probably what has happened to Oliver, as well as three-time PGA Tour winner Camilo Villegas, who has lost his playing rights on America's premier tour.
Both Oliver and Camilo have plenty of talent, though, and can come back if they put the work in - but it won't be easy.
John Parry re-earned his Tour card by winning the European Q-School and his mission now is to do enough in 2013 not to have to return there next season.
The Q-School can be a blessing in disguise for players who haven't established themselves on the Tour and the ones that come through it often go on to be very competent golfers.
It's a bit like football teams, West Brom and West Ham being examples, who are not quite good enough for the Premier League and suffer relegation, but then return with renewed vigour.
Bang
Graeme McDowell will have renewed vigour after winning the World Challenge at Sherwood Oaks for the second time in his career on Sunday, beating Keegan Bradley by three strokes.
The Ulsterman says he will now take 10 weeks off to recharge his batteries - but he won't be resting for the entirety of it, that's for certain, as he will want to make sure he re-enters tournament play next year with a bang.
McDowell will be fine-tuning various aspects of his game during this brief hiatus, working on the things that were impressive last week - including his putting - as well as the parts that aren't quite firing.
The 2010 US Open champion will be disappointed that his only win this campaign came last week but he is not far away from where he wants to be: back in the world's top five.
McDowell came very close to winning the US Open again this year before Webb Simpson beat him by one stroke at the Olympic Club - and I think he will have a very good chance at the 2013 US Open at Merion, Pennsylvania as he loves tough golf courses.


The other big golfing news is that the sport's authorities have proposed that anchored putting - which a lot of the game's youngsters, including 14-year-old US Masters qualifier, Guan Tianlang, are being coached to use - be outlawed from 2016.
It is not easy to use an anchored putter, but it effectively stabilises you and has a fixed point as opposed to a mini-swing and so, morally, I think it is the right decision to veto it.
2011 US PGA Champion Bradley, one of many golfers who likes to use the belly putter, was called a cheat by a rowdy fan at the World Challenge last week, but he is not because, at the moment, he is playing within the rules.
But I do think that if the ban on anchoring is enforced, as I fully expect it will be, then anything that Bradley, or fellow recent Major winners Simpson or Ernie Els, achieves will be slightly sullied in the eyes of a minority of fans.
ROB'S SKY BET TIPS
My money is on Branden Grace at the Nelson Mandela Championship; the 25-year-old has won four events on the European Tour in 2012 and can get another one in his home nation of South Africa.
Meanwhile, I see another South African, Charl Schwartzel, prospering at the Thailand Golf Championship; the 2010 Masters champion played beautifully at the Nedbank Challenge last week in finishing runner-up to Martin Kaymer and if he holes putts, he will be the man to beat.