Chicago hopes
The top scorers? The best rookies? The captains' impact? It's Rob Lee's Ryder Cup preview...
Last Updated: 27/09/12 10:42am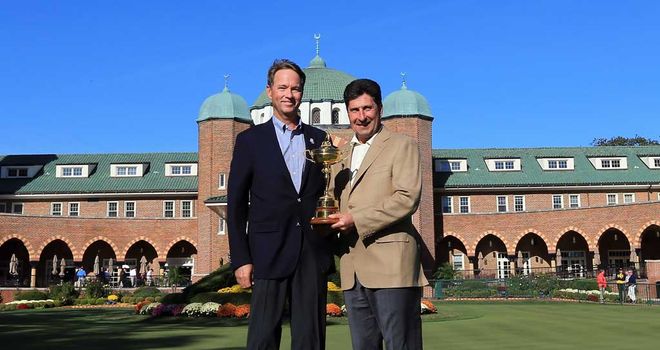 It always feels special when Ryder Cup week comes around.
It only happens once every two years and after all of the build-up it seems different to every other golf tournament. It's not something you see every week.
The fact that Europe have performed so well in recent years adds to the appeal, but they will have to be at their very best to beat a strong American side at Medinah.
Four years ago in Valhalla, the Europeans arrived as favourites, which was unbelievable because you can't underestimate the significance of home advantage. They beat us in that match and we squeaked past them at Celtic Manor two years ago with a partisan crowd behind us.
You've got to think that with all of the support they'll get in Chicago it's going to be really difficult for Europe. Every time an American player plays a half-decent shot the fans will go ballistic and that will allow their team to build momentum.
Remember, with only four matches taking place in each session on the first two days everything will be pretty close together. The noise will be concentrated on one part of the golf course and you will know the difference between a European putt and an American putt from the noise alone. The two shall not be confused!
I sense things will be raucous in Chicago and I hope the behaviour of the supporters remains on the right side of the line. We all want an intense atmosphere because that's what makes the event special, but I hope they won't cross the line.
It wouldn't surprise me if they do, though.
Captains fantastic
Jose Maria Olazabal has waited a long time to captain a Ryder Cup team.
He has been in the background for a number of Ryder Cups after establishing himself as a legendary player in this competition, and there's no doubt he'll be taking this intensely seriously.
If I was playing I would love to have him as my captain. His passion for the game is clear and he is an extremely genuine character; he's as straight as an arrow and all of the members of his team will trust him.
He has a very experienced back-room staff consisting of Miguel Angel Jimenez, Thomas Bjorn, Paul McGinley and Darren Clarke. Those guys are all Ryder Cup captains-in-waiting (I wonder if they will all get an opportunity?) and he will run his ideas past them, as well as his senior players. Olazabal will have the final shout, but he'll take plenty of counsel.
I think he will get it right. Of course he needs some luck along the way - putts dropping at the right time and so on - but I don't think he'll make any mistakes in terms of pairings or selections.
Put it this way, I don't think we'll see a repeat of Nick Faldo's doomed 2008 captaincy, which was the perfect example of how not to do it. From the opening speeches to the decision to have only Jose Maria as a vice captain with DJ Spoony as back up!
Ollie, I'm certain, will show us how this should be done.
His opposite number, Davis Love III, is a thoroughly decent man and is well-respected by all of his team. The players, on their home turf in Chicago, will need little motivation and his job will be to channel all of the energy and make sure they don't over-boil.
He needs to get the atmosphere right or else the USA players might explode in all of the excitement. Every time they hit a shot the supporters will go crazy, and that'll just be the practice rounds!
Davis has got to manage the situation to their advantage.
The acid test
The USA have a really strong line-up this year. They have rookies in Webb Simpson and Keegan Bradley who are already major champions, while another - Brandt Snedeker - just cleaned up by winning the FedEx Cup jackpot.
The side has a lot of positives heading into this competition, but for those who've never been in one before, nothing will prepare them for the Ryder Cup.
The Americans will be ready for a tough battle, but Europe boasts the world number one in Rory McIlroy and four of the world's top five players.
European golf is on a high, but they will face an acid test in Medinah.
Rob's Sky Bet Tips
I have to go for Ian Poulter. He's an extremely good matchplay golfer and he absolutely loves the Ryder Cup. He has been superb the last few times he's played in this competition and even though he's not the highest-ranked player in the team I would back him to score very well.
I'm going for Sergio Garica, who is almost like a Spanish Poulter (or maybe I should say Poulter is an English Sergio?) They are the same kind of animal; once they get into the Ryder Cup environment they're like chained up bulls - they want to get out there and eat up their opposition. He has a fantastic Ryder Cup record, he has a victory under his belt in the last month and if I was an American I wouldn't want to come up against him.
It's got to be Tiger Woods. He's been their top man on more than one occasion in the Ryder Cup and I think he's starting to enjoy himself more these days. There are signs that he's lightening up a little bit and if he becomes less insular it will help him to thrive in a team environment. Any European who comes up against Tiger will feel like they're part of a big occasion.
I can't call it between Tiger and Sergio. I'll call it a tie and say they'll get four points each!
I'll go for Brandt Snedeker, who played some tremendous golf to get himself into a position to win the FedEx Cup jackpot on Sunday. He took on the golf course on the final day and he will arrive in Medinah full of confidence. I suspect he has a very good chance of becoming the top rookie here.
Brandt Snedeker falls into this category, but I'm going to lean towards Ian Poulter because he has such a fine record in the Ryder Cup.
Will there be a hole in one?
No... but now I've said that I bet there'll be four on the first morning!
The winning margin
This is a very difficult market to bet on, but I do think it will be very tight. I think it will be 14½-13½ - but I wouldn't like to say which way around. I'll predict a winning margin of one, but I'd add a caveat that both sides are so strong that either could get on a roll and win by six points!
The winning team
It could honestly go either way, but if I had to stick my neck on the block I'd go for Europe by a point. As a proud European I couldn't possibly choose America, could I?