Mac's millions?
Rob Lee looks ahead to an intriguing week as the FedEx Cup climaxes with the Tour Championship.
Last Updated: 19/09/12 11:03am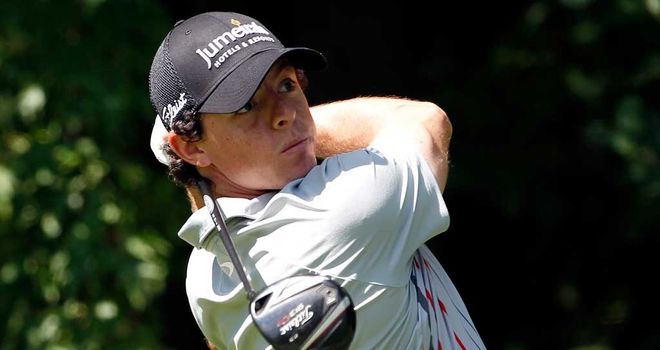 Before the Ryder Cup, there's the small matter of the FedEx Cup to resolve and business will be concluded this week with the Tour Championship at the East Lake Golf Club in Atlanta.
Rory McIlroy has won three of his last four tournaments in the States but still isn't guaranteed the lucrative FedEx Cup first prize - with a number of rivals hoping to pinch the pot at the last hurdle.
People have got to realise that the Americans love play-offs. They love quarter-finals, semi-finals and finals. They love that sort of stuff in America. You've got the Super Bowl in American Football and the World Series in baseball to find out who is the best.
It wouldn't work for them if you had one guy winning the early tournaments and being so far ahead that he can't lose it on the last, so they've tinkered with the format. If McIlroy plays badly, many more than the top five are capable of winning it.
Bill Haas won it from about 24th last year so technically, everybody's got a chance. Obviously, the guy way back there needs everything to go in his favour so the point in being in the top five is that your destiny is in your own hands.
The point in doing well in the early tournaments is that if you then win the last one, nobody can touch you.
Challengers
There are lots of people playing well. People like Dustin Johnson could win around there, Tiger Woods could win around there, Sergio Garcia could win around there, Rory McIlroy could win around there. It's so open this week!
For the individual event, I think Garcia could win it and McIlroy could finish second to scoop the FedEx Cup.
I think if all the players had their way with the scheduling, they'd probably prefer the Tour Championship, then a week off and then the Ryder Cup. Instead, they put the week off after the Deutschebank, the Barclays and the BMW to ensure they don't have to play five in a row.
There are only four days off between the end of the Tour Championship and the Ryder Cup but they won't be days off as such - they'll be working in their little groups, with dinners to do and media events to do. It's an intense week before that first shot on Friday.
The Europeans such as Nicolas Colsaerts and Martin Kaymer, meanwhile, have played up until the Tour Championship which they are not playing in, so they'll get their rest in now. Really, everybody should be in tip-top shape when they get to Medinah.
Timing
You've got to say McIlroy is peaking perfectly for the Ryder Cup. I was also delighted for Kaymer to come back and bag some form after a poor summer. Colsaerts is also playing some good stuff from a European point of view.
For the Americans, Dustin Johnson has played really well to surge in and get picked. There are so many people to look at but obviously out of all of them, McIlroy is the form guy.
As far as Tiger Woods goes, I think he recognises in McIlroy some of the achievements that he made as a youngster - to win majors at such a young age, to win tournaments by eight clear shots. There really is nobody else besides those two that you can talk about in that way.
Woods can see that the next young maestro is standing right in front of him and those two will be playing together for the first two rounds in Atlanta.
The spell of golf Tiger Wood enjoyed was just incredible - to get to 14 majors so quickly was amazing and maybe we have seen the best of him and he won't get back to that position of dominance... but I've no doubt that he's capable of winning back the world number one slot and I've no doubt that he can get back to winning majors.
Lastly, I think it's important to point that the flaw in the FedEx Cup is the fact that the players can take huge shots without knowing what position they're in. If one of the top 5 win then it's simple, beat the other four and you take the cash but if they don't, then you need a super computer to figure it out.
Last year, Bill Haas didn't know he'd won the millions of dollars. It was obviously a nice surprise but the point of the play-off is that there's supposed to be massive pressure on and the players don't seem to know it.
There are too many permutations - there's not enough time to work out how many points you need to get past the guy you need to get past and therefore the players are confused as to what's riding on each shot.
Maybe the player makes the putt because he doesn't feel the pressure, but us sports fans want him to sweat because he knows the amount that's riding on it. If it really is a putt for $10m, even to these multi-multi-millionaires, that's still a lot of money.
The organisers have tinkered with it all along to get it to this stage, but if you get to the Super Bowl or the World Series, you know its winner takes all and they have to try and replicate that in golf.
It can be too tricky to tell where they are so they almost need someone running on the green with a microphone and announcing: 'This is for ten million dollars!'
Rob's Sky Bet Tips
Sergio Garcia to win the Tour Championship, McIlroy to win the FedEx Cup.