Steady, as he goes
Rob Lee says Francesco Molinari's accurate ball striking will serve Europe well in the Ryder Cup.
Last Updated: 12/09/12 9:59am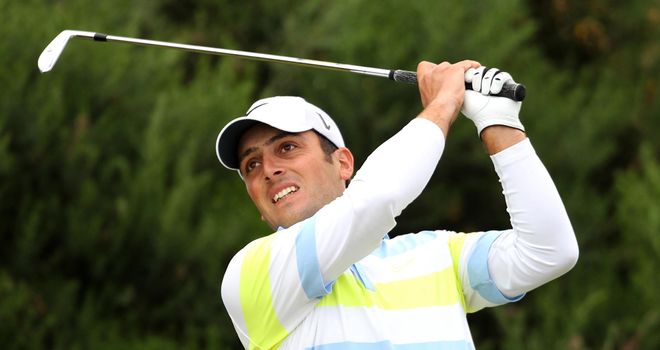 The Italian Open is this week's European Tour event and a man from Turin is the bookies' favourite to take the title.
Francesco Molinari, in contrast to his more excitable brother Edoardo, is a very efficient and consistent golfer and doesn't tend to waste too many shots; he finds the fairways and greens in lovely style and is definitely Italy's best player on the circuit at present.
His one slight downfall could be that he is not the most aggressive putter and perhaps that is why he has only won three times on the European Tour - not that winning three times on the European Tour is an easy feat - and lost in three play-offs.
However, Molinari will be very familiar with this week's venue, Turin's Royal Park I Roveri course, and will be hoping for a strong performance heading into the Ryder Cup, which I think he will play a key role in for Team Europe.
Molinari played with his brother in the fourballs and foursomes at the 2010 Ryder Cup at Celtic Manor, but I see him playing mostly foursomes in Medinah.
He will be a perfect player in that format as you know he will always leave his partner sitting serenely on the fairway or in with a chance of holing a putt.
Accustomed
Young gun Matteo Manassero will also be in action in his homeland this week and he can be very proud of his career to date, which is still in its embryonic stage.
He has already won a couple of times on the European Tour and is ranked inside the world's top 100, which are great achievements for a 19-year-old who has not fully developed yet.
I predict that the man from Verona will keep on improving once he gets a man's body, the strength to hit the ball further and becomes more accustomed to Tour life.
However, it would be foolish to expect Manassero to emulate Rory McIlroy's list of accolades; you can't speak about the men in the same breath.
The Ulsterman has won his first two Majors by eight shots and claimed six victories on the PGA Tour by the age of 23 - the same amount Seve Ballesteros and Nick Faldo won in their entire careers - and is at a whole different level.
Matteo is special but he isn't THAT special - yet.
Pioneer
At the other end of the age spectrum to Manassero is 55-year-old Costantino Rocca, another Italian who will be gracing the picturesque Royal Park I Roveri from Thursday.
I've always enjoyed watching Costantino play; he has always been very expressive and should probably have won the Open Championship in 1995 at St Andrews when he lost in a play-off to John Daly.
Rocca has been a pioneer for Italian golf and I'm sure the Molinari brothers and Manassero will cite him as someone they looked up to while they were making their way in the game.
The veteran is unlikely to challenge at the top of the leaderboard in Turin - and neither will a few others if they hit the ball into to the course's dangerous long rough! The players love going there, though, and I'm expecting some quality golf.
As well as Molinari, Ryder Cup stars Nicolas Colsaerts and Martin Kaymer will be aiming to fine-tune their game ahead of the big Europe-USA showdown in Chicago later this month - and it is a real boost for the tournament that three such established players will be in attendance.
ROB'S SKY BET TIP
Martin Kaymer (20/1) played well last week at the KLM Open in the Netherlands before falling away a little bit in the final rounds. The German is working hard on his game and will come good sooner or later, and I think he can win in Turin.