Kaymer on the climb?
Rob Lee says it will be big boost for Europe if Martin Kaymer can find some fine form at the KLM Open.
Last Updated: 05/09/12 6:51pm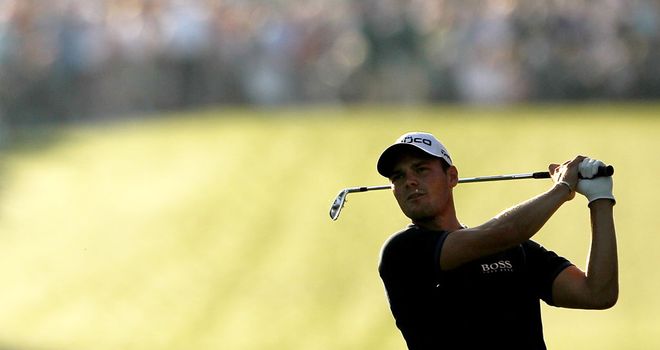 Davis Love III got his Ryder Cup Captain's Picks absolutely spot on.
In Dustin Johnson and Brandt Snedeker, he's picked the two form players who made the run when the pressure to impress was on, while Jim Furyk and Steve Stricker are a couple of old heads whose experience and composure can only benefit the team.
Jose Maria Olazabal would have preferred it if Love had picked anyone other than those four, which tells you all you need to know.
I'm baffled why some American commentators are saying Hunter Mahan should have been picked given the 30-year-old's poor form since the qualification cut-off point. Read Rob's thoughts on each of the four US picks here.
America have four rookies in their side to Europe's one (Nicolas Colsaerts) but you can't read too much into that; it certainly shouldn't be seen as an imposition because sometimes a rookie can come out and play like a star.
Snedeker, Dufner, Simpson and Bradley are all quality players who will all have the full support of a partisan home crowd at Medinah. It's definitely tougher to be a rookie playing away from home.
Confidence
This week Colsaerts finds himself in one of the most intriguing groups for the opening two rounds of the KLM Open.
The computer!! has paired him up with none other than Olazabal and 2010 champion Martin Kaymer who, of course, was the 10th man to qualify for Europe's Ryder Cup team.
Kaymer is still a guy who is trying to get his confidence back so playing alongside his Ryder Cup captain isn't an ideal draw; I think he would have preferred to keep a lower profile and go about his business under the radar.
Personally, I'd love to see him play well this week and perhaps even win so he goes to America full of it. That would be great - for him and the European team - but even a reasonable finish would be a step in the right direction.
The German has slipped away from his incredibly high standards and is now trying to fast-track his way back again; he's going to have to get in gear pretty sharpish because the Ryder Cup is going to hit him like an out-of-control juggernaut and he'll need to be ready for that impact when it arrives.
Kaymer went to the 2008 Ryder Cup in Valhalla as next man in, at the request of then captain Nick Faldo, to gain some experience and that served him well in 2010 at Celtic Manor.
Comfortable
In contrast, Kaymer's team-mate Rory McIlroy is a man who is right on top of his game right now.
Although Louis Oosthuizen held the lead going into the final round, I didn't doubt that McIlroy would win coming down the stretch. The more I see him in contention, the more comfortable he looks.
What's more, the World No 1 and Fed Ex Points leader will only become a more devastating player.
We don't have to wait until the Ryder Cup for the continuation of McIlroy's duel with Tiger Woods as the two have been drawn together for the opening rounds of the BMW Championship. It's a rivalry that is building up a proper head of steam and one that should continue for some time to come.
McIlroy and Woods lead an immense field at Crooked Stick, Indiana. The strength of that field continues to increase as they've condensed the tournament down to 70 players, so it's quality all the way.
Oosthuizen starts as fourth favourite behind McIlroy, Woods and Johnson and as a fantastic player he'll certainly be worth a watch, plus he'll be desperate to make amends for missing out last week.
As harsh as it sounds, Oosthuizen must learn to be tougher down the stretch; when the South African made a terrible job of his second shot to 17 last week after hitting the perfect drive, I couldn't help but recall his play-off defeat to Bubba Watson in the Masters.
Watson looked dead and buried when he carved his drive at the 10th, the first play-off hole, into the trees but Oosthuizen didn't make a good job of his tee shot either and that (combined with Watson's incredible second) cost him the title.
He'll be the first to admit that his win ratio could be improved upon and it's hard to disagree because he is without doubt a quality player.
Sergio Garcia - who won last month's Wyndham Championship when he was under pressure to qualify for the Ryder Cup side - returns to action this week after a short break. All the signs are that he's back to top form; the smile is back which means the real Sergio is back and I can see him being a force this week too, particularly as he's sorted out a lot of his putting problems.
Rob Lee's Sky Bet tips
I can't look much further than Dustin Johnson for the BMW Championship. Now he's got the Ryder Cup pick, he can feel relaxed about his game. He can go out and concentrate on his golf, rather than worry about whether or not he'll be at Medinah.
Simon Dyson has had an incredible run at the KLM Open, winning in 2006, 2009 and 2011 but I'm going to bet with my heart rather than my head and back Martin Kaymer. I really hope he plays well this week because he is a wonderful golfer - he's just a little bit off his game at the moment, but if he gets it back he could easily win this weekend.