Fire cracker
Rob Lee expects to witness some excellent golf when the big guns tee off at the Firestone Country Club.
Last Updated: 01/08/12 12:24pm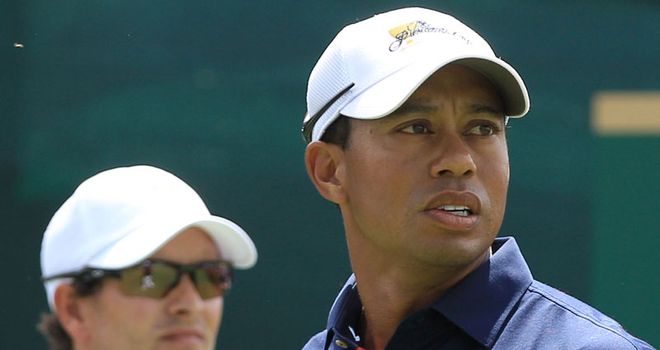 Golf lovers may be looking forward to the US PGA Championship in South Carolina, which tees off next Thursday, but this week's WGC-Bridgestone Invitational is a big tournament, too.
The world's top 50 are invited to play as are members of the most recent Presidents Cup teams and winners of designated tournaments from around the globe.
Therefore, most of the game's best golfers will be in the field, including Rory McIlroy, Luke Donald and Lee Westwood and, of course, Tiger Woods, who has won this event seven times since its inception in 1999.
A PGA Championship triumph might hold more prestige but the players won't be heading to Ohio and treating the Bridgestone like a warm-up exercise.
Golfers don't have a dimmer switch with their game and once they get on the first tee it is full power all the way. It won't be a case of the players saving themselves for next week.
It also won't be a case of trying to formulate a plan for the PGA, because Firestone and the Kiawah Island Club are vastly different courses.
Kiawah Island is by the water, windy and will play like a links course, whereas Firestone is parkland, will be humid and will require a more regular American-style golf game. The only similarities are that they are both cracking venues - and very tough to get around.
However, the winner in Ohio will have to see off an excellent field and will therefore generate huge confidence heading into the PGA, even though we know how difficult it is to claim back-to-back victories.
Contender
It wouldn't surprise me if Adam Scott recovered from his toils at The Open to win the Bridgestone for the second successive year.
The Australian made some errors of judgement at Royal Lytham, as I mentioned in my column last week, but returning to Akron will put a smile on his face.
Scott will be able to recall the key points from his victory in 2011 and know just what is required to come out on top. He is in very good form and must be a contender - but, for me, Tiger will be the man to beat.
Firestone is a course that Woods dominates and, like Scott, he came very close to winning the Open Championship a few weeks back. He may very well have got his hands on the trophy had he not taken seven on the sixth hole during the final round.
Westwood, Donald and McIlroy, meanwhile, need to pull their finger out now and puncture what has been American, or non-European, domination of the bigger events.
Bubba Watson won the Masters, Webb Simpson took the US Open and Ernie Else captured the Open, so these British fellas must re-stamp their authority in elite fields. They all need wins and this would be a perfect place to do it.
Illustrious
Two not so well-known names will be in the field, too, in the shape of Scott Piercy and Bernd Wiesberger, both of whom entered the winners' enclosure last week.
Piercy won the Reno-Tahoe Open in August 2011 and took his second PGA Tour triumph in the Canadian Open on Sunday. He was gifted that win because Robert Garrigus and William McGirt did not finish strongly, but that's not Piercy's fault; he shot a score and no-one could beat it.
Wiesberger, meanwhile, took his tally of European Tour wins to two, following up his victory in April's Ballantine's Championship by topping the leaderboard at the Lyoness Open in his homeland of Austria.
Playing in such illustrious company is still a new experience for Wiesberger and he still needs to get used to top-level golf courses and WGC events. He is a very talented guy but if he plays well in Ohio it will be a bonus as this week is primarily a box-ticking exercise.
Piercy and Wiesberger have taken pressure off in one way, as their exploits have moved them up the rankings, given them the chance to enter bigger tournaments and handed them more security.
On the flipside, they will now be expecting more of themselves and that could make them falter. However, if you're ambitious, you always want to put yourself up against the best and see how far you can go.
ROB'S BRIDGESTONE TIPS
I'm not sure anyone has ever won a golf tournament eight times but Tiger Woods beat Jack Nicklaus' number of PGA Tour wins earlier this season so is in record-breaking mood. I wouldn't back against him winning the Bridgestone yet again.
As for an outside bet, I will say Ian Poulter. He played pretty decently at The Open and is starting to put some better rounds together. Poults won the WGC-Accenture Matchplay in 2010 and has the right amount of cockiness to win another big event.