The Emerald smile
McIlroy, McDowell, Harrington, Clarke...Rob Lee predicts which home hero will win the Irish Open.
Last Updated: 27/06/12 12:59pm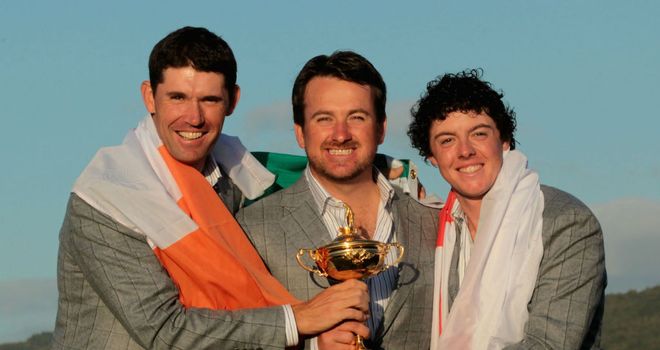 Rory McIlroy may have won the US Open at Congressional, but I don't think he was tempted to go and play there this week.
If you're Irish you simply have to play the Irish Open. I think that's the first event that you chalk down at the start of the year and then you work the rest of your schedule around it.
The Irish boys daren't go anywhere else this week. I don't know how the Irish press and the Irish public would view them if they didn't, but why wouldn't you want to play? There's always a huge crowd and I expect to see a really good tournament.
And to be fair to them, the top Irish players turn up every year - and that group of "top" players is getting bigger all the time. We've seen three golfers from Northern Ireland - McIlroy, Graeme McDowell and Darren Clarke - playing some wonderful stuff in recent years, and of course Ireland's Padraig Harrington is a three-time major winner.
I don't know why we've seen this boom in Irish golf - I've been to Northern Ireland and there's nothing in the water! Maybe there's something in the Guinness?
Things are very good for Irish golf, particularly north of the border, and it seems to be one of those cyclical things. When somebody reaches the top, there's other people thinking: "he's from the same little country as me, so I can do that." There seems to be a club within a club.
Perhaps some of the other players from the nation will soon be beneficiaries of that; Michael Hoey has played well and Gareth Maybin might win a tournament soon. There are other players waiting to come through.
And when you look at what those top players have done, it's great that they have the Irish Open. In many ways they've earned this tournament.
Predicted
At the US Open we saw McDowell and Harrington give it a very good run, but McIlroy missed the cut. You wouldn't have predicted that at the start of the week.
Rory had been on a bad run, missing three cuts in the build-up to his US Open defence, but nearly won in Memphis before his struggles at Olympic Club. That could have happened to anybody and I'm sure he's desperate to get back to playing well again.
He did admit he had maybe taken his eye off the ball a little bit and perhaps he wasn't putting enough hours in. If he's saying he could work a little harder then I don't doubt that he will and I certainly have no concerns over him.
Meanwhile, McDowell has always had the knack of producing great form after a string of poor results. He missed three strokeplay cuts on the way in to the US Open and then nearly won the thing!
It's in his nature to be streaky, but there's no doubt his best is very good indeed. He's also a brave player and that means he's always capable of doing something when he's on form.
After a bad spell I believe he's at the start of a good patch now and I think he could be a real contender at Royal Portrush.
As for Harrington, I hear he's just been added to the ballot for the World Golf Hall of Fame. That's good for him, but if I was him I'd put my fingers in my ears and refuse to listen to things like that.
He's only 40 and I don't think you should be talking about going in the Hall of Fame until you're 50. Accolades like that suggest you're not going to achieve anything else - they spell your dangerous days are over - and I don't think he'll want to hear that.
As a golfer, what means the most to you is how many majors you've got - and he's got three. Therefore, I don't think going into the Hall of Fame would change his life one iota. When the time comes for Harrington to hang up his red laces then he'll be ready to join the good folk in the Hall of Fame, but not in his early 40's! There's more to come from him.
I love Padraig because he's so unconventional. He's always a great watch and I'm looking forward to seeing him on Sky Sports this week - and don't forget the Open champion Darren Clarke who is almost upon the anniversary of his great win 12 months ago.
Rob's Sky Bet Tips
Irish Open - I'm going for Graeme McDowell currently 10/1 with Sky Bet. He tends to play well in lumps and bumps and I think the US Open could be the start of a good run for him. It wouldn't surprise me to see him do well on a course that he obviously loves. After the US Open he can take the handbrake off and let it go.
AT & T National - Hunter Mahan posted a 61 in his final round last week after three steady rounds. Those fireworks, combined with the fact he has shown form around Congressional in the past, makes me think he can pick up his third win of the year. He's a 12/1 shot.