Webb of highs
Rob Lee says Webb Simpson can move on up after winning one of the toughest majors in years.
Last Updated: 20/06/12 9:24am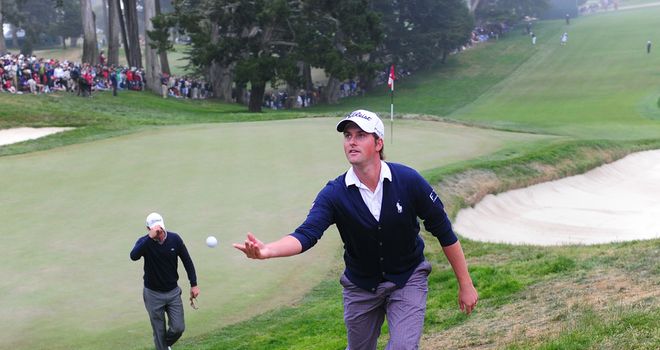 The USGA said the first six holes of the 2012 US Open would be the hardest in major championship history - and they were right!
At the end of the week, the field got through those holes at the Olympic Club in more than 1,000-over-par. It was carnage, it really was.
It wasn't the length that was killing people, but the design of the greens. I don't think they were initially intended to be that hard, but once you have slope and firmness then things are always going to get tricky.
When I walked those six holes I couldn't initially understand why people were saying it was going to be so tough, but when I saw those green designs I understood the challenge facing the players - although I didn't envisage the scores that we saw.
The USGA like to see level par as the winning score at the US Open and you can take a view either way on that. The bloke with the lowest score at the end of the week is always going to be the winner, no matter what the number is. In my view, the score doesn't really matter.
But they wanted level par and created a very strict par-70. Tiger Woods said that two-over-par through those six holes would be a decent score - and with two par-fives and a par-four at the end there was a bit of a chance to get a couple of shots back.
As a result, nobody was disappointed if they got par on any hole and that type of play is peculiar to the US Open. I think there's room for that when we see players winning with scores of 20-under week in, week out.
With the amount of golf that we watch nowadays, there's latitude for a really difficult tournament. Having said that, I felt the last day lacked a bit of sparkle because nobody was really able to make a move. The leaders were log-jammed at one or two-over and nobody could really get going.
Pack
In the end it was Webb Simpson - who got round in 68 on both Saturday and Sunday - who came out on top.
This is a player who wasn't right on top of his game in the weeks before the US Open, having missed a few cuts in the build-up. He was five-over after the first two rounds and was very much back in the pack.
But he produced enough at the weekend to win by a shot and of all the players, there was no doubt that he performed the best on the final day.
Simpson had a wonderful season last year, finishing as runner-up on the PGA Tour money list and he was only denied the top spot by Luke Donald's exploits in the final event. I suppose winning a major championship at the age of 26 is a validation of that.
He has proved that he's got bottle and that's a key asset for any golfer. He's also an aggressive player and I enjoy watching him play - apart from the laborious build-up to some of his shots. I do wish he'd play a bit quicker. He has too many practice swings and that's something he needs to work on, but there's no doubt he's a good player.
When you win a major it either suits you and it becomes a stepping stone to bigger and better things or it doesn't really fit and you max out. For some players it's an overachievement and they don't really play like a major champion afterwards.
With Simpson I suspect it's the former. I think he'll continue to do well.
We'll get an indication at the Travelers Championship this week, but you don't often see people perform brilliantly straight after winning a major, especially one as tough as that US Open. I'm sure most of the guys who went through the Olympic Club last week will be worn out mentally.
People would understand if he wanted to withdraw from this tournament, but it's admirable that he has fulfilled his commitment. I'm sure the sponsors are thrilled to have the US Open champion in the field.
Well done to him.
Shift
I don't think his victory should be regarded as a shift of power towards America; it's merely a shift towards Webb Simpson.
These things are about individuals, not nations. Graeme McDowell lost by a shot, Padraig Harrington was tied fourth and the top three players in the world rankings are still English and Northern Irish.
Those three - Luke Donald, Rory McIlroy and Lee Westwood - all played together on the first two days and none of them really had any spark. Sometimes when you're playing well you feed off each other and sometimes the opposite happens.
They were all struggling together and I was disappointed by that. McIlroy was in contention the previous week so I was expecting better from him and Donald seemed to be in good shape after winning the BMW PGA Championship.
Westwood survived and had a chance on the final day. He played with a great deal of patience, but I think he was finally done for when he got his ball stuck up a tree at the fifth hole.
I still think he'll win a major though, as long as he doesn't stress about it and keeps playing his game. In fact, I wouldn't limit him to one.
I can't see why Lee Westwood can't win a couple of majors before the end of his career.
Rob's Sky Bet Tips
BMW International Open - Sergio Garcia
Sergio Garcia lost in a play-off in this event last year, albeit on a different course, and I find it ridiculous that he's crossing time zones back to Europe again after the US Open. It would be just like him to go out and win. He was in a foul mood last week, he was muttering and miserable with himself, and I'd like to see the joy come back to his game with a win.
Travelers Championship - Michael Thompson
There's a lot of players in the field who'll have been fractured by the US Open, but I'm interested to see what Michael Thompson does at 66/1. He shot 66 in the first round and 67 in the final round at the Olympic Club before losing by a shot and that performance might just convince him that he is capable of winning big tournaments. His year on the PGA Tour has not been impressive, but maybe the way he sees himself has changed and he might move up a notch after the US Open.