Unleash the Tiger
Tiger Woods' return to form is timely for him, golf fans and the other top players, says Rob Lee.
Last Updated: 06/06/12 5:41pm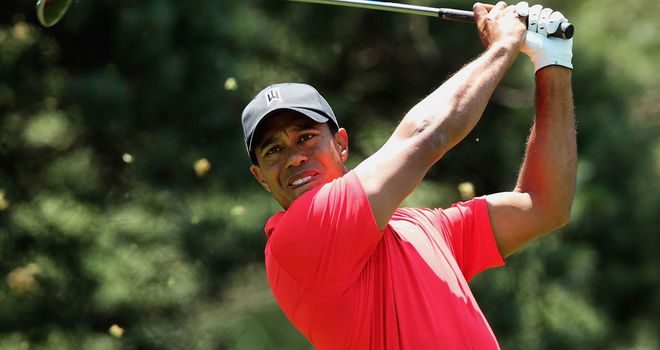 I've thought that Tiger Woods has been on the comeback trail for a while now.
He had a terrible Masters and didn't perform that well at the Players Championship, but he won the Arnold Palmer Invitational in March and also had excellent rounds in Abu Dhabi and at the Honda Classic earlier this year.
Tiger has said it is a process and I suppose we've got to believe him after last week at the Memorial Tournament, where he played very well, had a proper Tiger Woods finish and won the event for a fifth time.
Muirfield Village is a difficult golf course and the conditions were treacherous; the greens were really fast and it was windy, too. Yet Tiger was in complete control of his game, apart from on his second to the 10th during the final round when he missed the green.
Woods was behind Rory Sabbatini with a couple of holes remaining, though, and knew he had to do something - and he certainly did.
He birdied three of the last four holes, which are usually among the toughest on the golf course, and played THAT outrageous chip shot into the cup on 16.
Due to the big swing he was making, he could easily have hit the ball too hard or too soft; it was Monte Carlo or Bust.
Tiger didn't even need to seek a birdie on the hole as a par would have been reasonable and, as it turned out, still won him the tournament. Perhaps that shows how confident he felt.
Spine-tingling
Tiger is quite exceptional when he is trekking down a back nine and can sense victory.
Jack Nicklaus - who in addition to his 18 majors has recorded 19 runners-up spots - was incredible in that respect, but I don't think anyone has had as many highlights as Tiger has; those stand-out, spine-tingling moments.
He always knows where he is a on a golf course and when he does something magic he knows exactly what it means in the context of the round and the tournament. He has the X-factor and to have him playing well is great for the golfing public - and the other top players.
When Woods was down in the dumps and dropped out of the world's top 50, the likes of Rory McIlroy, Luke Donald and Lee Westwood weren't thinking about him too much. They will be now and I think that will make them play better.
If Rory is playing at his best, something he hasn't been recently, he can be near impossible to beat, but you would have to say that if Woods, a man who has won 14 majors, returns to the peak of his powers he would still be a shade above everybody else.
Tiger is now the joint-second highest winner on the PGA Tour, joining Nicklaus on 73 career victories. The only man ahead of him is Sam Snead on 82 and if he stays fit he is certain to eclipse that tally.
He has a ratio of around one win for every four tournaments he enters, so I expect him to claim much more silverware over the coming years.
Specific animal
Woods is not a young gun anymore but when you've done what Tiger has done in the game you can't be happy just competing; I don't think his mind will ever work that way. We are talking about a very specific animal whose reason for being is to win golf tournaments.
He is going to try his darnedest to be the best he can be and if it's not good enough and he is not winning, I think he'd rather not play.
But I don't think that will happen and I don't necessarily think he will find it harder to win majors than he once did, despite the high-calibre opposition he is up against.
Let's not forget that two of the players ahead of him in the world rankings - Donald and Westwood - have yet to win a big one, while the other - McIlroy - has only got one major in the bank. If this improvement in Tiger's game is a constant and things continue to fall further back into place, he will be a world force.
He is never going to have all four majors sitting on his mantlepiece at one time ever again, but he will certainly win more majors. Whether he wins the US Open in a week-or-so's time I'm not sure, but he will be going in with all the confidence in the world.
ROB'S SKY BET TIPS
Fedex St Jude Classic:
I think Rory McIlory will want a good week because having missed three cuts in a row I don't think he could afford another bad week and then have a real shot of successfully defending his US Open title. David Toms won a year ago at Colonial and is a very steady pro, but I'll go for Robert Garrigus. He lost in a play-off here a couple of years ago and did the same at the Transitions Championship in March, but I feel it could be his time to top the pile.