Matt finish
Rob Lee blogs on Matt Kuchar's Players Championship triumph and Kevin Na's golfing yips.
Last Updated: 16/05/12 2:28pm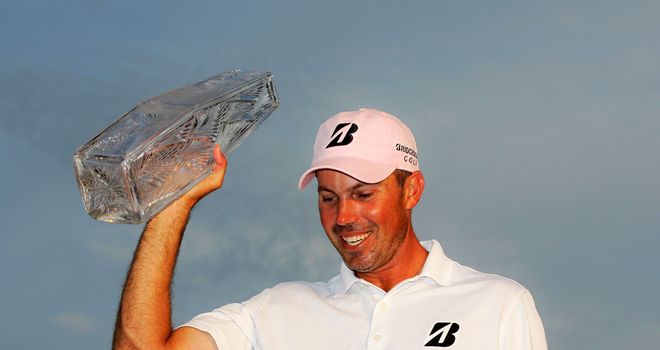 Matt Kuchar is super steady and makes very few mistakes.
The Floridian is pretty good in all departments from tee to green, which ensures that most weeks he goes out there and plays pretty well. At the Players Championship at Sawgrass, he played ever so well.
Kuchar played good shot after good shot to win the tournament by two from Scotland's Martin Laird and has now risen up to fifth in the world rankings.
He remained very composed towards the end of the final round as his nerves would have been jangling coming down the 18th with a two-shot lead.
Had Rickie Fowler holed his birdie putt on the last, things might have been different, but Kuchar kept that buffer and, after avoiding the water, finished off his round very neatly to secure his first title since 2010, the year he also topped the PGA Tour money list.
Kuchar is not in the first flush of youth, like a Fowler or a Kyle Stanley, but at 33-years-old, he is in his prime. Over the next three or four seasons, he really should be making hay.
He reminds me a little bit of Jim Furyk, who was a consistent presence towards the top of the world rankings in the early-to-mid 2000s.
They are both very idiosyncratic in the way that they swing and aren't going to smash the ball 320 through the air and overpower a golf course, but they are very effective.
I also like the way that Kuchar is not afraid to make radical alterations to his game if he thinks it will make a difference, like he did when he changed his putting style after his successful 2010 campaign.
I guess his only weakness is that he hasn't converted all his consistent play into more wins - his Players success was only his fourth on Tour.
That is not a bad record but he should be doing more. Perhaps now that a victory of this magnitude has come along he'll get that extra bit of confidence and rack up more wins.
Four swings
Kevin Na remained anything but steady as his pursuit of the Players title fall apart. He looks like an accident waiting to happen on a golf course; there is just so much going on.
He has got the caddie lining him up every shot and then has three or four swings before he hits the ball. It is very hard to watch and must be extremely hard for him to play.
He is actually a pretty good player but he needs to find a way to get over this sort of golfing Tourette's. I've seen JB Holmes go in, out, in, out and do the hokey-cokey before he takes a shot, while Sergio Garcia and Mark James have re-gripped the club 30 times because they cannot pull the trigger.
But I have never seen anyone like Na, who can get to the top of his swing, panic, stop and swish about a foot above the ball. And it's a case of ever-decreasing circles - the more it happens, the more difficult it is to shake off.
He needs to work on a practice routine on the range and say to himself: 'For the next six months, I am going to hit it like this and I don't care where I hit it or what score I shoot'. If he does that, he will find the ball goes where he wants it to and not where he fears it might.
Na's troubles have drawn the attention of Tiger Woods, who says that players should get a shot penalty for slow play. I am inclined to agree.
The shot penalty law does exist - if you have a 'bad time' you get a warning and if you have a second 'bad time' you get a shot deducted - the officials just choose not to invoke it.
I just don't think there is any excuse, especially for the second or third guy to take the shot. The first player has to take a bit more care and assess the situation, but when he is doing that, the others should be getting their stuff together.
Forty-five seconds is a long time to take a shot and I think penalties should be slapped out for those who waste too much time.
ROB'S SKY BET TIPS
Volvo World Matchplay Championship: Ian Poulter is the defending champion of this event and will fancy his chances of a repeat after putting in a few good performances of late. Nicolas Colsaerts has also played well in Malaga before but Branden Grace is my tip this week at 16/1 with Sky Bet. Two of his three wins this season have been in Volvo events and I reckon he can add to that tally.
Byron Nelson Championship: The organisers have assembled a good field in Texas. Matt Kuchar's odds are short at 11/1 but he may be tired after his exertions at the Players, while favourite Phil Mickelson has been patchy recently, as has last year's winner Keegan Bradley. DA Points did ever so well at Quail Hollow a couple of weeks back and could be value at 50/1, but I would back Carl Pettersson, who has been going well, which was emphasised by his victory at the Heritage in April. He's a 28/1 shot.