The comeback Quail
Rory McIlroy can put his Masters performance behind him this week at Quail Hollow, says Rob Lee.
Last Updated: 02/05/12 5:44pm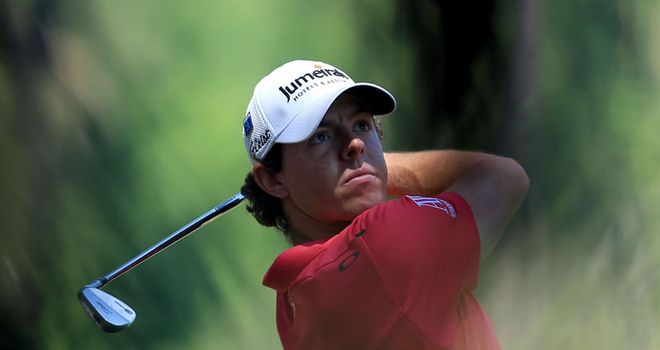 Winning is not easy. Jason Dufner has shown us that throughout his career.
He is a very good player and we've seen him perform well in big events. At last year's PGA Championship he led by four shots going into the back nine, but made some mistakes and allowed Keegan Bradley to catch him and take the title in a play-off.
Dufner has finished as a runner-up three times on the PGA Tour, but after 164 starts he finally got his first win at the Zurich Classic of New Orleans after beating Ernie Els in a play-off.
But I can't say it was convincing. He wears a stoic expression and it might look like he's not bothered, but underneath you knew he was very nervous.
On the final day he was holing the three-to-five-footers, but some of them were only just falling in. He putts with a very fat grip, which normally indicates that a player has a few issues, and from some camera angles you could see him just hanging on. The club was trying to go left at impact.
He let his poker face slip after some of those putts and it's clear that short putting is not his strength - but hitting good golf shots is.
Reward
I thought his name was on the trophy after the 16th hole. He took the wrong club off the tee and hit it in the water hazard, but hit his approach shot to 53 feet and holed it to save par. And when Els missed a five-footer on the first extra hole Dufner was able to take advantage.
When things like that happen then it's your day and I think it's a fair reward for someone who has paid his dues in the game. He's no flash in the pan. He's a very good player. His standard of play is high enough to win again and when he's in that position next time then the knowledge that he's done it before will make him less nervous.
He saw off Els, who has been playing really well over the last few months, despite not making it into the Masters. He was competitive in the events he played before Augusta, he's got over his disappointment at not playing there and he seems to be playing well again.
His putting has let him down in the past, but last weekend his posture looked better and he was holing 10 and 12-footers on the back nine. That's not always been the case. However, it let him down on the first extra hole and he'll be cross with himself about that because he had a very makeable chance to win.
But I think he should take the positive view. He's playing well, he's on the cusp of the winner's rostrum and things are looking up.
Better
We move to Quail Hollow this week, which provides a tough test on a great golf course.
The players can look at this tournament in two ways. They can either prepare themselves for next week's PLAYERS Championship by playing on a hard golf course or they can take the week off and focus on the bigger event.
Many top names have taken the former view and, as a result, we've got a really good field headed by Tiger Woods, Rory McIlroy, Lee Westwood and Phil Mickelson. We'll also get a good chance to see how many of the contenders are shaping up ahead of one of the biggest events of the year.
I shall never forget McIlroy's performance when he won here back in 2010. From the cut mark he produced 17 birdies and an eagle over the weekend on one of the toughest courses on the PGA Tour. That was a sign to everyone that his best game can't be beaten.
He comes back as a more mature and better player, despite a disappointing result at the Masters. He looked like he was slipping into gear during the second round, but nothing happened for him.
He didn't have a good Masters, but he's had time to regroup since then. He's had three weeks off, which is a big gap for him. He also had three weeks off before the Masters, so with only two tournaments in eight weeks he's very lightly raced.
He's also been ousted from the world number one spot by Luke Donald, so he has plenty of reasons to play well and I see him as the man to beat here.
Woods also makes his first appearance since the Masters and he says he's fixed whatever was ailing his swing at Augusta.
I was surprised by his performance there because I thought he was the man to beat. He was playing nicely, he'd won at Bay Hill and I thought he'd be licking his chops at the prospect of a 15th major. But a bit like Rory it just didn't happen.
Tiger is probably mentally stronger than any other player, so you have to assume it was a technical issue. He's constantly working on his game with Sean Foley and I'm sure he'll have micro analysed what happened at Augusta.
We'll see which Tiger Woods turns up at Quail Hollow.
Rob's Sky Bet Tips
Wells Fargo Championship - Rory McIlroy: It's such a good field, but I think Rory McIlroy will be very keen to put his Masters performance behind him on a course that he obviously loves. He's 8/1 with Sky Bet and I see him as the man to beat.
Open de Espana - Rafael Cabrera-Bello: The European tour returns to the mainland in the week before the anniversary of the death of Seve Ballesteros. That will add poignancy and emotion to this event in Spain, especially for the homegrown players. For that reason, I'm going to go for a Spaniard. Rafael Cabrera-Bello won in Dubai and in this particular week I think every young Spaniard would be inspired to try to become the Spanish Open champion. He's great value at 45/1.