Ready, steady, go
Ben Curtis is finally back in the winner's enclosure but must now find some consistency, says Rob Lee.
Last Updated: 25/04/12 2:01pm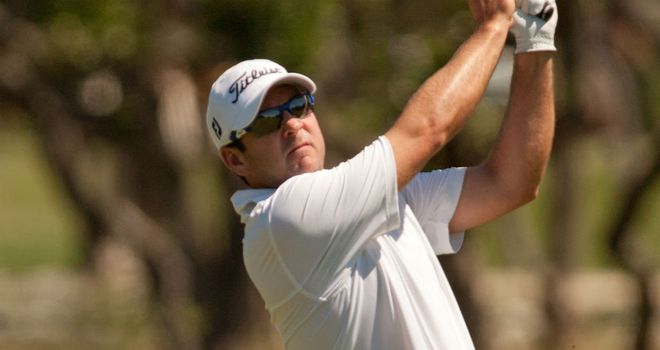 Ben Curtis' victory in the Valero Texas Open over the weekend has salvaged his career.
The American had tumbled down the rankings after a lean few years and had lost his full playing privileges on the PGA Tour, but he has given himself some security now after winning an event for the first time since the Lumber Classic in 2006.
The 34-year-old now has the rest of this season on Tour and a further two-year playing exemption, as well as the princely sum of $1.1million lining his pocket. He'll think all his Christmases have come at once.
I wasn't confident Curtis was going to see off the likes of Matt Every and John Huh during the final round in San Antonio, though.
He looked very shaky on the back nine, hit some off-key putts and began to feel the heat, which is understandable considering his lack of form over the last few years. In the end, however, no-one else really came at him and he did just enough to win.
What's commendable is that when the golfing gods weren't shining on Curtis over recent times he kept going and believed that at some point things would fall right for him.
He played over in the Middle East, looking to keep his game going and at the Texas Open, albeit with a weaker field, got a start.
Ben has always been a good player and lest we forget that he is the 2003 Open Champion.
People will say he only won that major at Sandwich by default when Tiger Woods and Thomas Bjorn blundered, but he still went around the course that week in the fewest shots.
He had won two other times on the PGA Tour prior to Sunday's triumph, too; that's a good career and something a lot of players won't achieve.
When Curtis plays with confidence and gets on a venue where the greens are very good, he putts beautifully. He can also be a very steady hitter and last week at Texas was the best I've ever seen him swing the club.
Ben's problem is that that he is not a dynamic player and doesn't have the power to dominate a golf course, while I also think he may have struggled to cope with being a major champion.
If you're ready to win a major early in your career, as Rory McIlroy was , it can only boost you but there are a whole slew of players - Ben Curtis, Todd Hamilton, Sean Micheel, Rich Beem - who weren't major-type players but got their hands on one.
Expectation levels then went through the roof and those guys were unable to deal with it; their greatest victory acted as somewhat of a curse.
Ben is one of a whole bunch of players who can win on the PGA Tour occasionally and have a nice life. That hasn't happened recently but now he can relax and get back to it.
Targets now for Ben include qualifying for the Tour Championship at the end of the year which means being in the top 30 of the Fed-Ex Cup points in the autumn. It's very doable.
Extraordinary
Branden Grace and Lee Westwood also celebrated victories over the weekend.
Grace has won three tournaments in the space of a few months since getting his Tour card at the qualifying school in December and that is an extraordinary achievement.
The South African won two European Tour events in his homeland in January and then followed that up with a victory in the China Open last week.
There is a little bit of pressure on him now to keep on the right path, but he is only 23 and if he doesn't do anything else this season he will still have had a great year, although I suspect there's more to come.
Westwood, meanwhile, won the Asian Tour's Indonesian Masters, retaining the title he won in 2011. There was no-one with any world-ranking class near him but the pressure for Westwood is that he went there as the star billing and had to perform.
Lee did that and for three rounds was fantastic, leading by eight heading into the final day. He didn't win with such ease in the end but only one name went on the trophy - his.
He will argue that nothing pushes you on like winning, regardless of the standard of opposition, and he is right. You can go to all the shrinks in the world, hit as many practice shots as you like, but it is no substitute for getting across the line in first place.
Another win will give Lee confidence and a steelier core in his bid to win that first major.
ROB'S SKY BET TIPS
Ballantine's Championship:
It would be great for the Korean public to see their guys play well and Y.E. Yang and Bae-Sang moon are definitely possible winners, but Ian Poulter finished last week in China with a 66 and he will be less jetlagged for this tournament. He hasn't had a great season up to this point but he finished in the top 10 in the Masters and is coming into a bit of form. He's 14/1 to win.
Zurich Classic of New Orleans:
Being Masters Champion takes a bit of getting used to, even if you've tasted it for a few weeks, but Bubba Watson being what he is - highly unique - I think he'll take it in his stride. I don't know how hectic his life has been since his Augusta triumph but he won this event last year in a play-off with Webb Simpson and I'm going to back him to repeat the trick at odds of 14/1 with Sky Bet. Perhaps the stars are going to align once again for Bubba.