Masters of destiny
The Masters is always special, but Rob Lee says two men in particular could light up Augusta in 2012.
Last Updated: 05/04/12 12:06pm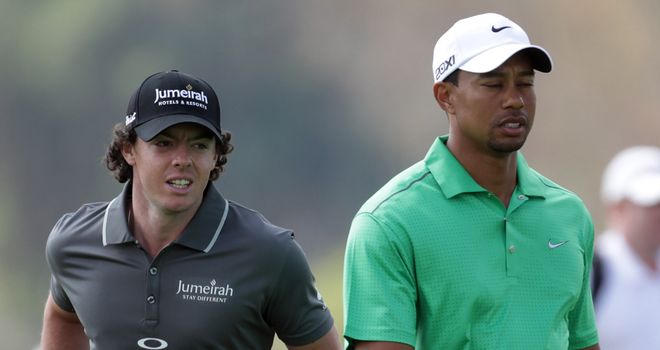 The Masters is one of those unique sporting events.
There's something very familiar about Augusta and the fact that The Masters is played on the same course every year makes it remarkable. I know they've changed a few details and moved a few tees, but in my head the course is the same as it was when I was a young boy.
And if you want to know how much significance this event retains you only have to look at the mood of the players. In the weeks leading up to it, they all give out an air of desperation to be there and, as a result, there's always a fantastic atmosphere. Look at how gutted Ernie Els is because he's not playing this year. There aren't any other events that would make him feel that way.
In terms of television this event can't be beaten. When I was a kid, The Masters was the first golf you saw on television in any particular year. You always had to wait until April for any golf coverage on the BBC and that was one of the reasons it was such a big deal.
Back then you'd only get highlights of Thursday and Friday and then a couple of hours of live coverage on Saturday and Sunday. In fact, it was ages before I ever saw the front nine. Over the years, the powers-that-be at Augusta have allowed more TV time and enabled us to become familiar with the whole course and in 2012, Sky Sports will have more broadcast hours than ever before.
This weekend we'll bring you four days of high-definition and interactive coverage and if you're a 3D viewer you'll get some incredible views. I've seen some 3D feeds from Augusta and it looks unreal; from the correct angle you can see all the contours on the 13th green. It's hard to believe how the ball stays on!
The course
There's no doubt that Augusta is a tremendous challenge, but the course gives you a chance of a good score as well. If you're out with your yardages or you're missing on the wrong side then it can seem impossible, but if you're on your mettle you can have a good score around there.
I first went to Augusta in 2000 with TalkSport when we were broadcasting off a monitor from outside the gate. However, I got a ticket to go in on the Wednesday and, as people had warned me beforehand, I was unable to believe how hilly it was.
For example, the 10th tee to the fairway (where Rory McIlroy hooked it into the garden last year) could be a nursery slope if you covered it in snow. It's so steep you could easily ski down it. The walk up to the clubhouse and the 18th green from the tee is the same slope but mega uphill.
I wandered up to the ninth green where, for years, I'd seen balls coming off the front and going 100 yards short. When I finally saw it with my own eyes it was hard to believe how any balls stayed on - and of course the greens get shorter, tighter and faster as the week goes on. It is so difficult to control your ball there.
I'd never seen green conditioning like that before. It was a real eye-opener to see how low they could cut the grass and it all adds up to the most dramatic run of holes on a back nine of any major championship.
You need every bit of nous to get things right and last year, as with most years, it all came down to those final holes in the final two or three hours.
That's why you have to watch it.
The men to watch
I would say this is the most anticipated Masters of all time with the young genius Rory McIlroy going up against Tiger Woods, who has a few points to prove, on a course that is made for both of them.
Rory has had a taste of the world number one spot, he won the Honda Classic and he will turn up here full of confidence. However, everyone seems to be asking how he'll eliminate his demons after last year.
My take on it is that he should remember that he was brilliant for three rounds in 2011. He built up a four-stroke lead going into the final day, which is not a massive lead, but on the Sunday he was a little bit off his game.
All I felt he lacked was experience. On the back nine he could have won, even though he wasn't playing at his supreme best, but he simply didn't have the knowledge of what was needed to win.
That's called learning at the coalface - and goodness me, didn't he learn quickly? He went out a few weeks later and won the US Open by eight shots.
Apparently he looked back at the tapes of himself on the back nine at Augusta and realised how terrible he looked. He looked downtrodden and therefore played in that fashion, so he made sure when he went to Congressional that he was playing with his chest out, high eye line and with a totally different body language.
Little things like that can make a massive difference and I don't think there's any lingering malaise from last year's Masters. In fact, quite the opposite, I think it owes him one.
He doesn't need to win, however. It's impossible to turn up to a major believing you should win. This is a complicated game and you can have a couple of bad days, but I don't see that happening. I think he'll be there right at the bitter end on Sunday.
And I think Tiger Woods will be there as well. After winning at Bay Hill, he will go to Augusta looking to shut up a few mouths by winning his 15th major - and I think that would be fantastic for the game.
It would be marvellous if either of those two won, but it would also be a great story to see Luke Donald or Lee Westwood win their first major. I'd say the same for Sergio Garcia. Those players have paid their dues throughout their careers and it would be nice to see them put the icing on the cake.
However, you need a little bit of luck somewhere along the line. You need the rub of the green in golf (something that Westwood, in particular, hasn't had in the majors) and you never have the control that you'd like to have.
I also hope we get a good run with the weather. The forecast is a bit mixed with the potential for thundershowers, so I hope they stay away.
There are a lot of good players separated by very little and the winner will need something to go his way this week.
That's why I cannot wait for Thursday to start.
Rob's Masters Tips
Outright Winner: I got 10/1 on Tiger Woods back in September and I'm not changing my mind. I'm backing him to do it. If you forget the odds and imagine this as a 100m dash on sports day that you'd have to say that Tiger and Rory are the fastest kids in school on this course. They are the two players with the best form with credentials at Augusta
Each-way bet: Don't forget about Justin Rose, who is a very good bet at 25/1 each way. That's a great price because he's in great form and has played well at Augusta before. I can envisage him winning this week. If you're looking for longer odds I might look at Fred Couples at 150/1 too!
Top USA player: Tiger Woods, obviously, but apart from him I reckon Bubba Watson at around 40/1 might have a good week.
Top European player: If it's not Rory, I would have to go for Justin Rose again . He's the second-best European in my eyes.
Top RoW player: I'd go for Adam Scott at 33/1 after he was so close to winning last year. I thought he'd at least earned a play-off with Jason Day before Charl Schwartzel birdied the last four to take the title. He has the type of game you need around Augusta.
Nationality of the winner: It's obvious, but I think you'd have to go for the USA at 5/6.
Top debutant: Keegan Bradley (at 25/1) played well last week and I like his chances because he's one of those big-hitting Americans with the photofit game for an Augusta champion.
Top senior: You've got to go for Fred Couples there, most definitely. He knows how to play at Augusta and it wasn't too long ago when he went into the final day with a chance of winning. He's just won on the Champions Tour and I might even have an each-way bet on him for the whole thing.