Home hopes
Could the Green Jacket be heading to the British Isles? Rob Lee looks at our stars' Masters chances...
Last Updated: 29/03/12 11:28am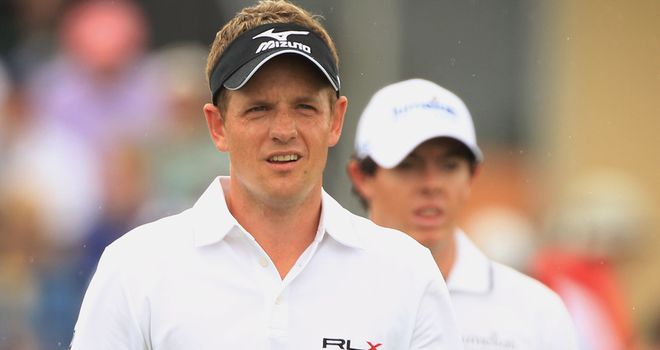 It's not long to wait for The Masters now and things are hotting up very nicely indeed.
Tiger Woods is a winner again, Rory McIlroy was flying before his rest period, Graeme McDowell is finding some form and Justin Rose has finally got some consistency. Things couldn't be better and this is probably the most anticipated Masters in years.
Could we see a winner from Great Britain or Ireland? It's a strong possibility. I'm looking at McIlroy, Rose and Lee Westwood as the key contenders because even though none of them have won at Augusta they have all challenged there.
So let's take a closer look at the home hopes...
Luke Donald (world number 1)
In terms of credentials, Luke Donald is top of the class; he is a special player and has won back his number one spot. However, I'm just not sure that Augusta plays into his hands. He has a brilliant short game and is a wonderful player from inside 150 yards plus his putting is very good, which is important at The Masters. However Augusta is more subtle than that and with some of the flags you need to be hitting two or three clubs less than he does. He's more than qualified to win a major and has played well there in the past, but I don't recall him being right in the mix looking to win. I just don't think Augusta suits him.
Rory McIlroy (world number 2)
Rory will go to Augusta thinking he's owed a little bit after what happened last year. Ever since the PGA Championship finished last August, this is the one he's been waiting for. All the rest of the events are all well and good, but when you're as good as he is, the four majors are what it's all about. He is more than ready for Augusta, he's a wiser player than he was this time last year and he's also a better player. He fended off a surging Tiger Woods at the Honda Classic and he should be very excited because he knows he's got what it takes to win. Things couldn't be better for him right now.
Lee Westwood (world number 3)
Lee Westwood hits the ball as good as anybody in world golf. His performances in Thailand and South Africa at the end of the last year contained some of the most incredible golf you're likely to see and if he's on his game then he could "out golf" Augusta. By that I mean he could play so well that he won't need to rely on his putting or holing chip shots. If he hits the ball as well as he can, then he might just need to be reasonable in the other departments.
Justin Rose (world number 8)
For me, consistency was always the issue with Justin Rose. He's always been a methodical, method-orientated swinger of the golf club and if he was just one degree out then he wasn't able to compete. However, I don't feel that way about him anymore. Over the last 12 months he has found a way to turn 73's into 69's and when you can do that - as he showed at the WGC-Cadillac Championship - he can beat a world-class field. He likes Augusta, he's played well there before and he definitely has a credible chance of winning.
Graeme McDowell (world number 13)
Graeme McDowell has definitely got a chance, simply because he has bucketloads of heart and can make things happen. He's a brave golfer and will show no fear if he gets into contention. I just wonder if he can hit the ball long enough and high enough consistently over four days around Augusta; that's my main concern. I can see him winning an Open Championship more than I can see him winning at The Masters.
Ian Poulter (world number 24)
The biggest reason why Ian Poulter might pop up and win a major is because he believes he can. Many players are limited by what they feel they can achieve and I don't think Ian has ever put a cap on that, which is great. In terms of mentality, the very top of the game is accessible to him, but you'd have to say he hasn't been playing well enough for most of the year. That all changed at Bay Hill, where he finished third, and he can go to Augusta with confidence. Before that display I wouldn't have given him a price, but now, who knows? A bit like McDowell he doesn't need to build himself into form; if he finds a bit then he can run with it straight away.
Paul Casey (world number 32)
At full fitness and with a good spell of tournament golf behind him, I would have said Paul Casey has a good game for Augusta. He can hit high, towering iron shots and he is a superb player on his day. But he's been blighted by injuries to both his foot and his shoulder and I'm just not sure he's played enough golf. He's still on the way back, and while he is capable of winning there, I don't think he's got the reps to contend this time around.
Martin Laird (world number 34)
Martin Laird has competed in some of the top PGA Tour events of late - so there's no doubt he has an outside chance at The Masters. However, he's outside odds for a reason and it's rare for Augusta to unearth an outsider. I know we've seen players like Zach Johnson and Mike Weir win there from long odds, but the course has changed since then - it's back to the way it used to be - and I think it now favours the gamblers who are on their game, rather than the plotters and the planners.
Simon Dyson (world number 36)
Simon Dyson finished sixth at the 2007 PGA Championship and ninth at last year's Open but we still haven't seen him right in the mix on the final day at a major championship. He's only played two competitive rounds at Augusta, missing the cut there in 2010, so competing for the Green Jacket would be new ground for him. I think you need to have played there a bit more and have a bit more knowledge of what's required of the course if you want to do well.
Paul Lawrie (world number 46)
Paul Lawrie has major credentials and I know he hates it when people say he only plays well in bad weather because that's utter rubbish - it's just that he has had some good rounds in bad weather. Quite frankly he's playing some of the best golf of his life at the age of 43 and I could see him having a good Masters. Can I see him winning it? Probably not, but I can certainly see him having a good tournament.
Darren Clarke (world number 57)
If Darren Clarke is on form then he is a match for anybody, as we've seen on more than one occasion. He's the Open champion, he's one of the few players who has won more than one WGC and back in 2000 he beat Tiger Woods over 36 holes to win the Match Play - and that was when Tiger was at his very best. When he's in tip-top shape he can beat anybody - the only caveat is that he hasn't been in tip-top shape lately. He's working like a dog on his game to try and get things right and if he finds his game he can reinstall himself at the front straight away. But he hasn't shown us that to date.
Padraig Harrington (world number 93)
Padraig Harrington is Europe's most prolific, active major champion with three to his name. He recently shot 61 at the Transitions Championship at Copperhead, so there have been flashes of form from him but nothing consistent; he certainly hasn't come close to winning a tournament all year. In my eyes he hasn't been playing well enough to add a fourth major to his collection.
Rob's Sky Bet Tips
Shell Houston Open: Lee Westwood - Tiger Woods is now sixth in the world rankings and is breathing down Lee's neck, but I don't think that will hold Westwood back. Quite the opposite, it will push him on. He likes the course at Redstone too, so I fancy him to win at 11/1 with Sky Bet.
Sicilian Open: Richie Ramsay - He's been at the business end of things a few times on the European Tour without things falling into place and maybe at a new venue, where most players won't know the course, this could be his week. At a tournament like this you're stabbing in the dark a little bit to find a winner, but at 33/1 with Sky Bet I'm going for the Scot.