A rivalry to relish
Rob Lee anticipates the prospect of a McIlroy-Woods rivalry that could dominate golf for years.
Last Updated: 07/03/12 1:54pm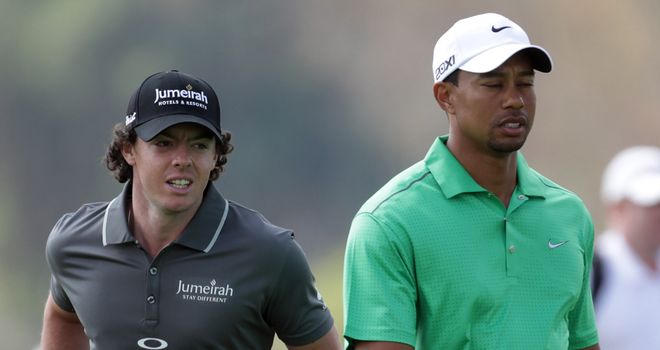 When Rory McIlroy first burst onto the scene we all thought it would be great if he could get to the level of Tiger Woods.
There was a lot of chat suggesting that this bright young talent could become a genuine adversary to the world number one player.
Well it has now happened - but not in the way that we all expected.
We all thought that McIlroy would creep closer to Tiger's number one spot and a rivalry would emerge, but instead Rory is top of the rankings and Woods is now trying to chase him. It's all turned on its head.
To see the two of them fighting it out on Sunday at the Honda Classic was amazing. Tiger did an incredible job to shoot his lowest ever final-round score, especially on a day when play had been suspended due to the wind. He finished his 62 with a birdie at 17 and an eagle at the last, which was phenomenal to watch.
The crowd went ballistic and roars could be heard right around the course as he completed his round of eight-under-par. Rory obviously heard the noise as he completed a 10-foot putt down the hill at 13 to replace the bogey he'd made on the previous hole. That was a brilliant effort.
The story was all about whether he could hang on over the closing holes, including the tough Bear Trap. He had to up-and-down it out of the bunkers at 15 and 17 and he played the last hole really sensibly as he picked up a brilliant five.
His victory means he has now finished in the top five in 10 of his last 11 events with a few wins thrown in there as well, which is the sort of form we saw from Tiger at his peak.
It's not the first time we've been able to say that. Most people win a major championship by a shot or two, but Rory won last year's US Open by eight shots - and the only other golfer able to win by that sort of margin is Woods.
McIlroy's great win from the cut mark at Quail Hollow back in 2010 also put him in Tiger territory. Those things are only done by very special players and a lot of parallels can be drawn between them.
McIlroy is now the world number one and he won't shirk away from that. He'll enjoy it. But I expect Tiger to have another crack at it as well.
On the back of a great performance last week, Woods is approaching a spell of tournaments where he has enjoyed a lot of success. He's won six times at Doral, six times at Bay Hill and four times at Augusta. He couldn't be in a better spot.
I'm not sure which way round it will be, but I think in the not-too-distant future they will be the world number one and two. Tiger is up to 16th in the world now and that rivalry is coming thick and fast.
Emerging
Golf just couldn't be better right now.
Not only have you got the McIlroy-Woods rivalry emerging, but there's also Luke Donald and Lee Westwood, who have had great careers and are searching for their first major. Both of those players could return to number one with a win this week.
We've also got America searching for their next big thing, so there's a lot of good young players like Keegan Bradley, Kyle Stanley, Dustin Johnson, Gary Woodland and Rickie Fowler coming through.
All of those guys will be in the field at Doral, as will Phil Mickelson, who enjoys it here and has a play-off loss and a win to his name this year. He's in good form.
And you mustn't overlook Westwood. He shot 63 last week as he finished fourth, just as he did at the WGC-Accenture Match Play. There's no doubt he'll be looking forward to Doral.
His tee-to-green golf in recent weeks has been unbelievable and we mustn't ignore his form and focus on Woods and McIlroy. He's the world number three, he's had a taste of the number one spot, and he'll be looking for a victory here.
A win would take him back to world number one and a lot of people would enjoy seeing a volatile number one situation where three or four players are scrapping over that position.
Others would prefer to see someone dominate and I think that's what you usually end up with.
And at the moment that's likely to be McIlroy... or Woods.
Rob's Sky Bet Tip
I went for Rory McIlroy on the European Tour podcast, so I'm going to stand by that prediction. However, if you're looking for somebody with a longer price then how about Rickie Fowler? When he first broke through he was on a par with McIlroy and he must be looking at him and thinking it's where he wants to be. Maybe that will spur him on. He had his first top 10 of the year last week, so maybe he could come through this short field?