Man of the Match?
Rob Lee believes Sergio Garcia can putt his way to victory in the WGC-Accenture Matchplay in Arizona.
Last Updated: 21/02/12 6:32pm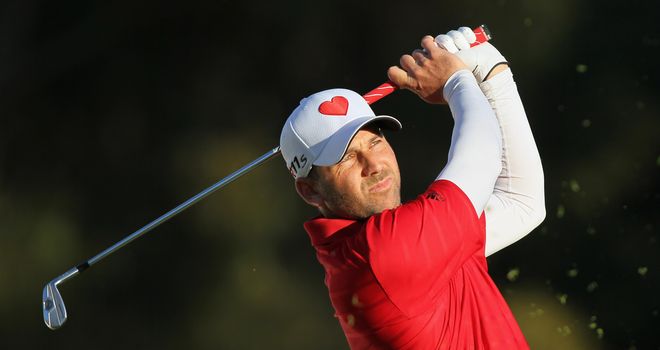 When I look at all the first-round ties in this year's WGC-Accenture Matchplay, I can build a case for each competitor.
All but two of the world's top 66 players will be in action - only Paul Casey (injury) and Phil Mickelson (family reasons) are not playing - and trying to pick a winner for each game, let alone the tournament, is extremely difficult.
Take defending champion Luke Donald's match with Ernie Els for example. You'd think the world number one would have too much for the struggling South African but if Ernie gets his putting game going, you never know what might happen.
Rory McIlroy, meanwhile, is the favourite for this tournament with Sky Bet, but could still face a difficult opening match against the big-hitting George Coetzee.
The Wednesday start, earlier than most golf events, could also throw some players off their stride. I think the tournament is wide open.
European players have dominated this event during the last two years at the Ritz-Carlton Club in Arizona; Donald defeated Martin Kaymer in the final in 2011, while Ian Poulter beat Paul Casey - a two-time runner-up - in 2010.
I'm not too sure why that is, but perhaps it's because the event comes at the right time for them. The European Tour finishes closer to Christmas than the PGA Tour so maybe the players are less rusty than their American counterparts.
Momentum
I'm going to tip another European to pick up the win this year: Sergio Garcia. The Spaniard shot a marvellous 64 in the final round of last week's Northern Trust Open, is putting well and says he has never felt happier on the golf course.
He will have a bit of momentum after his seven-under round in California, and for the same reason you cannot discount some players who have already won this year, such as Paul Lawrie, Bill Haas and Kyle Stanley.
Tiger Woods is seeded 19, his lowest-ever placing on the Accenture. He will become more and more dangerous the longer he stays in the tournament, but will have to play well to win every match. Tiger tackles Spaniard Gonzalo Fernandez-Castaño in the opening round, a man with two top-20 finishes this term, and if he wins that will face the victor of Darren Clarke and Nick Watney.
I'm also really looking forward to how 25-year-old South Korean Bae Sang-moon performs against Ian Poulter; the Englishman should have his hands full.
I've watched Bae play a little bit and, like countryman Noh Seung-yul, he is a very talented individual. The ladies' game is dominated by golfers from that part of the world and the men's game is beginning to see an influx, too.
Successful competitors this week will be ones who play the course and not their fellow player. You can adapt if you see your opponent slash one into the water, but it's more important that you plot your way around the course and are proactive rather than reactive.
The better match players, the ones that are pretty good at this format annually, realise that your plan has to be far more detailed than 'try to do better than him'.
ROB'S SKY BET TIPS
Sergio Garcia is my favourite after his exploits at the weekend (18/1) but for a longer shot, I'd go for George Coetzee (125/1). He has to get past McIlroy in round one but he is a player with a big future and one I feel is ready to make that jump into the winners' enclosure.
Spit spat
Just a word on Keegan Bradley's spitting at the Northern Trust Open. It was not pleasant to see and needs to be stamped out of the game. However, Bradley said in his own words that is something he does subconsciously when he is nervous.
He's not spitting for the sake of it; it's just a reflex action, almost like a spitting Tourette's. Perhaps if he was more decisive with his pre-shot routine, the other issue would become less obvious. He's a fine player and I wish him well.
Enjoy the Matchplay!
Who do you think will win the WGC-Accenture Matchplay? What is your view on players spitting? Let us know using the feedback form below...