Eclectic shocks
Westwood's woes, Harrington's hopes and a surprise win for Mickelson... Rob Lee talks golf.
Last Updated: 15/02/12 12:49pm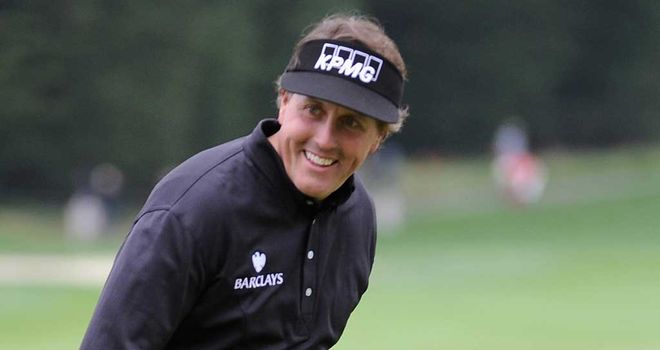 Lee Westwood will look back on the Dubai Desert Classic as one that got away.
Leading after day three, he had plenty of opportunities to wrap up victory on the final day, but he didn't take them - and that's not like him. Usually he's very good at grasping the chances that fall to him.
A poor chip at the third cost him a birdie after a brilliant second shot and he wasted further chances at both 16 and 17. He also played a stinker on the last after a magnificent drive. He'd putted nicely earlier in the week to give himself the lead, but he didn't hole his fair share on the final day.
He's been brilliant from tee to green for several weeks now, from before Christmas through to the start of 2012. He played some brilliant stuff last week, but we also saw that the weak part of his game is chipping and putting.
Those aspects are not terrible, but they're not up to the world-beating standards of his driving and his iron play. All players have strengths and weaknesses and because he's so good at hitting the flag with his iron shots he hasn't had to chip as much as some players do. Maybe it's inevitable that aspect of his game would let him down.
It wasn't his best day with the putter and he must continue to improve in that department. That's an ongoing project for him, but I don't think he'll be too worried about the shape he's in going into next week's Accenture Match Play.
Credit must be given to the eventual winner Rafael Cabrera-Bello, who shot 63 in the first round and then hung around all week long. He didn't disappear and ensured he was always in with a chance. He played very well and a bogey-free 68 on the final day meant that anybody else would need to play very well to beat him.
He's no stranger to going low because when he won in Austria in 2009 he came through the field with a final-day 60. This was a different type of victory though because he led after day one and stayed near the lead all week.
On the last day he had the world numbers two, three and four - plus Thomas Bjorn - all lurking and he came out on top. That's a wonderful boost for a young player. He now knows that on his day he can live with the very best.
His performance has catapulted him into next week's Match Play and now all sorts of possibilities will open themselves up. If he can get through a couple of rounds there then he'll be looking at more big prize money and more world ranking points.
Anything can happen in the Match Play and he must have an eye on the Masters now, which is tremendous for him. So much has changed for him in one week - and that's what playing golf is all about.
Spice
It looks like last week's other big winner, Phil Mickelson, won't be in the Match Play because he's going on a family holiday.
It's no surprise to see him putting his family first, but it was a surprise to me to see him win at Pebble Beach last week because his form had been really, really poor this year.
He was in the same group as Tiger Woods in the final round, which added plenty of spice to his victory and also provided the biggest TV audience for Pebble Beach Sunday in 15 years. It's evident that those two bring an element of showbiz when they're going at it.
I haven't seen Mickelson play like that for a long time. He was driving well, hitting his irons well and he was making crucial putts when he had to. There were a couple of occasions when he made a couple of long par putts to prevent momentum getting away from him - and he also made sure he didn't miss any short ones.
He's up to 11th in the world now and while he will be looking to win at Riviera (having done so in 2008 and 2009), his big focus will be Augusta. Like Woods, that's a favourite hunting ground of his and he will hope to carry this momentum to The Masters.
It's great to see Mickelson back and if he continues to play like he did in the final round last week then he can win anywhere.
Commitments
Another former major champion who'll be at Riviera this week, but not in Arizona next week, is Padraig Harrington - although that's due to poor form rather than family commitments.
He's up to 86th in the world rankings and if he wants to be relevant he needs to get back into the world's top 50 as soon as possible. He is exempt for the majors, but didn't make the Match Play and he needs to get back up the rankings again.
A win at the Northern Trust Open would do that for him. There are signs that things are improving after a top 10 last week and I've noticed him enjoy some strong rounds in the last few months.
The issue is not qualifying for majors, but addressing his form and that seventh-place finish at Pebble Beach will help him. He needs to start stringing some results together now.
There's no way that somebody like him should be languishing so low in the world rankings and not getting into the WGC's. We'll be keeping an eye on him at Riviera this week.
Rob's Sky Bet Tips
Northern Trust Open - Sergio Garcia: There's a good field at Riviera this week, but I saw Garcia hit a few shots out in the Middle East and he was looking very impressive so he's my pick at 25/1 in California.
Avantha Masters - Romain Wattel: The young Frenchman played very well in Dubai last week and he was making a lot of birdies. He's an explosive player and he's a player that the French are pinning a lot of hopes on. He can play well in clutches and I believe he can play well enough to win in a weakened field in India - as long as he can avoid Delhi Belly! At 30/1 he's a value bet.