Rock and a hard place
Rob Lee reviews Robert Rock's prospects and looks at how Kyle Stanley can rally from his horror finish.
Last Updated: 01/02/12 3:49pm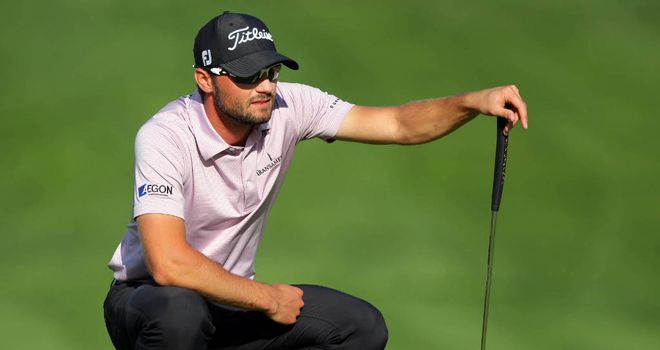 It has hardly been a meteoric rise to prominence for Robert Rock.
He's in his mid-thirties now and has posted consistent finishes on the leaderboards for quite a while, but overall he's been a slow-burner. He broke through when he won the Italian Open last year and he qualified to play in the US Open as a club pro, where he played quite well.
He has made steady progress throughout his career - and finally he's got a huge victory that could open all sorts of doors.
The field in Abu Dhabi was world class and Rock saw off the top four players on the planet - plus Tiger Woods - to take the title. The confidence that he will have picked up from that success will be priceless.
On Saturday he knew that if he played the last couple of holes well then he'd have a chance of playing with Tiger in the final round - and he finished with a pair of birdies. Even if he's not quite the player he once was, it's still a big deal to play alongside and test yourself against one of the best players the world has ever seen.
Rock coped with that challenge wonderfully and played better than Woods on the final day, that's why he won. He didn't feel intimidated and he gave a great account of himself. He should be very proud of himself and deserves great kudos.
This victory could prove to be a great springboard for him. He's on the edge of the world top 50 and all of a sudden he could find himself playing in the majors and the WGC's. He hasn't earned his exemption yet, but he has a wonderful chance.
He's got to be looking at the Ryder Cup as well. There are five spots available from the Order of Merit and five from the world rankings, so he's got a lot of work to do to get in. He can't just win one tournament and get into the team, but you have to be confident after the week he just had.
It's a wonderful start to the year and if he continues to play as well as that then the sky's the limit.
Big step
Tiger Woods finished in third place and even though he didn't win, it was another big step on his comeback trail. He's very close to being his old self again.
He hit a lot of good shots during the week, he only missed eight greens in the first 54 holes, and his standard of play was excellent. He didn't play well on the last day, but he was very close to another victory and I expect more of the same for the rest of the season.
He's playing more golf this year and it will be good to see him on a regular basis. He'll be at Pebble Beach next, before moving on to the WGC's and having moved back into the world's top 20, he is heading in the right direction.
The Masters is only just over the horizon and he's as comfortable at Augusta as he is in his own front room. He can put his slippers on and enjoy it and he's always made sure he peaks at the majors.
And he's stitched on for the Ryder Cup too. Even if he slumped to 50th in the world he would get a pick, so I don't think there's any doubt we'll see him at Medinah.
Horrid
Over at Torrey Pines, it was horrid to watch Kyle Stanley throw away a three-shot lead on the final hole. I felt so sorry for him.
He was the outstanding player of the week, he deserved to win and once he'd flushed it down the fairway you couldn't really envisage how he would possibly take seven more.
Understandably he chose to lay up - in hindsight I bet he wishes he'd smashed it over the water - and I thought he played his next shot quite well. Unfortunately he got more spin on the green than anyone else - it was one of those contacts you only get from time to time - and he ended up in the water.
Maybe his caddie should have told him to pitch it on the back of the green and three-putt down the hill, but Stanley had no reason to fear anything after playing so well. He ended up taking eight and losing the play-off in a nightmare finish.
Brandt Snedeker will feel great about winning following his recovery from hip surgery, but I'm sure even he will feel bad for his opponent. It just felt like Stanley wasn't allowed to win, a bit like when Robert Garrigus threw away a three-shot lead on the final hole against Lee Westwood at Memphis in 2010.
Stanley must now look at the overall picture and realise how well he played. He should also look to Rory McIlroy for inspiration; the Irishman was distraught after his final-round collapse at The Masters, but a few weeks later he was the US Open champion. Personally, I think he will recover because he is a very good player and I expect to see him win many times on the PGA Tour.
It's a great move for Stanley to play again at the Waste Management Open in Phoenix this week. There will be 50,000 people there - a lot of them loud and raucous - and there will be nowhere to hide. Of course, they might all call him a choker, but I think it will go the other way and he'll get loads of support.
I think when he steps on the first tee - and he'll be understandably apprehensive - he will get a great reception.
Rob's Sky Bet Tips
I'm going for Rickie Fowler to get his first PGA Tour win in Phoenix. He was hitting a few good shots last week and in 2010 he lost by one stroke there, so he clearly likes the venue. The hullabaloo and the noisy crowd will suit him too. He's a decent price at 22/1 to come out on top.
As for the Qatar Masters, Graeme McDowell is a player who trends to play in tranches. He will go through quiet spells, but when he's hot he's really hot for a few weeks. He finished third in Abu Dhabi, hit a hole-in-one and bounced one in off the grandstand! He also cracked his driver during the week, but wasn't put off by having a new driver in his bag over the weekend. He's a good wind player and that could be important in Qatar, so I'm backing him at 16/1 with Sky Bet to have a good week.