What's left for Lefty?
Are Phil Mickelson's best days behind him? Can he win another major? Rob Lee previews his return.
Last Updated: 18/01/12 6:27pm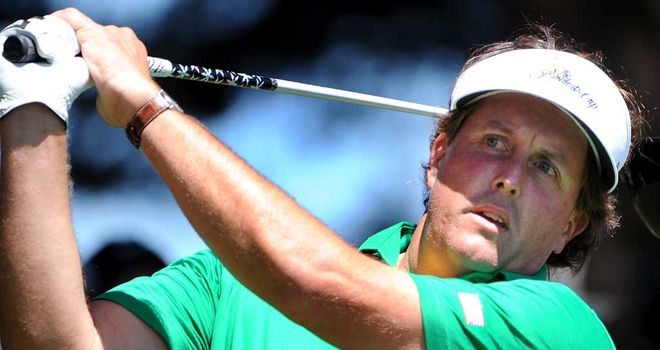 Tiger Woods and Phil Mickelson were golf's numbers one and two for what felt like a millennium.
It felt like they had slippers on once they reached the top of the world rankings because neither of them could be shifted for such a long time.
Both of them have fallen down the ladder in the last couple of years and it seems like the sport is missing them. It would be great to see them up there again.
But despite that decline, it's still big news whenever either of them plays in an event, so all eyes will be on Mickelson at this week's Humana Challenge, his first tournament since November.
Like Woods, I think it would be fair to say that Mickelson's best days are behind him. He is 41 now and once you reach your forties then your form is unlikely to move up a level.
Of course, he is still capable of shining - and I would back him to win another major or two - but I don't think it's unfair to say we won't see the best of him on such a consistent basis.
Phil has had a great career, winning four majors and scores of other events, and he's always done things his way. If he'd played slightly more conservatively then he might have won more big tournaments than he has, but that doesn't come naturally to him. He likes to rip it and then deal with the consequences.
His outlook was typified by last year's Open Championship when he was untouchable for the first 10-and-a-half holes on the final day. Then he missed a two-and-a-half footer on the 11th and reverted to smashing it and letting it go all over the place on the rest of the back nine.
There was a definite delineation between his wonderfully controlled start to that round and his approach after that miss. The first 10-and-a-half holes was one of the finest displays I've ever seen - he played that course as well as it could be played on a tough day - but it all fell away towards the end and that sums him up.
That typifies why he's so erratic and I wonder if a slightly more tempered and canny approach would have yielded yet more success over the years? I suppose you could argue that he might not have won some of the events he did win without taking those risks?
I certainly feel that if he could find a way of driving the ball straighter and being in play more then he is still capable of doing some damage at the highest level. He spends too much of his time recovering from some horrific positions.
He is still a wonderful pitcher, but I don't think he putts as well as he used to. We saw him trying out the belly-putter last year, on and off, so that area must be a concern to him.
But I feel that if he could tighten up his driving then his putting wouldn't be quite so crucial. You often see him needing to hole putts for par to stay in it and when you're not holing as many as you used to then that's when the stray tee shots start to cost you.
Return
I would love to see him return with a bang at the Humana Challenge and the bookmakers, who reflect where the money is being placed, have him down as second favourite.
But we must remember that this is his first outing in two months and it would be unfair to make definitive statements about him straight out of the box, based on one event.
We must also remember his wife has been ill and he has had some arthritis to deal with. It often seems to us that these superstar sportsmen are in a bubble and it's easy to forget that golfers have to deal with life. They are actually connected to this human race that we're all involved with!
They have to deal with life as it comes along and there's no doubt that his wife's cancer had a big impact on him. I believe she is on the mend now and he has nothing to lose when he steps onto a golf course.
He can definitely win again and he can definitely win a major again. The level of play he is capable of is still good enough to win events. Put it this way, I don't think he'll wind his career up with just four majors.
But can he get back into the top two? If he starts playing well then of course he can - and having been there before, he'd be comfortable with the situation. However, I'd be more certain of Tiger getting back to number one than Mickelson getting back to number two.
So let's sit back and see how he gets on this week, but don't judge him straight off the bat after a two-month break. Like all of the top players, let him have a good run-up to the Masters.
That's where we'll see exactly where he's at.
Humana Challenge: Mickelson has had a two-month break and while he's come out of the blocks quickly in years gone by, it will be tough to win here. He can certainly finish top five though. I don't think Dustin Johnson will do it on his comeback from injury either. I'm going to opt for Harrison Frazar who was runner-up last week and in the top six the week before. I'll say his run of good form will continue and at 40/1 he's great value.
Volvo Challenge: Louis Oosthizen will be in good shape, but I'm going to call a surprise win for Padraig Harrington at 25/1 with Sky Bet. He came on the European Tour podcast this week to explain that despite having only six weeks off - the shortest winter break he's ever had - he has been working for the whole time. He's been practising in his facility throughout the winter and I think that hard work could pay off.