The Tjaart show
Rob Lee praises Tjaart van der Walt and Steve Stricker, and tips Martin Laird to make the Ryder Cup.
Last Updated: 11/01/12 1:53pm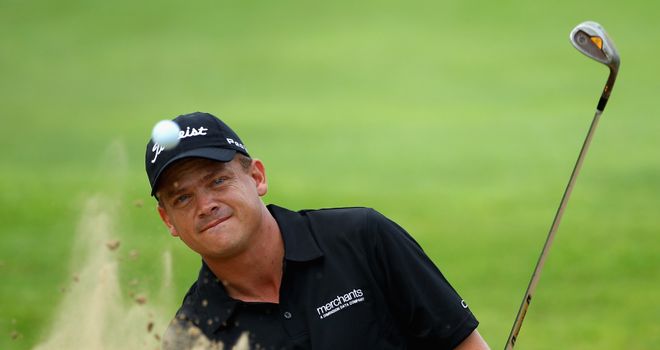 Last week's Africa Open was all about the hometown players.
South Africans filled the top four places on the leaderboard, with 2010 Open Champion Louis Oosthuizen eventually fending off Tjaart van der Walt, Retief Goosen and Jaco van Zyl to retain the crown he picked up last season.
I was very impressed by the performance of runner-up Van der Walt. I have to confess I don't know too much about him but having looked at his résumé, I noticed he has been a perennial silver medallist throughout his 15-year career and never won an event.
I thought he may buckle under pressure during the final round up against Oosthuizen and Goosen but he actually equipped himself very well.
He only came up short when he selected the wrong club on the 17th hole and bogeyed it, while Oosthuizen holed a magnificent 35-foot putt for birdie. That was the only thing that separated van der Walt from a major champion.
Players can look at themselves and analyse why they haven't won and sometimes it's because they're not playing to win.
Going for the jugular can cost you, but there has to be an element of risk involved. I think players often play with too little risk and therefore don't close the deal.
Perhaps that has been Van der Walt's problem over the years, but I certainly can't accuse him of lacking courage last week; he didn't throw it away. Hopefully he maintains his form and gets himself in the winners' enclosure pretty soon.
Quiet
At the Hyundai Tournament of Champions in Hawaii, Steve Stricker came out victorious.
He made a very quiet start to his final round which would have frustrated him because Kapalua is a course you want to make early birdies on.
Fellow Americans Jonathan Byrd and Webb Simpson got close to Stricker but he didn't panic because in his own words 'I knew I could play a good back nine'. He has also won every tournament when leading after 54 holes, a record which now stands at a staggering seven out of seven.
Steve was the highest-ranked player in the field and he played like it, but for a guy that was losing the feeling in his left arm at the back end of last season, it was a terrific comeback.
Scotland's Martin Laird finished second, three strokes behind Stricker, and if he keeps playing like that he will have a great chance of making the Ryder Cup.
He's a two-time winner on the PGA Tour, most recently at the Arnold Palmer Invitational in 2011, and a solid runner-up berth will only increase his standing.
He won't play enough European Tour events to qualify but he could get in via the world points list or do well enough to be considered for a captain's pick by Jose Maria Olazabal.
I'm sure Ollie will have his eyes on Laird because the 2012 Ryder Cup is being contested in America and that's where the 29-year-old plays almost all of his golf. I certainly wouldn't discount him lining up for Europe in Medinah in September.
Stride
It is always important to start a new season well, as Oosthuizen, Van der Walt, Stricker and Laird have done. You always want to shake the rust off and get into your stride.
Players from the school or the Challenge Tour are not going to be getting into tournaments every week, so it's vital that they perform each time they tee off, while for the top guys, it is about building momentum.
The desert run is looming for the players on the European Tour, then you're into the WGCs and before you know it, it's April and it's time for the Masters.
The more little green ticks you can give yourself the better. Even if you haven't won, chucking in a series of good rounds generates confidence and that really pays dividends when the big moments come along.
Just look at Charl Schwartzel. He won the Joburg Open in January last year and three months later he won the Masters' Green Jacket.
Return
Tiger Woods has announced he will begin his season at Pebble Beach in February.
I think he will play more in 2012 than what we've been used to over the last couple of years, but he has never been a man with a massive schedule anyway. His tournament rate per year was only 20-odd, including the four majors and the WGCs, and I expect him to return to that this term.
His mantra this season will be: 'Bring it on'. When he plays to his best, he is still a shade above everybody else. He won't be thinking: 'I'll be happy with fifth place on the money list, or X, Y or Z'. He will believe that the sky's the limit.
If Tiger didn't think that he could get back to the number one spot in the world and collect more majors, he wouldn't play; I just can't see how a guy who's done what he's done could settle for turning up and being a lesser player.
He's not going to win another 14 majors from this point but he's going to win some.
Rob's Sky Bet Tips
Joburg Open: With Louis Oosthuizen not playing in this tournament, it makes Charl Schwartzel, 10/3 with Sky Bet, a clear favourite. He likes the golf course, having won the event last year, and something happens to these South African players when they return home. I don't know whether it's the food, the air, or the grass, but they make winning tournaments look as easy as shelling peas.
Garth Mulroy could go well; he's finished second in the Joburg Open twice and won in Mpumalanga towards the end of last year. But I'm going to go for another South African, George Coetzee, 18/1 with Sky Bet. I thought he might have had a breakthrough moment in 2011. He didn't, but I've got a sneaky feeling that he'll have a good week.
Sony Open: It is the first full PGA Tour event of the year so there is a level of expectancy. Steve Stricker is playing and so is KJ Choi, who performed well in the Hyundai, but I'm backing Webb Simpson, 11/1 with Sky Bet, who seems to play well every week, for victory.