Rise of the Euro
Rob Lee reflects on 2011, a year when Europe dominated the golfing landscape once again.
Last Updated: 27/12/11 2:57pm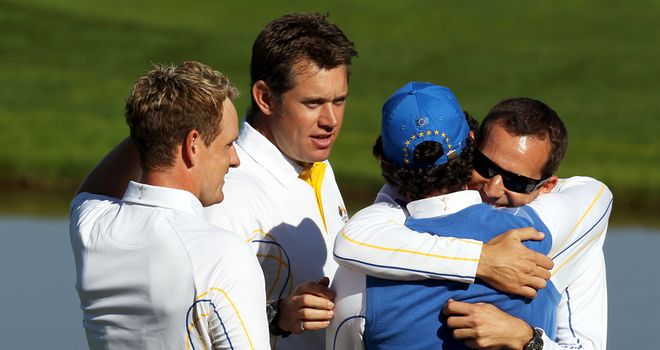 As 2011 draws to a close we find European golfers in the top four spots in the world rankings.
Luke Donald, Lee Westwood, Rory McIlroy and Martin Kaymer are at the top of the list, while three of the four majors were won by European Tour members - including memorable wins for Northern Ireland's own McIlroy and Darren Clarke.
The European Tour can also look back on a year when Matteo Manassero won for the second time, when Sergio Garcia won back-to-back and when Thomas Bjorn won three times. There's so much fruit on the tree in 2011 and that's really encouraging for fans of European golf.
Of the four guys at the top of the rankings, you'd have to say that Luke Donald was the Player of the Year, even though he didn't win a major. You can see my last column for my thoughts on an outstanding year for him.
However, he'd be closely followed by Rory McIlroy and my moment of the year would have to be his win at the US Open. He suffered a disastrous Sunday afternoon at The Masters where he looked like a certain winner for three rounds, yet when he finished he was straight in front of the cameras accepting that things hadn't gone his way. Big occasion, big man.
Most people would have been heartbroken. They'd have shied away or disappeared, but he stood up and took it like a man, even though he's only 22. He showed tremendous fortitude to do that.
He then went to the very next major at Congressional, rehabilitated himself and won a US Open by eight shots, which is effectively winning at a canter. There's only one other person we've seen do anything like that - and that's Tiger Woods.
Rory is incredibly watchable because he's got everything. He's got the tee-to-green ability to overpower a golf course, even a major venue like he did at Congressional, but he also has the Seve shot. If he gets stuck behind a tree or has to bend it 20 yards he can play those shots as well.
I've seen him hit some incredible shots in his short career. I recall him being stuck behind a tree with a sand wedge in Hong Kong in a play-off a couple of years back and he hooked it 30 yards over water onto the green. I also remember him playing from behind a tree in the rough in Ireland, hooking it 30 or 40 yards onto the green.
People say he's got every shot - and he does. He really does have everything.
Shift
As for Martin Kaymer, at the start of the year it looked like nobody would be able to shift him from the world number one spot.
When he shot 24-under around a tough, long golf course in Abu Dhabi I thought he would prove to be untouchable. I know it's a venue he likes, but it was an incredibly commanding performance and the manner of that victory was simply amazing.
However, he couldn't maintain it. There were rumours he was trying to change his swing ahead of Augusta and whatever he decided to change was ill-advised because he lost his way a little bit.
He finished the year well with a win in Shanghai and he's still a wonderful player. He's the pro's pro - the new Bernhard Langer - because he does everything properly and guarantees 100 per cent commitment every week. He's a very proper golfer.
Meanwhile, Lee Westwood's best display of the year arguably came just a couple of weeks ago in Sun City when he shot a course record 62 on the Saturday.
He was driving the ball right into the middle of the narrowed fairways at 320 and he didn't miss a shot all day, which was the cornerstone of his victory.
His first round of 60 in Thailand last week was just as spellbinding. He followed that with a 64 to post -20; at one point having a 14 shot lead and beating the cut by 23 shots. In the end he ran out a comfortable winner and leapfrogged Rory into the world number two spot.
He can play some blinding golf when he's on form and I will be absolutely amazed if he hasn't won a major by the time his career winds down.
Resurgence
Other highlights of 2011 include the resurgence of Sergio Garcia.
He lost out at the BMW International in Munich to fellow countryman Pablo Larrazabal, but showed some wonderful form that week. Then at the end of the year he won back-to-back at the Castello Masters and the Andalucia Masters. I think Garcia has a really big shout of winning a major next year.
In fact, I'd love to see all the "never-dones" finally win one in 2012. If Westwood, Donald and Garcia could all win a major it would be a dream. I know life doesn't work out like that, but all three have done great things in the game and they won't be viewed in the same way if they don't win one of the four big ones.
So my wish for 2012 is for that trio to win a major and I'm also looking forward to continuing to watch the current world top four.
And I'm also excited about a certain Mr T Woods getting right amongst things once again - and I really believe he will. He's been out of bounds for the last couple of years with injuries and personal problems, but it seems like his knee is finally healed and if he can practice enough then he will be dangerous again.
To have Woods on the comeback trail and getting in the mix with Donald, McIlroy, Westwood and Kaymer, golf fans should be in for a stellar 2012.
With our Ryder Cup boys heading to Medina in Chicago as well, there really is so much to look forward to!