One more goal
Luke Donald has proved he is the world's best player, says Rob Lee, and a major triumph is within his grasp.
Last Updated: 14/12/11 12:28pm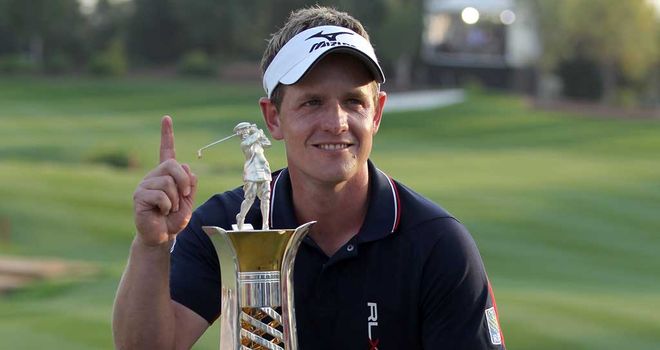 I'd always thought it was impossible to top the money lists on both sides of the Atlantic.
Tiger Woods did it unofficially several times when he was at his peak (he was excluded from the European list because he wasn't a Tour member) but him aside, I'd pretty much figured nobody else would be able to do it.
You have to play more than 15 events in the States and 13 in Europe to qualify and there is a huge amount of travelling involved. There are events such as the WGCs and majors which count on both sides, but there are still a lot of other tournaments to squeeze in.
Logistically it's tough and you have to schedule extremely well, but then you have to perform very well in pretty much all the tournaments because you're only playing a limited number on each tour. The fact that Luke Donald was able to pull it off shows just how well he has played week in, week out.
How has he managed it? Looking at his game, there are no aspects that you would describe as an Achilles' heel. On some days he's not great with the driver and he's not particularly long, but he always manages to put the ball in play. He's not always down the middle, but he rarely smashes it all over the place.
His iron play and his short game are very good, so you get repetition and lots of birdie chances. Then from 100 yards in he is simply phenomenal. He was second overall in the European Tour's putting stats for 2011 and top in the category between five and 10 feet - and that exceptional ability on the greens has been evident for two or three years now.
A good short game is crucial in professional golf, but it's not everything - and is fairly useless if you spray the ball everywhere. Look at Phil Mickelson, who is widely regarded as having the best short game around. He's never been world number one because he doesn't keep it in play enough.
Seve Ballesteros never lost his putting touch or his short game, but packed the game in because he couldn't keep the ball on the course. Brad Faxon was probably the best putter the PGA Tour ever had, but basically disappeared because he couldn't keep it on the track.
A good short game is important, but in itself it is not enough - and it's Donald's range of strengths that has taken him to the top.
Big cheques
I first recall watching Donald in the Walker Cup many years ago and as a talented college player he was highly rated when he turned professional.
He won the Southern Farm Bureau Classic in 2002, but for many years his win rate on the PGA Tour was very poor. He'd often end the year with big cheques but wouldn't seem fussed with winning tournaments.
That all seemed to change this year.
He has won events on both sides of the Atlantic in 2011, but I think the key success was winning the BMW PGA Championship after a fascinating duel with Lee Westwood. He knew that only a victory could take him above his rival to the top of the world rankings and he pulled off a wonderful Wentworth win.
He became world number one because of his consistency and since then he has emboldened his position. His ability to be in contention every time he goes out has been incredible.
At the end of the year we saw a tremendous battle between him and Webb Simpson to top the American money list and, in the end, he needed to win the last event, the Children's Miracle Network Hospitals Classic, to do it. After an uninspiring front nine, he produced six birdies in a row to take the title and top the money list.
He proved too good for everyone else in Europe as well and, apart from a major championship, I don't really see how his year could have been any better.
Bereft
The goal now will be to win that major, but remember, there are plenty of major champions who are nowhere near the player that he is. Would you say Todd Hamilton or Ben Curtis or Shaun Micheel or Mark Brooks are in the same class as Donald? Those guys aren't close.
But rather like Lee Westwood and Sergio Garcia, the victories, the world number one spots and the consistency all seem a bit bereft without at least one major on your CV. Those guys will always be thought of as wonderful players, but if they could win a major or two it would validate what they've done.
There's no reason why Donald can't do it because he can get himself into contention on any course on any given week.
He's not a big hitter - and there are some courses where it helps if you can hit it for miles - but we've seen guys like Mike Weir and Zach Johnson win at Augusta, so there's no reason why he wouldn't be able to. After what he's shown this year, winning events when he really had to, I would back him to win a major.
The world number one should be the best player in the world - and that is what Luke Donald has been in 2011.
Rob's Sky Bet Tips
Luke has gone to Australia to play in the J B Were Australian Masters, but I wonder how emotionally charged he will be. He can let the air out of his tyres because he's world number one and has topped both money lists and I don't think he'll be too bothered if he wins or comes last this week. There's not as much riding on it, so it would be understandable, given the season he's had, if he's not that up for it in the week before Christmas. He'll be professional and will give it his best but that extra inspiration may not be there for him this week.
So instead, I'm going to go for Ian Poulter, who must be due a good week. He hasn't been holing his putts lately, but I rate him as a putter and if that warms up, which it might on the Australian greens, he could do well. He's decent value at 12/1 with Sky Bet.
As for the Thailand Golf Championship, I'm going for 8/1 shot Charl Schwartzel, who isn't averse to winning at this time of year. He showed some good signs last week and I suspect he will do well.