The big roar
Beware Tiger Woods in 2012, says Rob Lee, and should Luke Donald beware Rory McIlroy in Dubai?
Last Updated: 07/12/11 2:07pm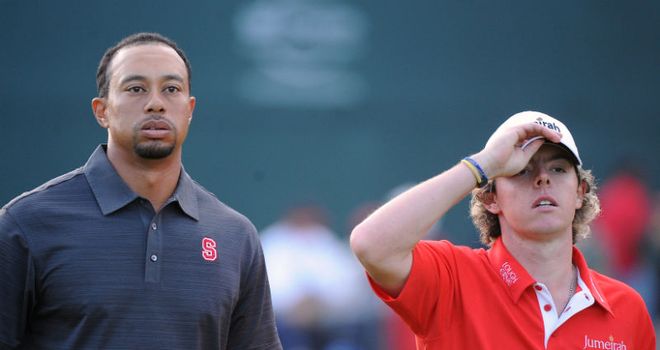 I managed to call all three winners last week, but I suppose you don't have to be a genius to pick Lee Westwood, Rory McIlroy and Tiger Woods!
It was a bona fide European Tour victory for Rory, but even though the Chevron and the Nedbank were short-field events, both Woods and Westwood deserve immense credit as well.
Yes, we have to be a little bit sparing in our eulogising because there wasn't as much competition as there would be at most events, but when they got into a winning position they both came up with the goods.
Both came up against the sort of challenge they would face in any tournament when there's a few players left in contention on the final day - and they came through that challenge with flying colours.
Lee's Saturday 62 at Sun City would have blown away as many top golfers as you could cram into a field. His level of play that day was remarkable and it was a pleasure to watch him compile the course record. Although it's easier to beat 11 guys, I don't think anybody could have matched him that day, he was nothing short of sensational
Similarly, Tiger might have overcome an 18-man field, but it was between him and Zach Johnson down the stretch, just as it might have been if there were 100 people playing. When you get into that situation it's all about whether you can hold out and come through or whether you fold - and Woods did not fold.
He deserves plenty of credit and you could see what it meant to him with his celebrations on the final green. Some of the tough choices he has made over the last year were validated on Sunday evening. It was a big decision for him to work with Sean Foley - when you change your coach you need to make sure you pick the right one - and I think there was an outpouring of relief from him.
Secondly, you could see the juices flowing inside him like they used to when he got in contention. For an animal like Tiger, there is nothing you could put into his life that could replicate or even come close to the emotion of winning. That's what he is all about.
He played the last two holes extremely well and he will now carry that into next year. In his mind he is ready for next season. Even though his swing can still be filed next to 'work in progress', it is close enough and he is in a position where he can compete.
As I've written before, the only thing that could hold back his comeback would be his left knee, but it seems like he is physically ready for tournament golf now. By that I don't just mean turning up from Thursday to Sunday, but being able to do all the practice beforehand.
He can go away and work at his game for a while and, combined with this injection of confidence, he will arrive in Abu Dhabi for the European Tour's first big event of 2012 in tremendous shape.
My 10/1 on Tiger Woods to win The Masters is starting to look like a great bet because he's so strong at Augusta.
Different
As for McIlroy, he did something a bit different in Hong Kong.
This victory wasn't based on a dominant four rounds. He had a difficult Saturday and hung on very professionally to shoot 70 before coming through on the Sunday. We've never seen him win like that before.
The great players know how to win in different types of scenarios; we've seen it with Tiger over the years and I feel Rory took a massive step forward in Hong Kong. He's always been the sort of player that can go out and lead from the front, but now he's someone who can find ways to win when he's two or three shots behind on the final day.
He's one of the few players in the world of golf capable of learning how to win in different situations. His future is gold plated, he's arguably the most exciting player in the world and he has a stubborn streak and a bravery about him that you rarely see.
Now he will go to Dubai to try to take the European number one spot from Luke Donald, although it was a shame to hear reports of a mystery virus ahead of the tournament.
I'm no doctor, but I wouldn't say Rory's been laid low by playing too much golf. He's taken enough breaks throughout the year and you have to remember he'll have travelled first class all the way. There are no long journeys on the back of a bus for somebody like him.
However, Donald is in the driving seat having compiled a lot of top 10 finishes without really thinking about it. He can turn up in a bubble and happily ignore Rory because he knows a top-eight finish would be enough for him to finish as number one on both sides of the Atlantic.
He is still very much the favourite, but if Rory comes out firing, as we expect him to, then the mind might play a few tricks on him...
Rob's Sky Bet Tips
As long as this virus isn't too severe, it wouldn't surprise me if Rory McIlroy wins again this week at odds of 5/1 with Sky Bet. In fact, I wouldn't be surprised if he wins and Luke Donald still ends up as number one. I would put a few quid on that.
Elsewhere, I expect Paul Casey (16/1 with Sky Bet) to have a good run because he's been playing well of late. I would put some money on him to have a good week too.