He's out of the Woods
Rob Lee is amazed that Steve Williams has escaped punishment after his racial slur against Tiger Woods.
Last Updated: 08/11/11 4:45pm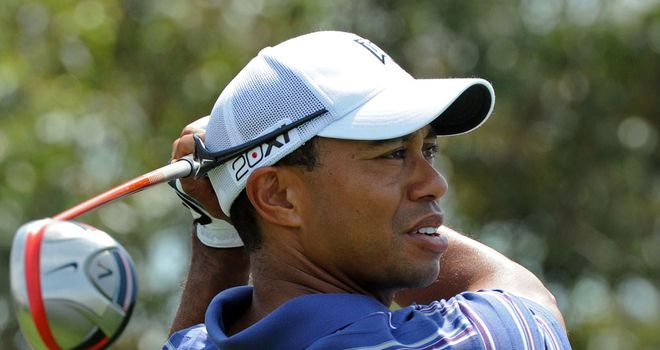 Steve Williams clearly has no idea when to keep his mouth shut.
This guy is a very, very good caddy - arguably the best and nobody is questioning that - but he doesn't appear to have the chip in his brain which tells him when and how he should say things.
We've seen evidence of that before the events of the past seven days. For example, he called Phil Mickleson a p**** and was made to apologise to him by Tiger, then earlier this year he turned his attention to Woods and said that the 14-time major champion needed to "earn back his respect".
I know that Tiger had been through a number of self-inflicted problems and let down his team but surely he respected his employer and friend for the 12 years they worked together? You get the feeling that in his mind, if there was no Steve there would be no Tiger.
And then when he caddied for Adam Scott's victory at the Bridgestone Invitational, he stole all the headlines by saying that it was the sweetest of his considerable amount of wins. He went on to describe himself as a "confident frontrunner" and pretty much looked like a complete fool.
Unacceptable
As somebody who has been on the bag for 13 majors, how could anybody possibly believe a WGC win was up there with his greatest triumphs? It seemed like just because he had fallen out with Tiger he wanted to dismiss what they had done together for 12 years.
Everybody knows he would have felt pretty good about winning a WGC so soon after being sacked by Tiger, so it didn't need any words. He shouldn't have said anything and he ended up ruining the moment by turning it into the Steve Williams show.
And then we get to those comments at the caddies' awards dinner last Friday when he was receiving an ironic 'Celebration of the Year' award for that very outburst at Firestone.
I've hosted that event in Shanghai before and it is tremendous fun. The handbrake comes off and everybody has a good old laugh. All the players and caddies turn up because it's usually a funny evening.
Steve obviously wanted to have a dig at Tiger, but he got it totally wrong. Let's be honest, he stepped way over the mark and made a comment that was racist.
Now it's not up to me to suggest whether or not he is racist, but it's hard to imagine that's the case after he worked for a black man for 12 years and invited that same man to be the best man at his wedding.
However, the comment itself was racist and it was out of order, totally unacceptable.
You can't have people involved in the game saying things like that at any time, especially when there is a microphone around. The awards ceremony was not being broadcast, but the comments were amplified and everybody in the venue could hear them.
Punishment
I'm very surprised that the PGA Tour/European Tour didn't see fit to impose any sort of punishment for those comments and I'm amazed that they didn't give him a suspension and fine.
Tiger was fined £10,000 for spitting on a green in Dubai and in that context I think Steve should have been banned for a period of time. I am amazed that Tim Fincham and George O'Grady didn't insist on a ban - and if a player had made those comments I'm sure they would have done so.
The golfer also has a role to play here. Fred Couples has come out and said that if Joe LaCava had made those comments then he would have sacked him, but Adam Scott views the situation differently. He has accepted Williams' apology and as far as he's concerned the matter is finished.
His game has been coming on with Steve on the bag and he evidently wants to retain his services, but I feel it would have been prudent for him to send his caddy away for a rest for the next two weeks. This issue is going to follow them around for a while, but Adam has chosen to deal with it in his own way.
It's a difficult one, but if I was involved I don't think I could just carry on as normal. Something different needed to happen.
Once Tiger's spit was mowed over in Dubai it was gone for good, but Steve's comments will linger on. Something should have been done.
Tarred
I also think he's very lucky that his former employer has chosen to make such a measured response.
Tiger totally diffused the situation at his Australian Open press conference. He admitted he was hurt by the comments, but said they'd talked it through and shaken hands. He also stated that Steve was not a racist - and having worked with him for more than a decade, he should know.
Tiger could have come out on the offensive and buried him. He could have almost ensured his former caddy was tarred with a horrible brush but he chose not to and that's good news for him.
It's also good news for the Australian Open. If Tiger had attacked Steve then it would have hung over the entire tournament, but I don't think it will now. Tiger's words have ensured the proceedings will run much more smoothly.
The tournament organisers will be delighted that Adam and Tiger are there and there is a fantastic field in place. They haven't been paired together in the first round, but they are playing one match behind each other, so if there are any hold-ups then Steve and Tiger could end up on the tee together.
But there's no doubt that Tiger's words have helped going forward.
Surprised
All the fuss has distracted from a brilliant performance by Martin Kaymer at the HSBC Champions.
He was level par after six holes on the final day and was not really making much of an impact, but he holed a bunker shot at the seventh and was up and running. He came back in 29 with nine birdies in 12 holes and looked like the player he was at the start of the year.
It was good to see the proper Kaymer again and when he's firing on all cylinders he's a joy to watch. The win has taken him back into the top four in the world again, just behind Rory McIlroy.
I must admit I'm surprised that neither Kaymer nor McIlroy have opted to play in Singapore this week. There's a $6million purse on offer and a good performance here would have given either of them a good chance of catching Luke Donald in the Race to Dubai.
I can't see the world number one playing again before the Dubai World Championship and claiming the $1million first prize here would have seen one of those players in with a great chance of overtaking him at the last event of the season.
Players need to be a little bit flexible with their schedules towards the end of the year and while money's not an issue to these boys, surely they should attach some importance to winning the Race to Dubai?
Rob's Sky Bet Tips
Australian Open: Tiger Woods - Who knows how well his practice has been going and if he gets off to a good start you never know what might happen? We might see him back on the winning trail and after taking the moral high ground in the Williams affair he should be feeling good about himself. He's 9/1 with Sky Bet.
Singapore Open: Louis Oosthuizen - He shot a 63 in the second round of the HSBC Champions and is starting to look much more like the player he can be, so I'm going for him. He's decent value at 20/1.