Luke at him go
Rob Lee says Luke Donald has found his wow factor and laid down a marker for the rest of golf.
Last Updated: 26/10/11 4:05pm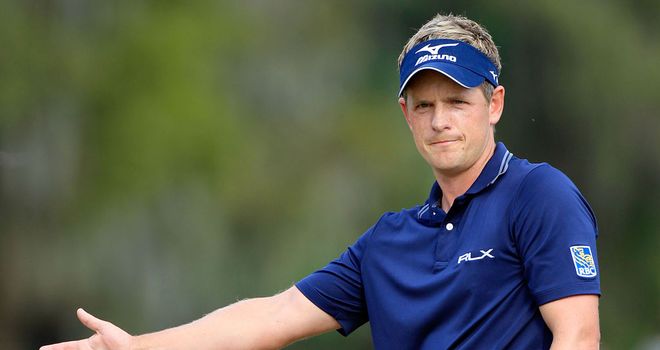 I think Luke Donald proved something to himself on Sunday evening.
His standard of has play has been consistently high over the years and he has given himself plenty of chances to win tournaments, but he hasn't finished things off as often as he should have. That criticism has been levelled against him many times.
He went to Florida knowing he needed to win to top the PGA Tour's money list - anything less than second wouldn't have been enough - and a few questions were asked when he bogeyed the eighth hole and parred the ninth on the final day.
Then all of a sudden he produced six birdies in a row to move to -17 and he never looked like giving up the victory. It was an outstanding performance and the sort of display you'd expect to see from the number one player in the world.
He truly looked like the world's best player on Sunday evening when he finished the tournament in that fashion and I've never really felt that way towards him that before.
You can be the world number one on paper - Donald has cemented his position at the top of the world rankings with consistent finishes and picking up regular raking points - but it's something entirely different to play like the best player in the world. He has done that now.
He mentioned his critics in his acceptance speech and a lot of people would say he lacked a killer instinct, which I feel is a fair accusation. After all, he hadn't won a strokeplay event on the PGA Tour since 2006, which is not the sort of record you'd expect from a world number one.
His consistency levels have been remarkable this year, as shown by the fact he is set to top the money lists on both sides of the Atlantic, but he has lacked a bit of wow factor. Yet all of a sudden he's found it.
I've never seen him that sort of situation before when he's taken a tournament by the scruff of the neck and wrung the life out of it, but that's what he did on Sunday.
Confidence
He has laid down a marker to the likes of Lee Westwood, Rory McIlroy, Martin Kaymer, Webb Simpson and the rest of the guys near the top of the world rankings. He's started to pull away, he's far and away ahead of everyone else at the moment, and now it's time to see what the rest can do.
He's odds on to win the Race to Dubai too. He is €1.3million ahead of second-placed Rory McIlroy and even if somebody else makes inroads over the next few weeks, Donald will be at the money-rich Dubai World Championship and has a great chance to win on both sides of the water.
That would be an incredible feat. Tiger Woods could have done it in the past if he'd played more events in Europe, but Donald could be the first player to officially top both lists.
These achievements must give him so much confidence as a person and a player and Sunday night will only make him a better golfer looking ahead to 2012. He's been looking at getting a major under his belt for some time and his belief must be sky-high.
It was a seriously impressive week for him.
Buoyant
I was also delighted for Sergio Garcia after his win at the Castello Masters, a performance that was just as buoyant as the one Donald produced. I've been writing in this column for months that he was due a big performance and finally it arrived.
He is a phenomenal talent and he has worked very hard on his putting and that paid off last week. He was back in familiar surroundings and he played like an absolute star. If he's feeling good about things then his world ranking will only go up and up.
I know it was his own tournament, but sometimes it's harder to do it on your own course. He knows it inside out, and that should work in your favour, but sometimes it works against you because expectation levels are so high.
It was good to see Sergio coming home in more ways than one.
Rob's Sky Bet tips
CIMB Asia Pacific Classic Malaysia: I'm going for Brian Davis (33/1 with Sky Bet) to win this week because I think that would be a real irony. He's played well so many times in America, but not won, so I can see him winning a PGA Tour event that doesn't count towards the money list.
Andalucia Masters: I was in the studio with Christian Donald on Sunday watching his brother do the business and, strangely, he'll get a kick out of that. I can see him taking that reflected confidence into the Kaymer camp, so I'm tipping Martin Kaymer at 12/1 with Sky Bet to win this week.
Shanghai Masters: Luke Donald has raised the bar and I think Lee Westwood will look at that and realise it's time to get going. I'm going for an inspired Westwood performance in this limited-field event. Westwood is 11/2 to do the business.