Still on the money
Rob Lee hails a new star in Tom Lewis and says Luke Donald can still top the PGA Tour money list.
Last Updated: 19/10/11 2:10pm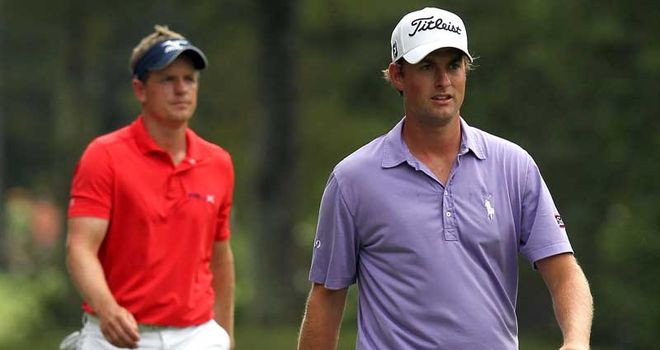 Tom Lewis played like a true champion in Portugal and I have to say I was extremely impressed with him.
The 20-year-old's performance reminded me of what Rory McIlroy did at Quail Hollow in 2010 when he announced his arrival on the world stage. After the start he's had you've got to see him as a McIlroy-esque talent.
He had been given seven European Tour invitations to earn some money and try to get his card, which is pretty tough to do. Not only has he done that with ease, he has also won his third professional tournament - and won it well.
And remember, after two holes on Friday he was two-over-par and going home. He then birdied 10 of the next 15 holes and was pulling off shots as he went for them. You couldn't have played the last few holes any better than he did and if someone like Martin Kaymer had done that we'd be talking about the mark of a major champion.
I know he's English, but I'd be just as excited no matter where he came from. He has made his own headlines by winning his third tournament and now he can move onto the HSBC Champions, potentially the Dubai World Championship and a season on the European Tour.
It wasn't a total surprise because he was one of the guys we'd highlighted going into the final day and he showed what he could do when he led the Open Championship after day one.
He's got his head screwed on as well. I do a podcast every Monday for the European Tour website and he came on the show and was very good. He's an impressive young man.
There are different sorts of wins, but this was a very good one and I'm excited about watching his progress.
Head to head
I'm also excited about watching the climax to the PGA Tour season as Webb Simpson and Luke Donald go head to head to top the money list.
Both of them want to be recognised as the best player on the PGA Tour this year. It's like winning the Premier League or topping the tennis rankings, it's a very significant prize.
Simpson has won twice, finished second three times and just missed out on the FedEx Cup. His level of consistency has been remarkable this year, rather like Donald in many ways.
Neither of these players have won it before and Simpson turned the race on its head at the McGladrey Classic when he finished second to Ben Crane after a play-off to overtake Donald at the top of the rankings.
Simpson now leads by $363,029 heading into the final event, the Children's Miracle Network Hospitals Classic, but I wouldn't say he's wrapped it up just yet.
Donald seems to finish in the top 10 at worst most weeks and that consistency suggests this tournament could be very exciting. If he wins or finishes second then he could overtake Simpson and I would not put that beyond him.
I'm not saying it will happen, but there is a realistic possibility. He still has a chance of doing a very rare thing and topping the lists on both the PGA Tour and the European Tour and that shows how good he has been.
Together
They have been paired together for the first two days, which feels a little bit contrived, and I guess Simpson will be trying to put his playing partner off if he starts playing too well!
They will have the chance to size each other up in the opening rounds, but I just hope they are both in the running going into the final day. If Luke plays badly then it's all over, but if he plays well - and I suspect he will - then he could have a nice present to take home to his new baby.
The other issue to keep an eye on is the race to finish inside the top 125. The players around the 'bubble' will be desperate to make the cut on Friday and then do as well as they can.
Paul Casey, who withdrew due to illness last week, is out of the hunt so I think he will play a European schedule, along with the majors, World Golf Championship events and a couple of invites in 2012. In a Ryder Cup year that's probably a good idea.
But there are a number of other players who will be desperate to make it. Nobody wants to go back to qualifying school because if you go there and miss then you're in a really poor category next year. However, if you're inside the 125 then you can plan a schedule to suit you and you're assured of a certain amount of income.
I'll be focused on the Simpson-Donald duel, but that scramble will also be good fun!
Rob's Sky Bet Tips
PGA TOUR (Children's Miracle Network Classic): All eyes will be on Simpson and Donald because it means so much to them, but I have a hunch for Charles Howell III at 22/1 with Sky Bet. I'd like him to win the final Fall Series event to inspire himself next year. He's always been a really good player, but he's not lit up the Tour this year and I'd like him to have a reason to kick on in 2012.
EUROPEAN TOUR (Castello Masters): I'm tipping Tom Lewis for a ridiculous back-to-back win at odds of 33/1. Call me crazy, but I think we're talking about more than an ordinary player here. He was given a sponsor's invite to this event and he is honouring it, even though he won last week. He can go there with nothing to prove and that might play in his favour. He can go and relax and if he does what he did last week then I don't see why he can't contend again?