Rickie's Korea move
Rob Lee previews the McGladery Classic and says Rickie Fowler's win in Korea could herald big things.
Last Updated: 12/10/11 12:32pm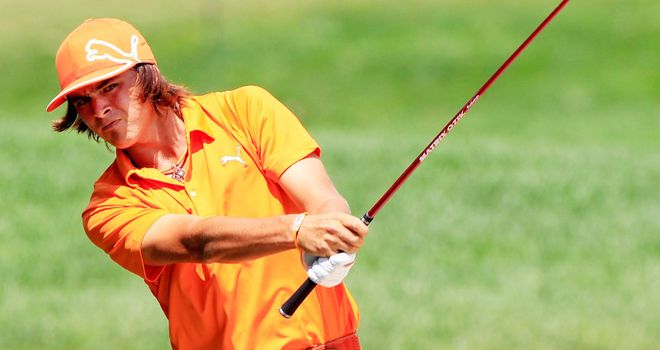 The Fall Series is enjoying a bit of a boost this year.
This is usually a quiet time in the golfing calendar, but we saw Tiger Woods playing last week and this week Webb Simpson will go out to try and overhaul Luke Donald at the top of the money list.
And depending on what happens, we could end up seeing the two of them battling it out for that prize next week!
I'm sure Simpson would like to take some time off at this time of year, but he's entered the McGladery Classic because he has a genuine chance of topping the money list. Donald isn't playing, so a 15th place finish would see Simpson move into top spot.
Having said that, he just needed a top-18 finish in a field of 30 to win the FedEx Cup and he couldn't manage it, so it's far from a given.
However, he's won twice in the last quarter of the year and has now proved to the world that he has what it takes to get over the line. He'd finished as runner-up on three occasions and used to be a bit of an unknown quantity, but now he's a hot player and is the firm favourite this week.
He's a naturally aggressive golfer and I like the fact he goes for flags. He's found success with the belly putter and that aspect of his game has been very strong all year. It all bodes well for him this week.
Win
He'll be joined in the field by Rickie Fowler who will be fresh from his first win as a professional at the Kolon Korean Open.
All year long he has suffered from "bad-round-itis" because there was plenty of good stuff in his game, but he couldn't find a decent final round.
But he put it all together in Korea and I don't think it matters that it wasn't a PGA Tour event. He has a victory on his record and the fact he beat the world number three Rory McIlroy proves he needed to play very well to do it.
A couple of years ago Fowler was being feted as a star of the future in the USA in the same way that Rory was on this side of the Atlantic, but the Irishman is currently way ahead of him. He ran away with the US Open and slaughtered a top field at Quail Hollow, reaching heights that his rival hasn't been able to.
So it's a big step that Fowler got that win over him.
The American was straight on a plane to Georgia for the McGladrey Classic and I suspect the jet lag could hinder his hopes there. He might be young and fit, but his sleep pattern will have been disturbed and I suspect some fatigue could kick in during the week.
World players need to cope with things like that and Gary Player used to say it wasn't a problem because you could sleep all you like in first class - but it must surely have an impact?
Idea
There are also a few major winners in the field this week with Charl Schwartzel, Louis Oosthuizen and Graeme McDowell all taking part.
I'm not sure why the Irishman has decided to play in a Fall Series event for the first time, but it's not a bad idea to play in a competitive event before some of the big tournaments at the end of the year.
He hasn't had a great 2011, but he looked like his old self at the Alfred Dunhill Links and he will want to keep that form up. Georgia isn't too far from his home in Lake Nona and this event might prove good preparation for the HSBC Champions in Shanghai.
He's a mercurial talent in that he's as hot as you like when he's on top of his game, but sometimes he's not there. McDowell has always been - and will always be - a streaky player and you can't question his resolve and his guts when he's in with a chance.
At the moment he's on his way back and perhaps there are big things in store at the end of the year for him. He and Fowler are both good stories and I'd like to see both of them play well.
In fact, I'm going to throw my weight behind one of them in the tipping stakes this week!
Rob's Sky Bet Tips
McGladery Classic: This is a nice golf course in a beautiful part of the world and I'd love to see Graeme McDowell do well. I'm backing him to win at 33/1 with Sky Bet - and that's not my heart talking, I think he can do it!
Portugal Masters: I'll be out there to see a very strong field in Portugal. There's a lot of water on the course and you have to drive the ball well, plus you can almost guarantee a bit of wind as well. I'm going to back Alvaro Quiros, who is coming back to a bit of form again. He won in the breeze in Dubai earlier this year and I reckon he can do it again. He's 25/1.