The Ex factor
Will an Englishman win a $11.3m FedEx Cup jackpot? Rob Lee says there's a good chance.
Last Updated: 22/09/11 8:07am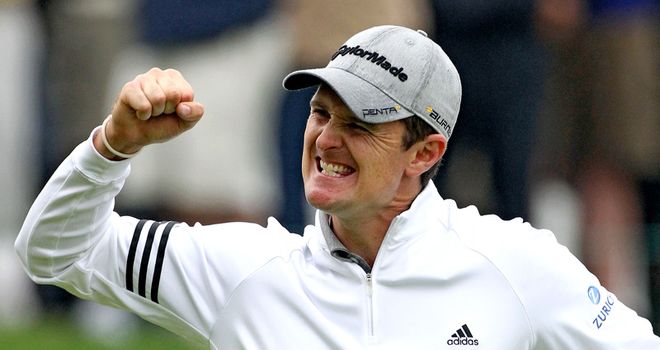 Thanks to Luke Donald and Justin Rose we have serious English interest going into the final week of the FedEx Cup.
Both of them are in the top five and know that a victory at the Tour Championship would see them win the whole tournament and the ridiculous financial bonanza that goes with it.
They could pick up $11.3million with a victory here - $1.3m for winning the tournament and a $10m bonus for topping the points list. That can't be moral, can it?
Rose pushed himself into contention with a terrific victory at the BMW Championship. He was wobbling a bit on the back nine, but then found a couple of key shots at crucial moments - the chip at 17 and the drive at 18 - and that was great to see.
It was a real return to form after a patchy season and a reward for the work he puts in to all aspects of his game. He's a very technical player, you wouldn't really say he's a natural, and his career has often been a waiting game. He just has to play at full tilt every week and wait for all the pieces to fall into place, as they did a few days ago.
What we do know is that his very best game is good enough to beat anyone. I'd probably say we haven't seen him at his best often enough over the years, but there's no doubt he's capable of big things. And you have to remember that playing golf at the highest level is very demanding and it's hard to keep it going week after week.
He had a strong season last year, winning twice on the PGA Tour, but still didn't make the Ryder Cup side. However, he's in a good place right now and he's got to have an eye on that jackpot this weekend.
The same can be said for Luke Donald, who has been much more consistent than Rose throughout the year. He's picked up lots of big cheques, won the Accenture Match Play, the BMW PGA Championship and the Scottish Open and has climbed to number one in the world.
He's likely to do well again in Atlanta, but I wouldn't say he's more likely to do well than Rose, who arrives here with the biggest tonic of all - a recent victory. He will be full of belief when he tees off on Thursday.
They both go into the Tour Championship with a genuine chance because it's such a limited field. There's 30 players left and you'd have to assume 10 of them will have a bad week, so they've only got maybe 19 players to beat. If you've got anything about you then you've got to like those odds.
Strong position
So who else could pick up that massive cheque? You've also got to look at the other players in the top five - Webb Simpson, Dustin Johnson and Matt Kuchar - because the rules have put those players in a very strong position.
The structure ensures that if somebody in the top five wins the final event then they are guaranteed top spot overall. So if fifth-ranked Kuchar wins this week, there's nothing Simpson can do to beat him, even though he starts as number one.
It's still technically possible for anybody in the top 30 to finish the season as number one, but those lower down the list need things to go their way.
Two of the previous four FedEx Cup winners won the final event (Tiger Woods in 2007 and Jim Furyk last year) and I think the PGA Tour want to see players being rewarded for doing well in the play-off series.
As a result, there is a clear bias towards your performances in the final four events and to some extent you can forget about what you've done for the rest of the year. That's how it works and it should make for great television.
That's especially true for us this year with a couple of English players in with a real shout of victory.
Rob's Sky Bet Tips
I'm going for Dustin Johnson to win both the Tour Championship and the FedEx Cup. He's always been a streaky player and even though he didn't enjoy the defence of his BMW Championship last week it's about time he started to play well again. If he can get it all together he's pretty formidable and I've got a hunch he could win the lot. Johnson is 20/1 to win the Tour Championship.
I'm in Ireland for the Solheim Cup and I'm going to back a shock European win - 2/1 with Sky Bet. The Americans have been so dominant over the years and often seem to tread water until the singles when they come into their own. There's no doubt they're the favourites and the Europeans will have to play very well to beat them, but I just feel they need to win to keep this event interesting. It will become a turn-off if the Americans keep winning, so I'll go with my heart rather than my head and back a home victory to reinvigorate the competition.